March 15, 2014
Doctor Who writer and Sherlock co-creator and star Mark Gatiss has visited Brazil to meet fans and take questions from them. Thais Aux of the Brazilian Doctor Who Fan Club was onstage to moderate the discussion in Sao Paulo, and has written this report for us.
Portuguese version
Mediar o painel de perguntas e respostas de Mark Gatiss em São Paulo ao lado de Freddy Pavão foi incrível. As perguntas do público foram ótimas, e Mark teve a chance de falar com mais profundidade sobre seu trabalho em Doctor Who e Sherlock, onde também vive Mycroft Holmes, o irmão de Sherlock (Benedict Cumberbatch) na trama.
Além disso, não devemos esquecer que ele é o idealizador do docudrama An Adventure in Space and Time, que conta a história da criação de Doctor Who. A série possui um legado de 50 anos, e conta com a participação dos roteiros de Gatiss em vários episódios.
É claro que não poderiam faltar perguntas sobre Peter Capaldi, o novo Doutor, que segundo Gatiss, será tipicamente escocês! Ele disse que o 12º Doutor será 'talvez um pouco mais agressivo e menos acessível de imediato' que seus antecessores, David Tennant e Matt Smith. Por isso, será uma nova direção que a série deve tomar, uma mudança que ele garantiu que será para melhor.
Para os fãs que ainda torcem por um spin-off de Rose Tyler (Billie Piper) e o Doutor Meta-Crisis (David Tennant), ele disse que seria apenas uma série sobre duas pessoas vivendo felizes juntas, e isso não deixa muito espaço para dramas. O papel de David Tennant na série, segundo ele, já está concluído (e muito bem concluído!).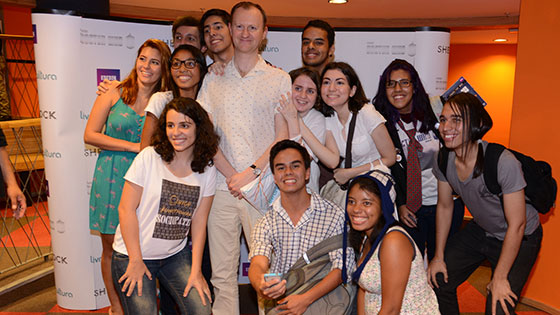 Questionado sobre um possível crossover entre Doctor Who e Sherlock, essa ideia não lhe agradou. "Se colocarmos o Doutor e Sherlock na mesma sala, eles terão uma excelente conversa durante uma hora, e depois o que vai acontecer?". O entrevistado não acredita que a união das duas séries seja possível, já que cada uma tem seu valor separadamente.
Quanto à volta dos Senhores do Tempo em Doctor Who, Mark Gatiss disse que Russell T Davies tomou a decisão correta em destruí-los, de forma que o Doutor seja o último de sua raça. "Mas se o Doutor conseguir reencontrar Gallifrey, eu adoraria escrever uma história sobre eles", disse.
Mark teve a oportunidade de explicar com mais detalhes sobre o processo de criação de roteiros com Steven Moffat, a interação com o elenco e as novas direções que a série vai tomar. Ele falou de suas histórias favoritas de Arthur Conan Doyle e de como é incrível viver um personagem nessas histórias. Ele deixou claro o seu gosto por histórias de fantasmas e a ambientação de tramas na era Edwardiana.
Gostaria de agradecer à BBC pela chance de representar os fãs brasileiros de Doctor Who e Sherlock nessa visita inesquecível de Mark Gatiss em nossas terras. Tenho certeza que todos se divertiram nessa oportunidade única, onde ele falou sobre seu trabalho como roteirista, produtor e ator nessas séries que são os maiores sucessos da BBC. Mark foi extremamente simpático e gentil, atendendo a todos com um sorriso. Esperamos que ele tenha se divertido com a gente, e que volte muitas vezes para cá!
Thais Aux é President of Doctor Who Brasil Fan Club (www.doctorwhobrasil.com.br)
---
English version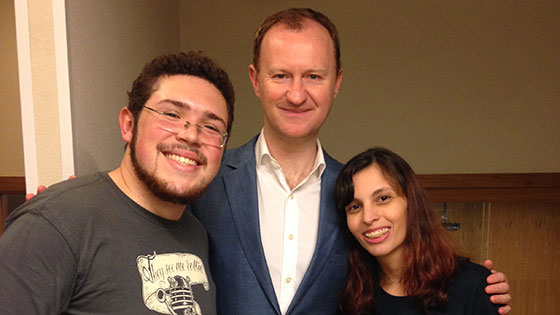 The opportunity to moderate the Mark Gatiss Q&A Panel in São Paulo alongside Freddy Pavão was amazing. The audience had loads of good questions, and it gave Mark the chance to talk in more depth about his work writing for Doctor Who and Sherlock - where he plays the role of Sherlock's brother Mycroft. He is also the mastermind of An Adventure in Space and Time, which tells the story of how Doctor Who was created.
Inevitably, there were many questions about new Doctor, Peter Capaldi, who, according to Gatiss, will be "typically Scottish"! He went on to say that the Twelfth Doctor will be "perhaps a little more fierce and less immediately knowable" than his predecessors, David Tennant and Matt Smith – an exciting new direction for the series.
For the David Tennant fans who still want a spinoff drama featuring the Metacrisis Doctor and Rose Tyler (Billie Piper), Gatiss said it would be a story about two people living happily ever after, which doesn't leave much space for drama! He feels that Tennant's role in the series concluded very well.
When asked about a possible Doctor Who / Sherlock crossover, he was less than enthusiastic, saying: "If we put the Doctor and Sherlock in the same room, they will have an excellent conversation for one hour, and then what?". Mark went on to say that he doesn't believe putting the two series together would be possible, since each has its own value separately.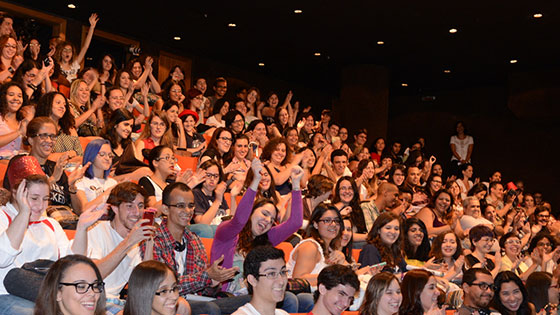 As for the return of the Time Lords in Doctor Who, Gatiss said that Russell T Davies made the right choice in destroying them, and making the Doctor is the last of his kind. "But if the Doctor ever finds Gallifrey again, I would love to write a story about [the Time Lords]", he added.
Mark also talked in detail about the process of creating Sherlock scripts with Steven Moffat and the direction the next series will take. He discussed his favourite Arthur Conan Doyle stories, and how incredible it is to perform a character from these stories. He also talked about his love of writing ghost stories and that his favourite setting is the Edwardian era.
I would like to thank the BBC for the chance to represent the Brazilian fans of Doctor Who and Sherlock in this unforgettable visit of Mark Gatiss to our country. I know everyone enjoyed this unique opportunity, where he talked about his work as a writer, producer and actor in these series which are the greatest successes of BBC. Mark was extremely nice and kind, attending everyone with a smile. We hope he had a great time with us and returns many times!
Thais Aux is the President of Doctor Who Brasil Fan Club (www.doctorwhobrasil.com.br)