July 12, 2016
Big names for a big month from Big Finish as we find old Doctors battling new monsters, an adventure for the Fourth Doctor, Leela and K9, an outing for the Seventh Doctor, Mel and Ace, and a reunion for Torchwood's Captain Jack Harkness and Ianto Jones.
All titles initially available EXCLUSIVELY from the Big Finish website here.
CLASSIC DOCTORS, NEW MONSTERS: VOL. 1
What's this? Doctors from the classic era battling monsters from post-2005? You got it!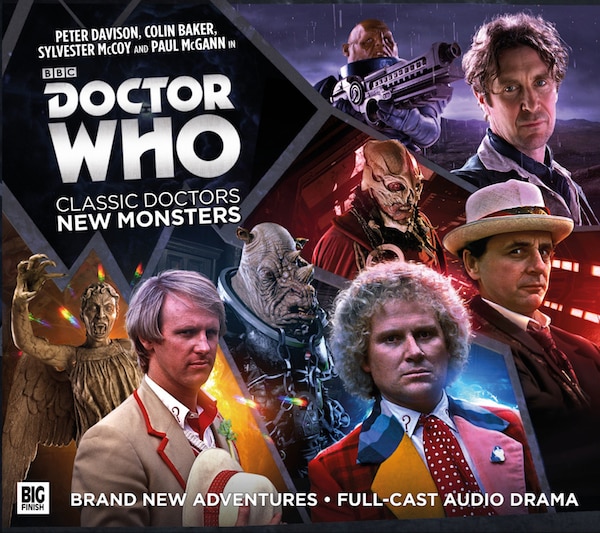 Fallen Angels
2015: When sightseers Joel and Gabby Finch encounter a strange man in Edwardian cricketing garb in the Sistine Chapel, their honeymoon suddenly takes a terrifying turn.
1511: Michelangelo is commissioned to create some very special sculptures by a mysterious sect. But as he carves, angels seem to emerge fully-formed from the rock. Almost as if they are alive…
From Michelangelo's workshop to the catacombs of Rome, the Fifth Doctor must keep his wits about him and his eyes wide open as he confronts the Weeping Angels.
Judoon in Chains
The Sixth Doctor is no stranger to courtroom drama, but faces a very different challenge when he prepares to defend a most unusual Judoon.
After an environmental clearance mission goes wrong, Captain Kybo of the Nineteenth Judoon Interplantary Force is stranded in Victorian England, bound in chains, an exhibit in a circus show. But he has allies: Eliza Jenkins – known to audiences as 'Thomasina Thumb' – and the larger-than-life 'clown' in the colourful coat.
Uncovering a trail of injustice and corruption, the Doctor and Kybo soon find themselves on trial for their lives…
Harvest of the Sycorax
In the far future, humanity has a remedy for everything. Whatever the problem, Pharma Corps has the answer and a designer disease tailored to every human's blood-type. Zanzibar Hashtag has no need to be sad, scared, stressed, or depressed ever again.
That is, until vicious aliens arrive on her space station intent on opening its Vault. What will it mean for the human race if the Sycorax take control of what's inside?
And when the Seventh Doctor arrives on the scene, can he convince Zanzibar to care about her life long enough to help him?
The Sontaran Ordeal
An instant of the Time War brings centuries of conflict to the planet Drakkis, and the Eighth Doctor is there to witness the terrible results.
A Sontaran fleet, desperate to join the epic conflict, follows in its wake to take advantage of the fallout. But when Commander Jask is beamed down to the ravaged surface, there is more to his arrival than first appears.
Soon, an unlikely champion joins forces with the Time Lord to fight for the future of her world, and together they must face the Sontaran Ordeal…
Classic Doctors, New Monsters is a 5-CD set (approx. 300 mins) and is on general release from August 31, 2016. It is written by Phil Mulryne, Simon Barnard, Paul Morris, James Goss, Andrew Smith and stars: Peter Davison (The Fifth Doctor), Colin Baker (The Sixth Doctor), Sylvester McCoy (The Seventh Doctor), Paul McGann (The Eighth Doctor), Dan Starkey (familiar to fans as the Sontaran, Strax), and many, many more.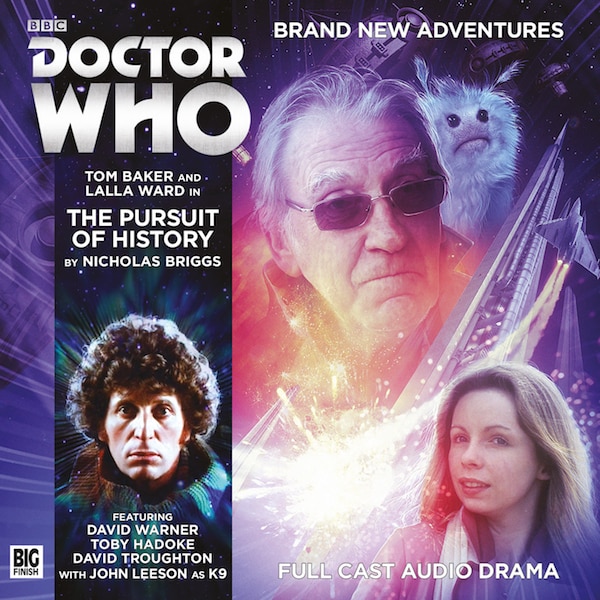 The Pursuit of History
This range of two-part audio dramas stars Tom Baker reprising his role as The Fourth Doctor with a number of his original TV companions. This fifth series reunites the Doctor with Romana (played by Lalla Ward), a fellow Time Lord for adventures across time and space.
On a brisk winter's morning in 1850s Yorkshire, Cuthbert, head of the intergalactic business known as 'The Conglomerate' prepares to hijack a very special train.
In the far future, his assistant, Mr Dorrick is awoken by howling alarms. There is a problem with the Quantum Gateway.
In the TARDIS, the Doctor, Romana and K9 detect strange distortions in the Vortex, an energy stream coming from a strange creature called a Laan.
The threads of a plan centuries in the making are coming together. But who is behind this plan? And can anyone possibly escape when history is against them?
The Pursuit Of History is a 1-CD set (approx. 60 mins) and is on general release from August 31, 2016. It is written by Nicholas Briggs and stars: Tom Baker (The Fourth Doctor), Lalla Ward (Romana), John Leeson (K9) and film legend, David Warner (who also played Professor Grisenko in 2013's Cold War on television)
AVAILABLE FROM THE BIG FINISH WEBSITE NOW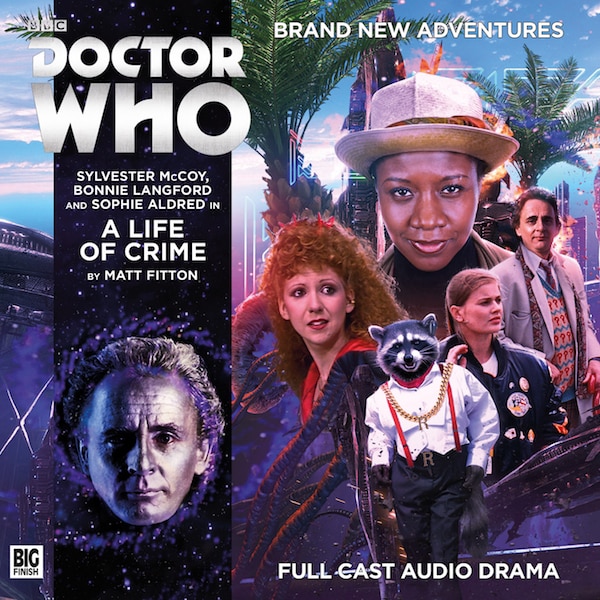 A Life of Crime
A new adventure for Sylvester McCoy as the Seventh Doctor, alongside Bonnie Langford and Sophie Aldred as 1980s companions Melanie Bush and Ace.
Come to Ricosta! Tropical climate, untouched beaches, fabulous cuisine... and no extradition treaties. The perfect retirement planet for a certain type of 'business person' – such as Ms Melanie Bush, formerly the co-owner of the Iceworld emporium, now on the run from her former criminal associate's criminal associates...
Some other former associates of Ms Bush are abroad in this space Costa del Crime, however. Not long ago, the time and space traveller known as the Doctor arrived here, alongside his sometimes-criminal associate, the reformed juvenile offender Ace. But now the Doctor's gone missing – and Melanie Bush is about to learn that on the planet Ricosta, the wages of sin... are death.
A Life Of Crime is a 2-CD set (approx. 120 mins) and is on general release from August 31, 2016. It is written by Matt Fitton and stars: Sylvester McCoy (The Seventh Doctor), Bonnie Langford (Mel) and Sophie Aldred (Ace).
AVAILABLE FROM THE BIG FINISH WEBSITE NOW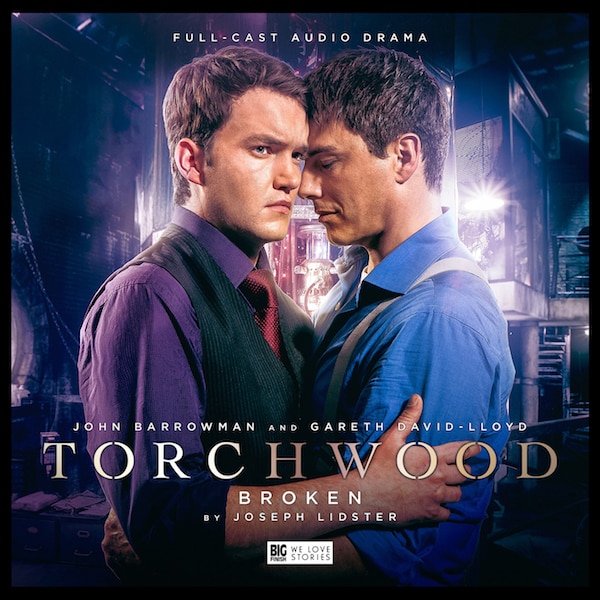 Torchwood: 2.5 Broken
Big Finish bring immortal Time Agent Captain Jack Harkness and colleagues back to audio life for a fresh series of six new audio dramas.
Whenever Ianto Jones has a tough day at work, he has somewhere he can hide. And, for Ianto Jones, it's always a tough day at work.
His girlfriend is dead, his colleagues don't trust him, and his boss... his boss is something else. With no friends in the world, and his life in danger every day, is it any wonder that at night, Ianto Jones goes to the pub?
Ianto's local becomes somewhere where he feels safe. Safe from his demons, safe from his life, safe from Torchwood. Until one evening, Captain Jack Harkness walks into a bar....
NB. Torchwood contains adult material and may not be suitable for younger listeners
Torchwood: Broken is a 1-CD set (approx. 60 mins) and is on general release from September 30, 2016. It is written by Joseph Lidster and stars John Barrowman (Captain Jack) and Gareth David-Lloyd (Ianto Jones).