July 15, 2013
To commemorate Doctor Who's 50th Anniversary year, The Wand Company is launching a limited-edition gold and silver plated version of their enormously successful Eleventh Doctor's Sonic Screwdriver Remote Control.
Supplied in a premium high-quality presentation box, with a hand-painted stand and certificate of authenticity, only 250 of these individually laser-numbered Sonic Screwdrivers will ever being produced - this is the ultimate collectible for Doctor Who fans.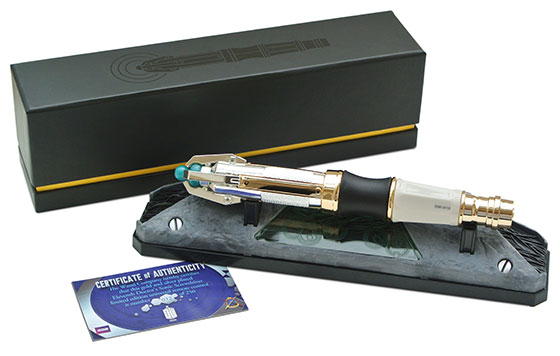 The Sonic Screwdriver is a gesture-based universal remote control that uses infrared to control entertainment systems including TVs, mp3 player docks and DVD/Blu-ray players. With advanced gesture recognition technology, up to thirty-nine remote control codes can be stored in the Sonic Screwdriver, which emits 13 authentic special sound effects from Doctor Who.
A small quantity of this limited edition piece will be available first at San Diego Comic-Con, but you can pre-order yours from selected retailers – including BBC Shop - now, before the official launch on the July 22.