September 17, 2018
Doctor Who Magazine met Jodie Whittaker on the set of the new series where she revealed a bit about her performance as the Doctor:
"A significant and specific thing that I've brought to this part is that my Doctor is quite high energy," says Jodie. "Chris Chibnall [Doctor Who's showrunner] knows me and knows that I'm energetic, and that's been written in quite a lot. I've found that a lot of the time the speed of thought that the Doctor has helps with the drive of the scene. This Doctor's different traits obviously come out more and more throughout this first season because every episode requires a different side to her.
"I've never worked in this genre before," Jodie admits. "Intense drama, I have no stress with. I have more of a nervousness around the lighter stuff because it's not my comfort zone in terms of acting. But in real life, as me, Jodie, I'm quite manic. Thankfully Chris said, 'Yeah, just do that!' So I'm completely trusting my instincts, and trusting Chris' writing. And it's brilliant! I don't go home feeling depressed every night; I go home really kind of euphoric. On a set, I'm usually all enthusiastic, then as they say 'action' I have to really zone in to being a serious grown-up. Whereas on Doctor Who, it's just like I can carry on being me."
The full interview and exclusive previews of Jodie's first two episodes appear in the new issue of Doctor Who Magazine, on sale Thursday 20 September.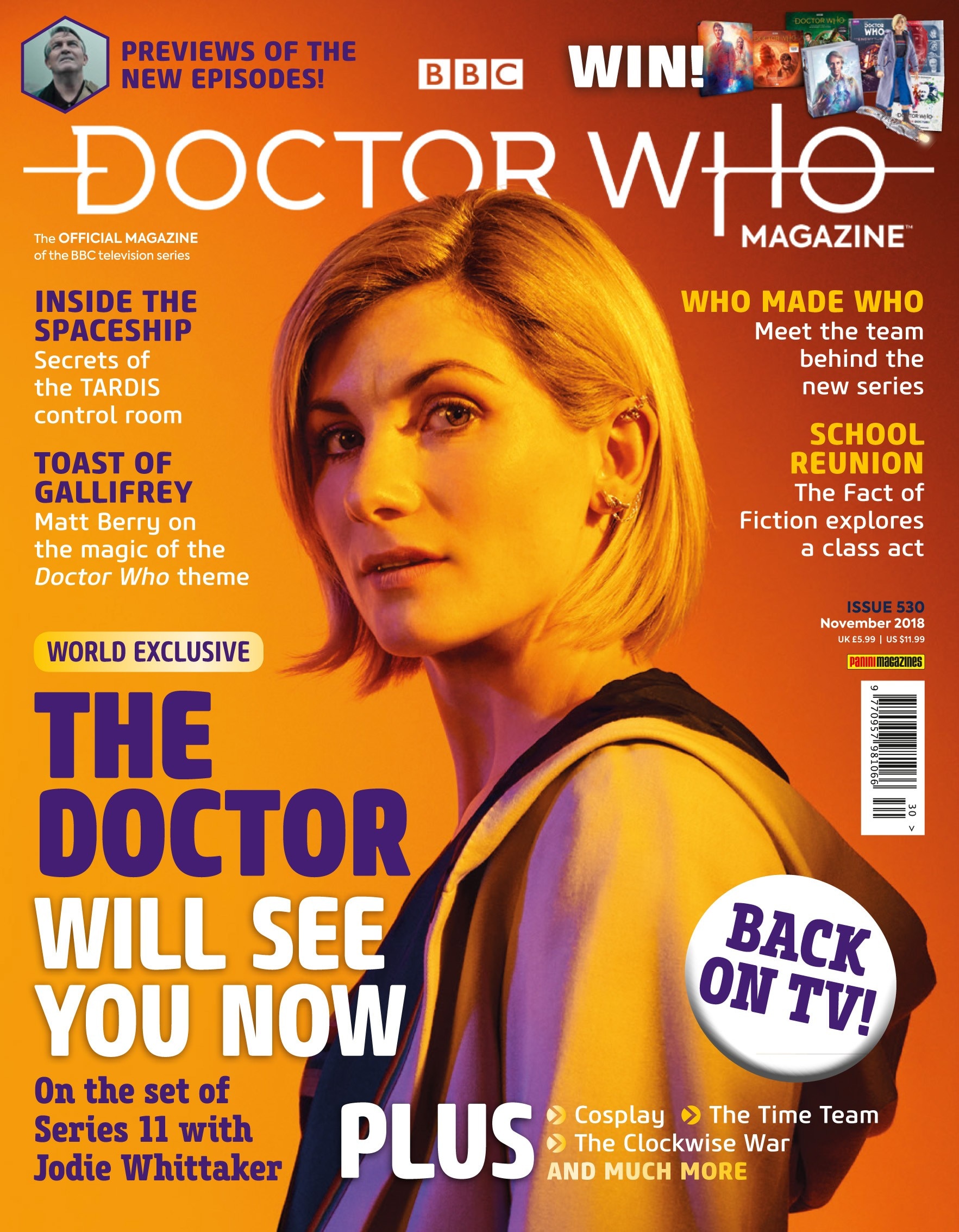 Also in this issue...
Chris Chibnall
The latest update from Doctor Who's showrunner.
Who's Crew
Meet the team responsible for bringing the new series to our screens.
Matt Berry
He's best known for his sitcom appearances, but Matt Berry is reinterpreting the Doctor Who theme for his new record.
TARDIS Evolution
Secrets of the TARDIS control room revealed!
Cosplay
A meticulous recreation of the torn coat worn by the Twelfth and Thirteenth Doctors in Twice Upon a Time and The Woman Who Fell to Earth.
The Sevateem
An interview with Christian Erickson, whose new concept album is inspired by The Caves of Androzani.
The Clockwise War
The Twelfth Doctor's final DWM strip adventure comes to a shattering conclusion.
The Time Team
The Time Team watches four very different episodes in an effort to discover what the First Doctor was really like.
The Fact of Fiction
In-depth analysis of the 2006 Tenth Doctor story School Reunion.
Plus...
The Blogs of Doom, reviews, news, a huge prize-winning competition and much, much more!
A deluxe edition of this issue is also available, exclusive to WHSmith.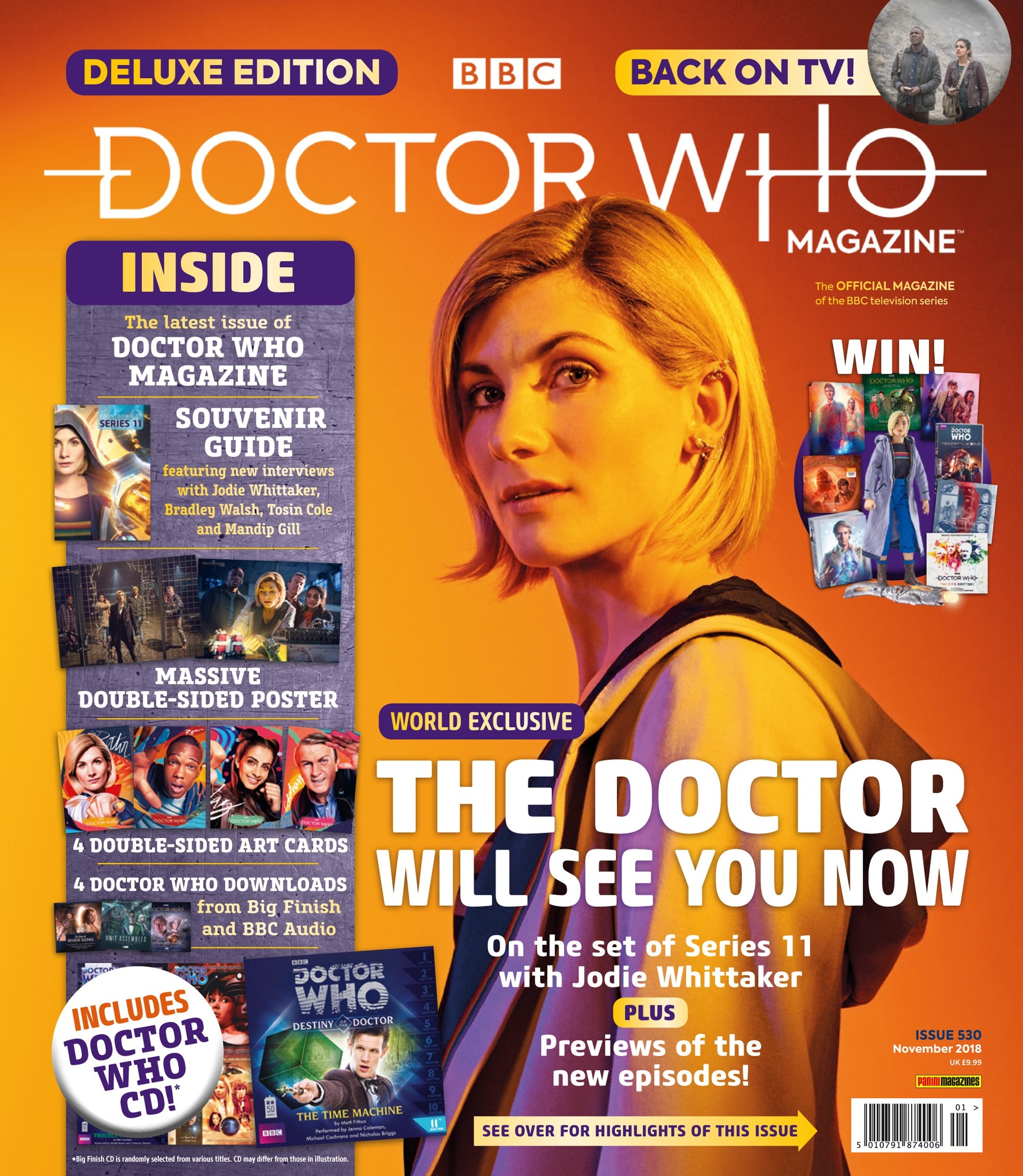 As well as the regular edition, it includes:
Series 11 Guide featuring new interviews with Jodie Whittaker, Bradley Walsh, Tosin Cole and Mandip Gill
Doctor Who CD from Big Finish
Four double-sided art cards of the Doctor, Graham, Ryan and Yasmin
A massive double-sided poser featuring scenes from the new series
Four Doctor Who downloads from Big Finish and BBC Audio
Doctor Who Magazine 530 is on sale 20 September. Regular edition £5.99, deluxe edition £9.99.
The new series of Doctor Who, starring Jodie Whittaker, launches on Sunday 7th October. Release date varies by country - check local listings.