August 23, 2017
Issue 516 of Doctor Who Magazine is out now and includes all the usual great features AND an exclusive interview with the Thirteenth Doctor herself, Jodie Whittaker.
EXCLUSIVE OFFER: 50% off DWM Digital Subscription
Check out what's inside and the cover art below.
Jodie Whittaker shares her feelings about becoming the Thirteenth Doctor… She says:
"Chris [Chibnall] wouldn't have cast me as the Doctor because he wanted me to repeat anything that had gone before.

And I think as a fan you don't want to watch something that's an imitation of something that's gone before.

Or what would be the point of recasting?"
---
ALSO IN THIS ISSUE…
CASTING JODIE
DWM asks what the arrival of Jodie Whittaker means for the future of Doctor Who.
MONSTERS INC
We go inside the workshop of Millennium FX, with previously unseen designs and photographs from the making of the 2017 series.
NOW WE ARE SIX HUNDRED
Former showrunner Russell T Davies talks about his illustrations for BBC Books' collection of Doctor Who poetry.
NICHOLAS BRIGGS AND THE CYBERMEN
Nicholas Briggs reveals the secrets of giving voice to the Mondasian Cybermen.
HANK MARVIN
Legendary Shadows guitarist Hank Marvin discusses his surprising links to the Doctor Who theme.
THE AZTECS
Take a fresh look at the 1964 classic The Aztecs in The Fact of Fiction.
TREVOR BAXTER
We pay tribute to the late Trevor Baxter, who played Professor Litefoot in 1977's The Talons of Weng-Chiang, with contributions from Tom Baker, Louise Jameson, Christopher Benjamin, Lisa Bowerman and more...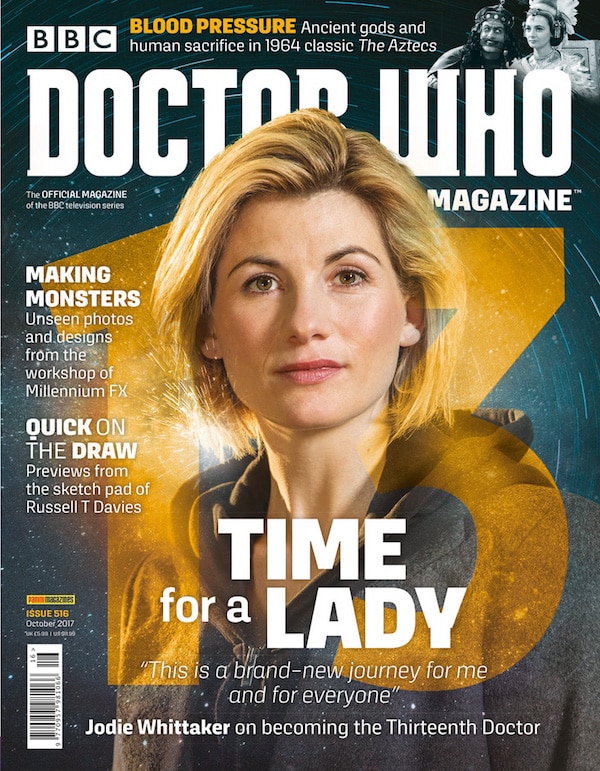 PLUS! Previews, book and audio reviews, news, the Watcher's column, prize-winning competitions and much, much more.
Doctor Who Magazine 516 is on sale now