July 23, 2014
Peter Capaldi's first full episode as the Doctor - Deep Breath - will be screened in cinemas around the world from 23 August 2014.
This year's screenings follow the success of the global cinema release of Doctor Who's 50th anniversary episode The Day of the Doctor which was screened in over 1500 cinemas around the world, allowing fans to come together to watch the show like never before.
Doctor Who makes a spectacular return to the big screen in the feature-length premiere episode of Series 8, Deep Breath. Directed by acclaimed director Ben Wheatley (Sightseers, A Field in England) and written by lead writer and executive producer Steven Moffat, the beginning of the Twelfth Doctor's era stars Peter Capaldi as the Doctor, Jenna Coleman as his companion Clara Oswald and sees the return of fan favourites The Paternoster Gang - Madame Vastra (Neve McIntosh), Jenny Flint (Catrin Stewart) and Strax (Dan Starkey) – in a pulse-racing adventure through Victorian London.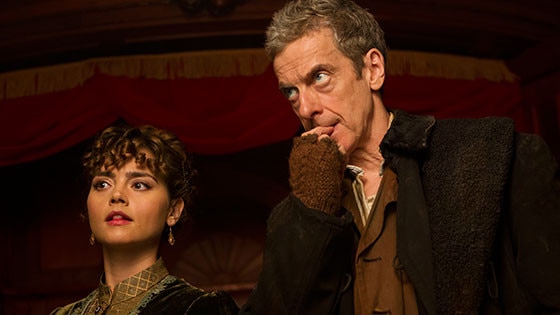 Steven Moffat comments, "Last November the Doctor didn't just conquer the world on television, he did it in the cinemas too. And like the show-off he is, he can't resist another go - one taste of the silver screen is never enough. On August 23rd the new Doctor will begin his new adventures on BBC One and in cinemas all over the world. Movie-land beware - Capaldi is coming to get you!"
Doctor Who: Deep Breath will be screened in participating cinemas around the world from 23 August, 2014. More information will be released by BBC Worldwide and participating cinema chains over the coming weeks. For all of the latest information please visit our dedicated cinema page.