November 14, 2017
The latest edition of Doctor Who Magazine – issue 519, out now – features an in-depth and exclusive interview with First Doctor actor, David Bradley.
Bradley has already appeared in Doctor Who, in the 2012 episode Dinosaurs On A Spaceship, and played William Hartnell in the 2013 drama, An Adventure In Space And Time.
But, as Whovians across the the world discovered at the end of Doctor Who Series 10, David is now playing the First Doctor, originally portrayed by William Hartnell. He will be seen again in the forthcoming episode, Twice Upon A Time (read more ).
On the man whose shoes he is almost literally filling, Bradley told Doctor Who Magazine:
"I think Hartnell wanted to have a bit more of a good time. He wanted to emphasise the playfulness of the Doctor.
So I thought, 'This Christmas episode, there's definitely a cheeky kind of fun to the whole thing. I want to bring that out.'
I feel the weight of responsibility, doing not only the man justice, but his performance too. Hartnell was one of the great British character actors of his time, and you want to honour that.
The humour in this Christmas episode is important."
The Christmas Special will also see the departure of actor Peter Capaldi as the Twelfth Doctor and David had kind words for his Twice Upon A Time co-star:
"It's been a great pleasure working with Peter. I think he's fabulous. He's got the right amount of quick-wittedness, and eccentricity, and the wild imagination. And he looks great."
The actor, also known for his roles in the Harry Potter franchise, Broadchurch and Game Of Thrones, teased the relationship between the First and Twelfth Doctors. Bradley informed Doctor Who magazine that, in terms of the characters, there's a "rivalry". He adds:
"There's a little bit of one-upmanship, but also a creeping admiration and appreciation of the other, from both sides."
You will be able to watch David Bradley and Peter Capaldi onscreen together in Twice Upon A Time from Dec 25, 2017. Check out the new Doctor Who Magazine for the full interview and much, much more.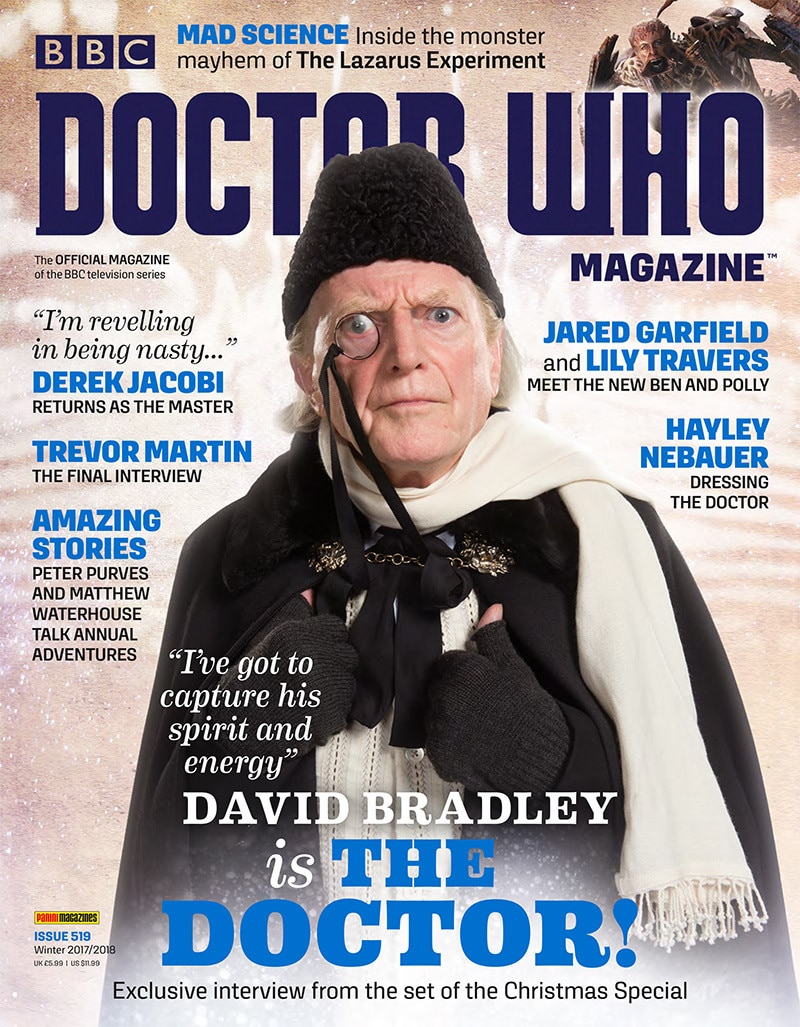 Doctor Who Magazine 519 is available now