October 16, 2023
BBC Studios and Toshiba TV unveils new partnership to mark Doctor Who's 60th Anniversary
Doctor Who: Beyond the Screen in association with Toshiba TV will celebrate 60 years of Doctor Who with a live interactive Q&A panel session featuring some of the experts and creative minds who have shaped the show into what it is today.  
Toshiba TV is giving a few lucky Doctor Who fans the experience of a lifetime to win tickets to attend in-person, with the event showcasing iconic props and costumes from the series alongside a special screening.  
Get ready to travel through space and time as BBC Studios and Toshiba TV pair up to mark the 60th anniversary of the world's longest running science fiction series.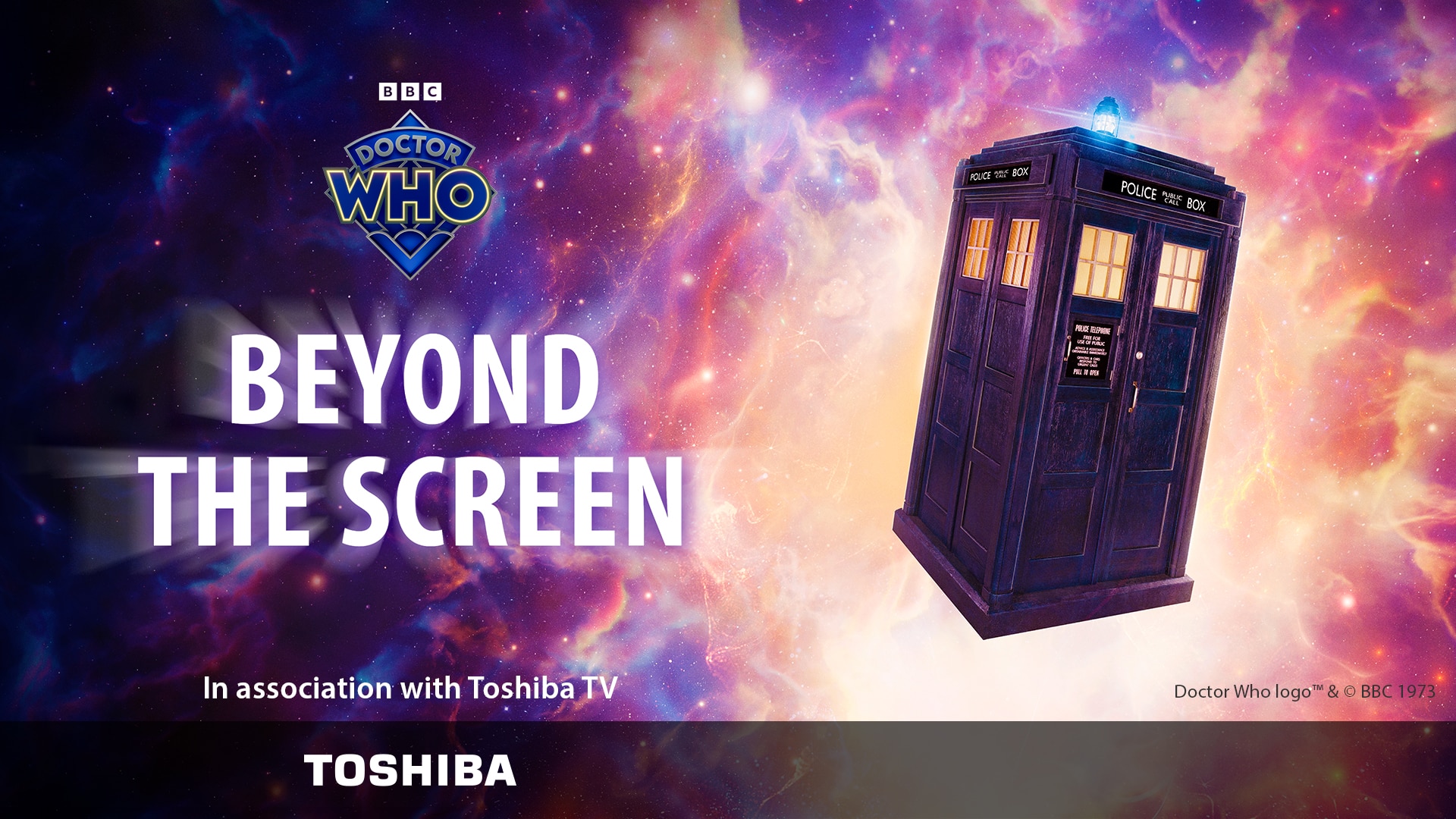 Doctor Who: Beyond the Screen will transport fans into the universe of Doctor Who. Live stream viewers and lucky attendees will enjoy a Q&A panel session with some of the experts and creative minds behind the show.  
The invite-only event will be hosted on Saturday 9th December 2023 at a top-secret London location, and the panel will be live streamed on Twitch and available on Doctor Who's official YouTube channel.  
Toshiba TV, as the sponsor of the event and live stream, is also offering the chance to win a limited number of in-person tickets to the one-off immersive event and special screening. Head here to enter. This is for persons over 18 years of age and living in the UK. 
The Beyond the Screen partnership with BBC Studios aligns with the latest activity in Toshiba TV's Seeing is Believing campaign.  
Doctor Who returns in November 2023 with three special episodes and Doctor Who: Unleashed with David Tennant as the Fourteenth Doctor to coincide with the 60th anniversary. The Fifteenth Doctor, played by Ncuti Gatwa, will then take control of the TARDIS, with his first episode airing over the festive period in 2023.  
Bart Kuijten, Commercial Director at Toshiba TV comments,
"We are thrilled to be partnering with BBC Studios on this Doctor Who 60th anniversary special activity and to provide fans with a once-in-a-lifetime experience. Lucky attendees will have the chance to view a treasure trove of iconic props and costumes with viewers at home able to hear from the experts and join the celebration of the 60th anniversary specials."  
Sarah Bold, Head of Marketing, Global Brands at BBC Studios said,
"The highly anticipated new Doctor Who specials promise to deliver all the excitement and wonder that fans have come to expect from this cultural phenomenon. As the longest running sci-fi series in television history, Doctor Who continues to push boundaries and inspire generations of viewers and this event is a glorious celebration of the brands' iconic heritage and exciting future!"
Doctor Who returns this November with three anniversary specials on BBC One and BBC iPlayer in the UK and Disney Plus in the rest of the world.