January 07, 2018
The latest issue of Doctor Who Magazine is out this week and includes exclusive interviews with the new Doctor, Jodie Whittaker, and the new showrunner, Chris Chibnall.
Check out the cover art and what's inside below.
Doctor Who Magazine 521
"There is no other job in the world like this," Jodie Whittaker tells the new issue of DWM.
Jodie also discusses her regeneration scene and working with costume designer Ray Holman:
"The very first meeting we had was all very secret and incognito. As we were talking I was completely distracted by the colour of the wallpaper behind us. I told Ray I absolutely loved that colour, and that's the colour of the trousers."
ALSO IN THIS ISSUE
CHRIS CHIBNALL
"What's evident is Doctor Who's extraordinary ability to embrace change while remaining exactly the same show that people love."
RACHEL TALALAY
The director of Twice Upon A Time on the filming of Peter Capaldi and Jodie Whittaker's regeneration scene.
TWICE UPON A TIME
Exclusive set report and unseen images from the 2017 Christmas Special.
DUDLEY SIMPSON
Tributes to the composer who wrote some of Doctor Who's best-loved scores.
TARDIS BUILDING
A first-hand account of how the 1960s TARDIS prop was recreated for Twice Upon A Time.
MEET THE DR MEN
Writer and illustrator Adam Hargreaves explains how his Mr Men entered the world of Doctor Who.
THE FACE OF EVIL
The Fact of Fiction explores the 1977 story that introduced the Fourth Doctor's companion Leela.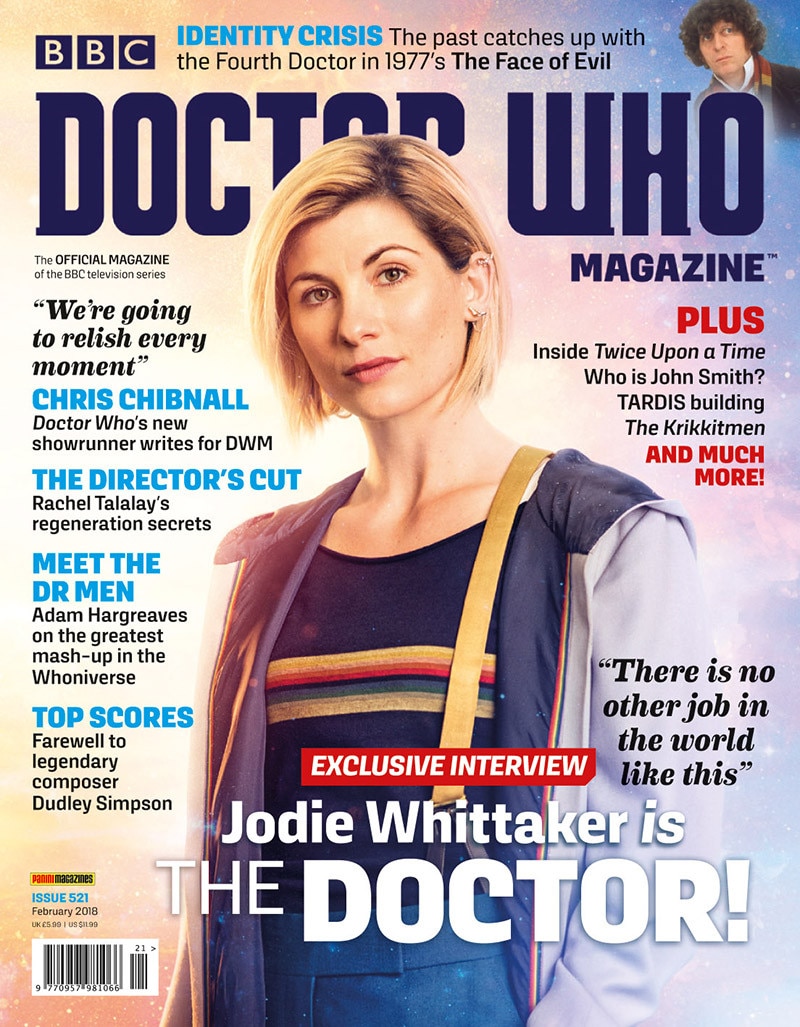 PLUS... The Blogs of Doom, previews, reviews, news, the DWM Christmas Quiz answers and prize-winning competitions! 
DWM 521 is on sale from Jan 11, 2018