June 05, 2018
In an exclusive deal with high street retailer HMV, Doctor Who: Infamy of the Zaross produced by Big Finish Productions and starring David Tennant and Billie Piper will be available for the first time on vinyl record.
From Saturday 16th June, HMV will be stocking a strictly limited pressing of Infamy of the Zaross on yellow 180GM heavyweight vinyl. This will be available in participating stores only, limited to 750 units. 
To quote the Tenth Doctor... "OH YES!"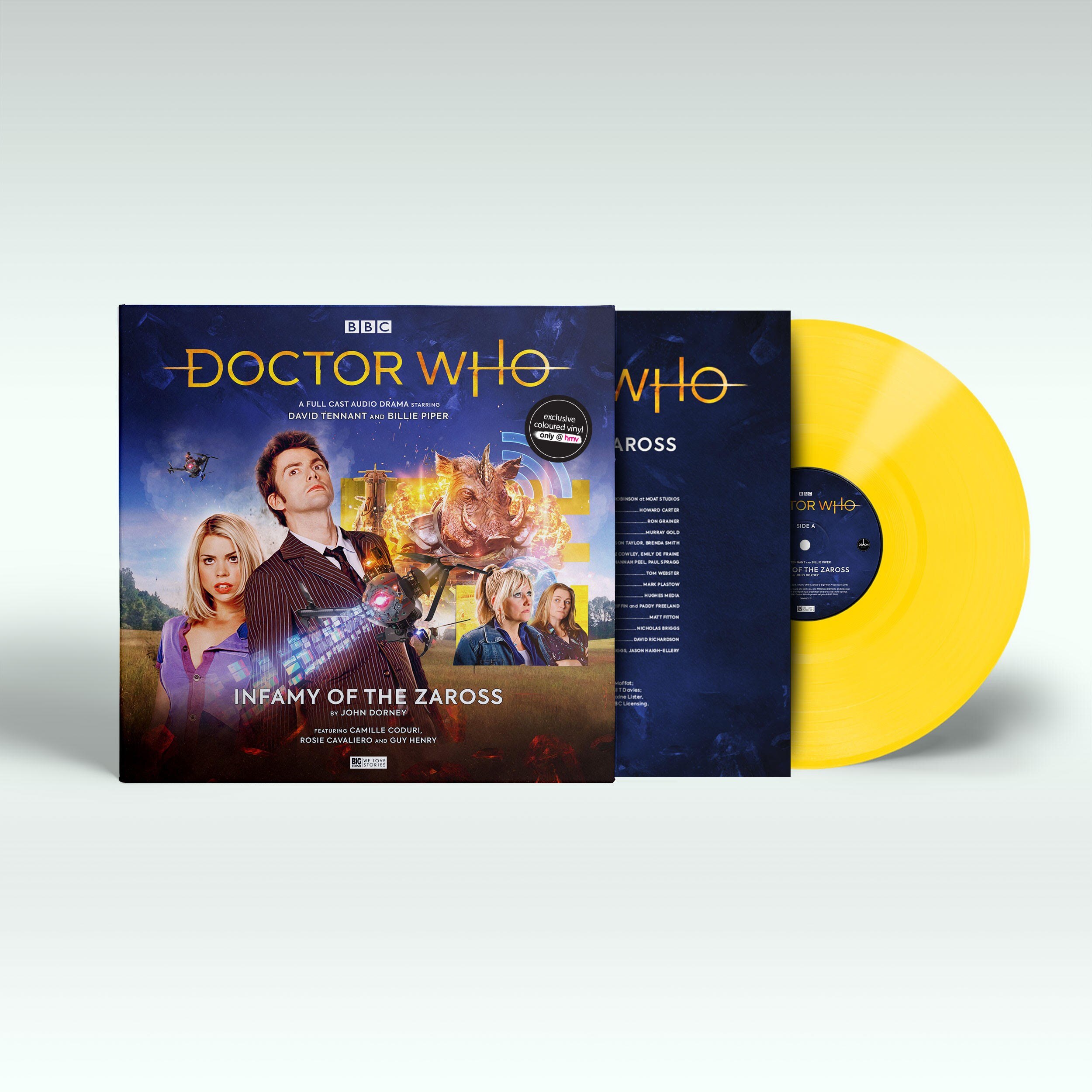 David Tennant played the Tenth Doctor on screen from December 2005 until December 2009, returning in 2013 for the 50th Anniversary Special The Day of the Doctor alongside Matt Smith and John Hurt, and in 2016 on audio for Big Finish with Catherine Tate.
Billie Piper portrayed the Doctor's much-loved companion Rose in 2005 and 2006, returning for a number of stories in 2008. She also appeared as The Moment – which had taken Rose's form – in The Day of the Doctor. This new story was Billie's eagerly-awaited debut for Big Finish.
Infamy of the Zaross guest stars Camille Coduri as Jackie Tyler who is Rose Tyler's mum. When Jackie takes a trip to visit her old friend Marge in Norwich, she finds her holiday immediately interrupted in the worst way possible - an alien invasion! The infamous Zaross have come to take over Earth. Or have they? 
David Tennant previously reprised his role for Big Finish in The Tenth Doctor Adventures Volume 1, released in May 2016, which saw him back together with Catherine Tate's Donna.
The Tenth Doctor Adventures Volume 2, was released in November 2017 and includes Infamy of the Zaross and two further Tenth Doctor adventures. CDs and downloads are available to buy now from the Big Finish website.