September 13, 2017
Materialising just after Christmas, The First Doctor Adventures features David Bradley reprising his role in a new set of stories for a very familiar, yet very new, Doctor.
Following his portrayal of William Hartnell in An Adventure in Space and Time (a drama about the genesis of Doctor Who on television, written by Mark Gatiss), David Bradley is set to star as the First Doctor in this year's BBC One Doctor Who Christmas Special alongside Peter Capaldi – read more about .
And now Big Finish Productions, in arrangement with BBC Worldwide, are giving this reimagined First Doctor another chance to explore the cosmos!
Joining David Bradley are his co-stars from An Adventure in Space and Time reprising their roles as the iconic first TARDIS team. Jamie Glover plays Ian Chesterton, Jemma Powell plays Barbara Wright, and Claudia Grant plays Susan – the Doctor's granddaughter and the original 'Unearthly Child' (pictured below with David Bradley).
Executive producer Nicholas Briggs (and voice of the Daleks and Cybermen) says:
"Having worked with David twice now on TV, it's great to be working with him again. Matt and his team of writers have come up with such a beautifully authentic set of scripts. We forget how different Doctor Who was, back in those early days – and here it all is, painstakingly recreated. I find that rather thrilling."
Available in January 2018, the stories in The First Doctor Adventures: Volume 1 consist of:
The Destination Wars by Matt Fitton
The Great White Hurricane by Guy Adams
This new series of adventures pays homage to the beginning years of Doctor Who, and each of the four episodes in each story will be given an individual title, as was the style at the time. Two of the four stories are historical, focusing on tales from Earth's history pre-1963. Not only will the Doctor be exploring our history, but he will also encounter strange new life forms – the Dalmari and the Ashtallans.
The First Doctor will also encounter his greatest foe, the first incarnation of fellow Time Lord, The Master! Here, the renegade Time Lord is played by actor James Dreyfus (known for his role in BBC sitcoms, The Thin Blue Line and Gimme Gimme Gimme).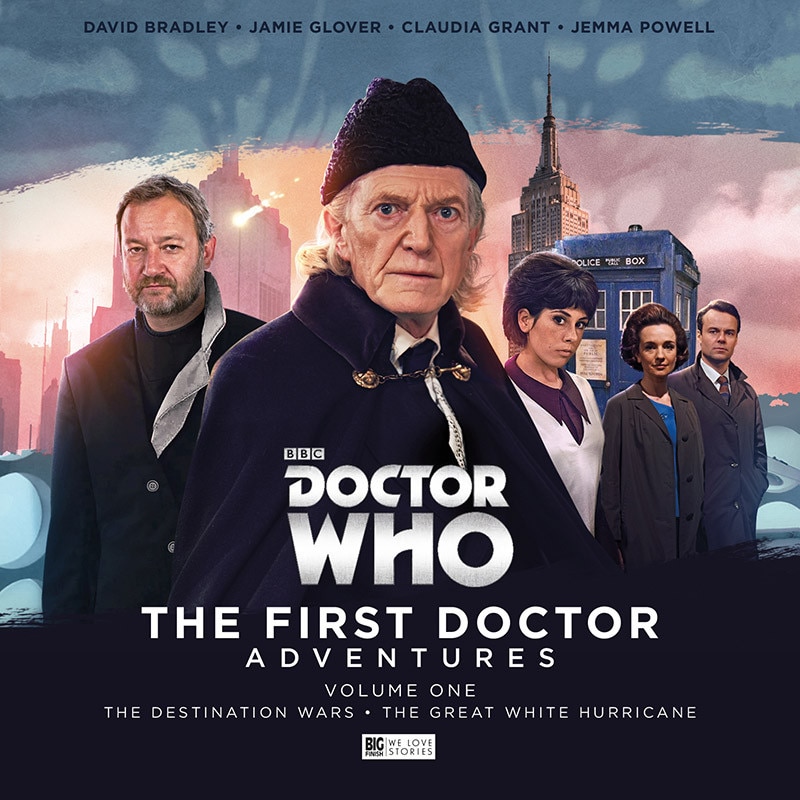 Following in July 2018 will be The First Doctor Adventures – Volume 2:
The Invention of Death by John Dorney
The Barbarians and the Samurai by Andrew Smith
Doctor Who: The First Doctor Adventures – Volume 1 is available for pre-order now at £23 on CD or £20 on download from www.bigfinish.com and will remain at this price until general release when it will be available for £35 on CD or £30 on download. The set will also be available as a bundle with Volume 2 when released in 2018.