February 05, 2018
BBC Worldwide has announced that Second Doctor adventure The Enemy of the World will be released on Special Edition DVD next month in the UK.
Missing for over forty years, The Enemy of the World sees Patrick Troughton play the dual-role of the Doctor and also Salamander - the "saviour of the world". Also starring Frazer Hines as Jamie and Deborah Watling as Victoria, the story was found in 2013. Find out more about .
Check out all the details, extras and cover art below. The release comes with a reversible cover in the style of the classic DVD series.
The Enemy of the World 'Special Edition'
Hailed as the "saviour of the world", Salamander has done more than anyone to relieve global famine. But why do his rivals keep disappearing? And how can he predict so many natural disasters? The Doctor must expose Salamander's schemes – but thanks to an uncanny resemblance to would-be dictator, that's far from straightforward…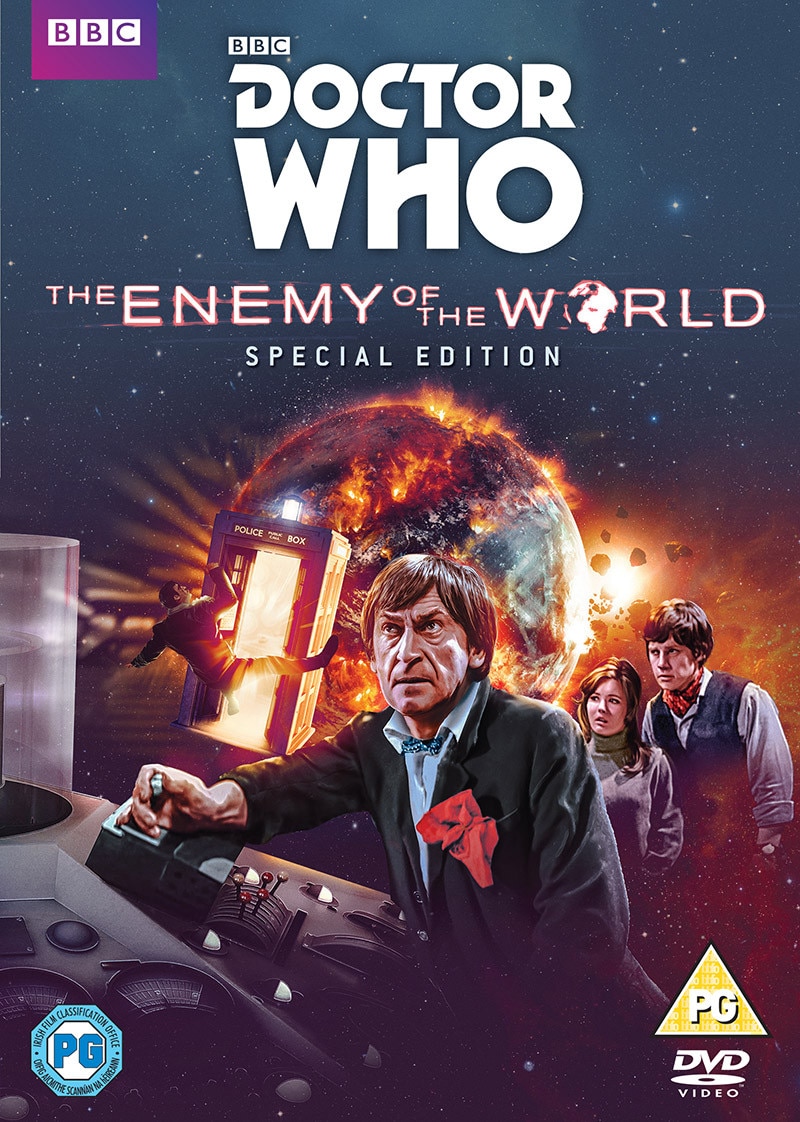 Remastered Episodes
Even though all episodes were restored in 2013 for the previous DVD release, Peter Crocker from the Restoration Team is using advances in technology since then to go over each one with a fine tooth comb to ensure they are now presented in the best possible quality for this special edition.
Treasures Lost and Found
With so much information now available about every Doctor Who serial, it's not easy to learn anything new, so Toby Hadoke embarks on an exciting treasure hunt to find out all he can about the production. Along the way he'll interview some of the cast and crew including Frazer Hines, Barry Letts, Mary Peach and David Troughton - who made his first TV appearance in this serial as an extra. Produced by Ed Stradling.
Recovering the Past – The Search for 'The Enemy of the World'
A brand new interview with the episode hunter Philip Morris, we hear how he tracked down the last surviving film copy of the serial to a dusty room in the African desert. Produced by Paul Vanezis.
Remembering Deborah Watling
Family, friends and colleagues pay tribute to Debbie Watling who played Victoria Waterfield, companion to Patrick Troughton's Doctor. Produced by Cameron K McEwan.
Audio commentaries
All six episodes, contributors include Frazer Hines (Jamie), Mary Peach (Astrid), Gordon Faith (Guard Captain), Milton Johns (Benik) and make-up artist Sylvia James; moderated by Simon Harries. Produced by John Kelly.
Jon Pertwee 1991 introduction
From the VHS release, The Patrick Troughton Years.
Restoration Featurette
Production subtitles
On all six episodes written by Martin Wiggins.
PDF Scripts & Radio Times Listings
Photo gallery
Produced by Derek Handley.
The Enemy of the World Special Edition is available on DVD from March 26, 2018