October 20, 2013
The 50th Anniversary episode The Day of the Doctor will be screened in 3D in cinemas across the UK, Ireland, the US, Canada, Germany and Russia, doctorwho.tv can reveal.
The cinema screenings will take place the same time as the UK TV broadcast on BBC One on 23rd November 2013, giving fans another unique opportunity to be part of a truly global celebration for the iconic British drama series.
216 VUE, Cineworld, Odeon, BFI and Picturehouse cinemas in the UK and Ireland have already confirmed their participation, with tickets for the anniversary screening set to go on sale this Friday October 25th at 9am. Locations include London, Birmingham, Belfast, Dublin, Liverpool, Cardiff and Edinburgh.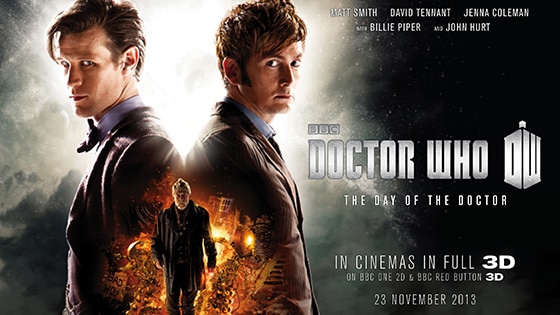 Internationally, German, Russian, American* and Canadian* fans will be able to gather in cinemas to enjoy the simulcast release with approximately 30 cinemas in Germany and up to 50 theatres debuting the episode in Russia. The celebrations will cross time (and space) zones travelling over the equator to New Zealand and Australia where fans will have a choice of 106 cinemas across both countries to view the episode in 3D on the big screen on the 24th November, following the simulcast TV broadcast earlier in the morning.
Head over to our Where To Watch The Day of the Doctor map to find participating cinemas chains. More cinemas will be added to the map as they're confirmed, so keep checking back.

In addition to Matt Smith, the one-off special, entitled The Day of the Doctor stars former Time Lord David Tennant and Jenna Coleman, with Billie Piper and John Hurt
*BBC America will this week announce details regarding the 3D screenings of the anniversary episode in select theatres across the US and Canada.