January 25, 2013
Release date: 11 March 2013
Pre-order from BBC Shop now (UK | US)
A newly remastered edition of classic First Doctor adventure, The Aztecs, will be released on 11 March. As well as representing a huge technical improvement on the original DVD release from 11 years ago, it also features a selection of new extras and the premiere of the recently recovered third episode of Galaxy 4. Missing for many years, the episode is presented in its entirety, within a shortened reconstruction of the rest of the adventure.
Synopsis
The TARDIS arrives in fifteenth century Mexico inside the tomb of Aztec High Priest Yetaxa. The travellers become cut off from the ship after the tomb door closes behind them and Barbara is proclaimed as Yetaxa's divine reincarnation. However, she incurs the enmity of the High Priest of Sacrifice, when - against the Doctor's advice - she attempts to use her new-found authority to put an end to the Aztec practice of human sacrifice.
Content – The Aztecs: Special Edition
Disc 1
4 x 25 mins approx monochrome episodes with mono audio. Optional Arabic soundtrack for episode four only.
Commentary - stereo. With actors William Russell and Carole Ann Ford, producer Verity Lambert OBE.
Remembering The Aztecs - Actors John Ringham, Ian Cullen and Walter Randall recall the production of the story and of television production in the sixties in general.
Designing The Aztecs - Designer Barry Newbery talks about his work on the story, illustrated with many never-before-seen production drawings and photographs from his personal collection.
Cortez and Monezuma - An extract from a 1970 Blue Peter, introduced by Valerie Singleton on location in Mexico, giving historical background to the Aztec belief in human sacrifice.
Restoring The Aztecs - A short featurette demonstrating the restoration and videoisation effects used for the release. With subtitles.
Making Cocoa - An animated guide to making cocoa the Aztec way, voiced in character by John Ringham as Tlotoxl and Walter Randall as Tonila, with both characters animated and presented in South Park style.
TARDIS-Cam no.3 - The third of BBCi's TARDIS-Cam shots.
Photo Gallery - production, design and publicity photos from the story
Easter Egg - An animated BBC Enterprises logo recovered from the end of one of the prints sold overseas.
Intro Sequences - The umbrella story title The Aztecs does not appear on any of the episodes, so for (outdated now) BBFC compliance a caption card with the title has been provided. To add interest, six versions have been provided, each with a different voiceover, in character, from three of the actors involved in the production. The intention is that the disc will randomly select one of these six sequences and play it out at the appropriate point.
PDF Material – Radio Times listings in Adobe PDF format for viewing on PC or Mac
Programme subtitles.
Disc 2
Galaxy 4 (dur. 64' 43") – a shortened reconstruction of the missing story Galaxy 4, using off-screen stills, audio recordings and animation plus the recently recovered complete episode three to tell the story.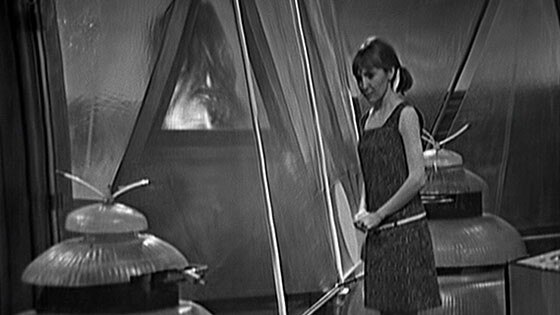 Chronicle – The Realms of Gold – John Julius Norwich's superlative 1969 retelling of the story of the Spanish conquest of Mexico and the Aztecs, which also features music by the BBC Radiophonic Workshop .
Dr. Forever! – Celestial Toyroom – the first of a new five-part series introduced by Ayesha Antoine looks at Doctor Who toys. With original series producer Verity Lambert, new series creator Russell T Davies, writers Mark Gatiss, Rob Shearman, Paul Cornell and Joseph Lidster, BBC Worldwide product licensing executive Richard Hollis, product approval executive Dave Turbitt and ex- range editor Steve Cole, AudioGO commissioning editor Michael Stevens, Character Options' Alasdair Dewar, DWM's toy reviewer Jim Sangster and last, but by no means least, Doctor Who's very own Winston Churchill, actor Ian McNiece.
It's a Square World – the very first Doctor Who skit (as far as we can ascertain), with Clive Dunn in full First Doctor costume as a scientist demonstrating his new space rocket to Michael Bentine, resulting in Television Centre being launched into space! Features cameo appearances by Patrick Moore and Albert Steptoe.
A Whole Scene Going – an excerpt from a recently recovered edition of the sixties music and arts programme, featuring an interview with director Gordon Flemyng and a behind the scenes look at filming of his movie Daleks' Invasion Earth: 2150 AD.
Coming Soon - a trailer for a forthcoming DVD release.
Radio Times Listings in Adobe PDF format.
Programme subtitles.