July 30, 2013
Doctor Who's thirteenth season opens on the misty moors of Scotland – and new monster for the Fourth Doctor, Sarah and Harry to face: the Zygons.
Synopsis
Returning to Earth, the Doctor, Sarah and Harry arrive in the Scottish Highlands to investigate the mysterious destruction of several oil rigs in the North Sea. Local superstition speaks of a deadly threat that lurks in the mists on Tulloch Moor, but the truth is even more disturbing: the legendary Loch Ness Monster is a terrifying cyborg beast which is controlled by the Zygons, an advanced alien race who are desperate to ensure their own survival, at any cost...
Contents
Commentary by producer Philip Hinchcliffe, writer Robert Banks Stewart, production unit manager George Gallaccio, make-up artist Sylvia James and sound effect producer Dick Mills, moderated by Mark Ayres.
Scotch Mist in Sussex - Cast and crew look back at the making of this story. With actors John Levene and John Woodnutt, Philip Hinchcliffe, Robert Banks Stewart, designer Nigel Curzon, costume designer James Acheson, visual effects assistant Steve Bowman, writer and historian Simon Farquar and the director's son, Joggs Camfield.
Remembering Douglas Camfield - The life and work of respected director Douglas Camfield is remembered in this documentary. With actors Celia Imrie, Peter Purves, Jonathan Newth and John Levene, Philip Hinchcliffe, Robert Banks Stewart, director Graeme Harper and Joggs Camfield. Narrated by Glen Allen.
The UNIT Family Part 3 - The concluding part of the series looking at the stories featuring the United Nations Intelligence Taskforce. With actors Tom Baker, Nicholas Courtney, Katy Manning, John Levene and Richard Franklin, producer Barry Letts and script editor Terrance Dicks.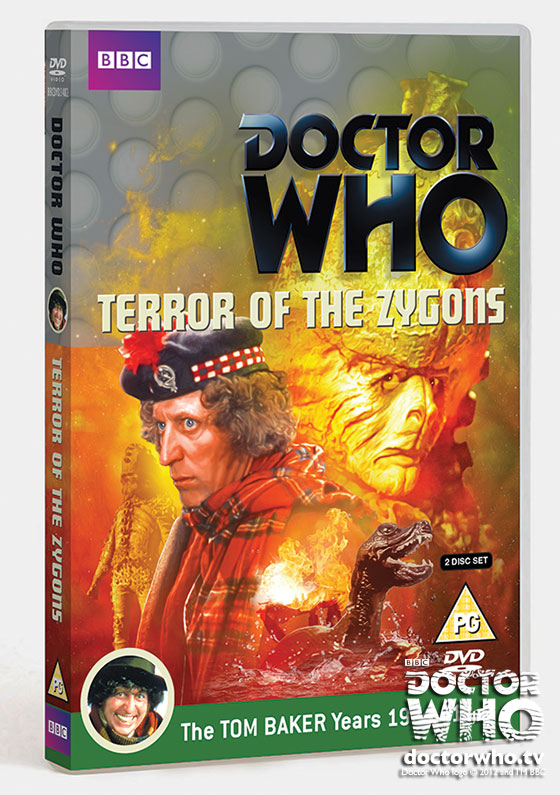 Doctor Who Stories: Tom Baker - Tom Baker talks about his work on the series in this interview originally recorded for 2003's The Story of Doctor Who.
Doctor Who Stories: Elisabeth Sladen - Elisabeth Sladen remembers her time as Sarah Jane Smith in this interview recorded for The Story of Doctor Who.
Merry-Go-Round: The Fuel Fishers - Elisabeth Sladen flies out to visit North Sea oil rigs and learn about the process of oil exploration in this schools programme from 1977.
South Today - Tom Baker interviewed on location in Sussex during the Terror of the Zygons filming by the BBC's regional news programme South Today.
Isolated Score
Photo Gallery
Radio Times Billings
Coming Soon
Production Subtitles
Release dates
Region 1 – 8 October (US, Canada)
Region 2 – 30 September (Europe, Japan, Middle East, South Africa)
Region 4 – TBC (Australia, New Zealand, South and Central America)
Please note: release dates are provisional and subject to change