December 23, 2017
The writer of this year's Doctor Who Christmas Special, and former showrunner, Steven Moffat has been chatting to The Fan Show – The Aftershow about all things Twice Upon A Time.
The bumper edition of the show also features actor/writer Mark Gatiss and David Bradley, who played The Captain and the First Doctor respectively in the Christmas Special.
Tackling the big issue of the episode, the appearance of Jodie Whittaker as the Thirteenth Doctor, Steven commented:
"She made me laugh straight away. Above all, it's such a simple thing to say. The Doctor has to be funny. If the Doctor's not funny, I'm really lost and she immediately made me laugh. And smile, I was grinning away.
If the wrong person is playing the part, it'd look really scary and awful.
She is going to be awesome."
Whovians across the world were devastated to see the end of the current TARDIS console room, which has been in place since the 2012 Christmas Special, The Snowmen.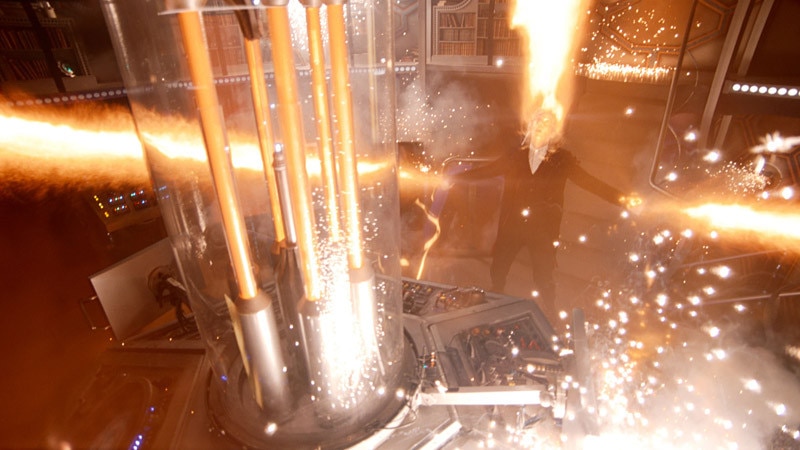 Holding up his hands with a smile, Steven joked about a special request from the new Doctor Who showrunner Chris Chibnall:
"Chris made me! Chris said he wanted me to blow it up, I said 'OK, Chris. You want to blow stuff up, that's fine by me. You're the boss, Chris,' I said. 'You want to blow up that beautiful set, break that designer's heart, we'll blow it up. Christmas day? Blow it up. Consider it blown mate,' that's what I said.
Chibnall's first series in charge of the show begins in 2018 and will see Jodie Whittaker joined by Bradley Walsh, Mandip Gill and Tosin Cole. You can watch latest episode of the Doctor Who: The Fan Show – The Aftershow, featuring Steven Moffat, Mark Gatiss and David Bradley below.