November 08, 2017
Sylvester McCoy (known to Doctor Who fans as the actor to play the Seventh Doctor) is joining the voice cast of the UK animated children's show, Sarah & Duck.
Read more about the Seventh Doctor
A brand new batch of episodes of the pre-school favourite starting will be launched on CBeebies from Tuesday, November 14, 2017.
Featuring the voices of Roger Allam (who co-starred with Peter Capald in The Thick of It) as the narrator and Lesley Nicol (Downtown Abbey) as Scarf Lady, the hugely popular, BAFTA-winning series brings back all the much-loved, familiar characters as it continues to follow the animated antics of seven-year-old Sarah and her flappy, feathered best friend, Duck.
The Seventh Doctor actor guest stars In the space-themed first episode; 'Comet's Coming'. In this story, Sarah & Duck pay a long-awaited visit to the observatory to view a Comet (played by McCoy), a slightly scatty celestial object who won't been seen again for many years. As Sarah & Duck watch on, Comet is reunited with his old friends Venus and Mars but the trouble is, he doesn't actually remember them. Can Sarah & Duck and the planets help jog his memory?
Check out Sylvester with his character Comet and Sarah & Duck below!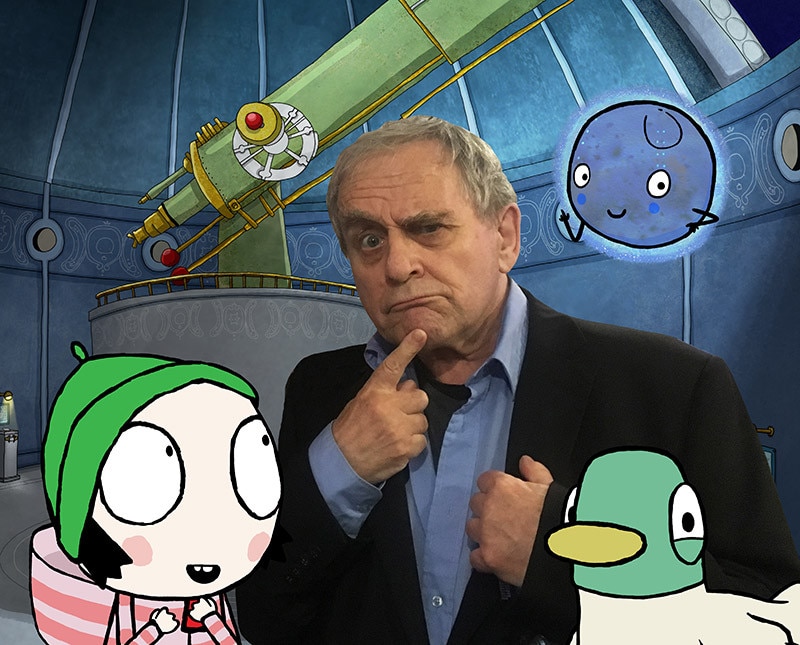 Series producer Jamie Badminton says:
"Sylvester's performance as Comet in 'Comet's Coming' provided such a thrill for the animation team to bounce off when animating. McCoy's playful vocal delivery created such fun on-screen energy and fit perfectly with the unpredictable tone that we strive for in every Sarah & Duck episode."
Transmitting week daily on CBeebies, the seven brand new episodes will see Sarah & Duck up to their usual quirky adventures including launching a search for Umbrella, investigating some mysterious hedge music and visiting a haberdashery.
Catch Sylvester McCoy in Sarah & Duck on CBeebies from November 14 at 5.15pm.