September 26, 2017
Former Doctor Who showrunner Russell T Davies and author James Goss have been taking part in a special podcast to celebrate their book of Doctor Who poetry, Now We Are Six Hundred.
The Now We Are Six Hundred Questions Podcast features actor Richard E. Grant interviewing Davies and Goss with a selection of poems read by impersonator and comedian (and Doctor Who fan!), Jon Culshaw.
Grant is well-known to fans having played the Doctor on two occasions (1999 Comic Relief special written by Steven Moffat, The Curse of Fatal Death, and the 2003 online animation, Scream of the Shalka) and starred in Doctor Who Series 7 as the human face of the Great Intelligence.
Russell was asked by a fan what his favourite Doctor Who episode to write and make was, he replied:
"That's the tricky one because, of course, they are all my children and you can't have favourite children – yes, you can!
The one I have a particularly sentimental fondness for is an episode called Gridlock. Simply because it's the first script I wrote entirely in Cardiff."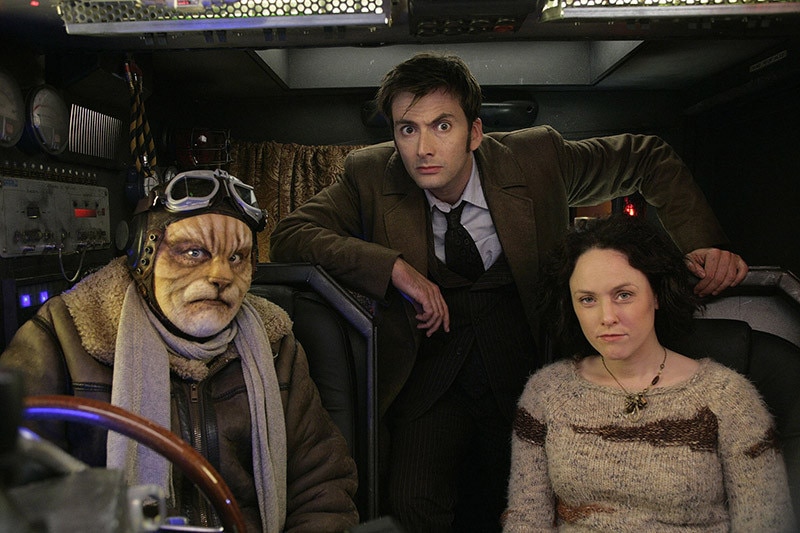 Gridlock was first broadcast in 2007 and starred David Tennant as the Tenth Doctor with Freema Agyeman as Martha Jones. It featured Brannigan, as played by Ardal O'Hanlan, with wife Valerie, as played by Jennifer Hennessy (who recently played Bill's foster mother Moira in Doctor Who Series 10).
The episode also included the final scene for the Face of Boe, who had an enigmatic message for the Time Lord. Not only that, David Tennant got some love from some kittens, as you can see below!
Russell explained why Gridlock holds such a special place in his heart:
"I used to shuttle to and fro between Manchester and Cardiff and that one I was entirely in Cardiff when I finished and love it for that reason.
Making it was mad and brilliant and very, very difficult for the team.
It's about a 23 year old traffic jam, only Doctor Who could do that – you wouldn't get that on Star Trek! It's a purely Doctor Who idea."
PLEASE NOTE: This podcast includes material NOT suitable for younger fans.