December 15, 2013
Just in time for Christmas, the official Doctor Who Virtual TARDIS app puts the TARDIS on your device allowing you to travel through time and space and take your photos to the next dimension.
Following the successful launch of the official Doctor Who Sonic Screwdriver app which topped the entertainment charts in Australia, New Zealand, US and UK on its release, BBC Worldwide and developer Useless Creations have released an app using augmented reality technology to put you in control of the TARDIS.
Buy the Virtual Sonic Screwdriver app from the Apple App Store »
Virtual TARDIS mode allows you to use the motion of your device to land and take-off, fly the TARDIS through the world and accelerate to enter the time vortex. In Real World mode you can see the TARDIS spinning above you, or touch the ground where you'd like it to land and watch it materialise before your eyes. Rotate and scale the TARDIS to line up the perfect photo, then take and share your images on Twitter using the hashtags #DoctorWho #VirtualTARDIS, Facebook or Flickr.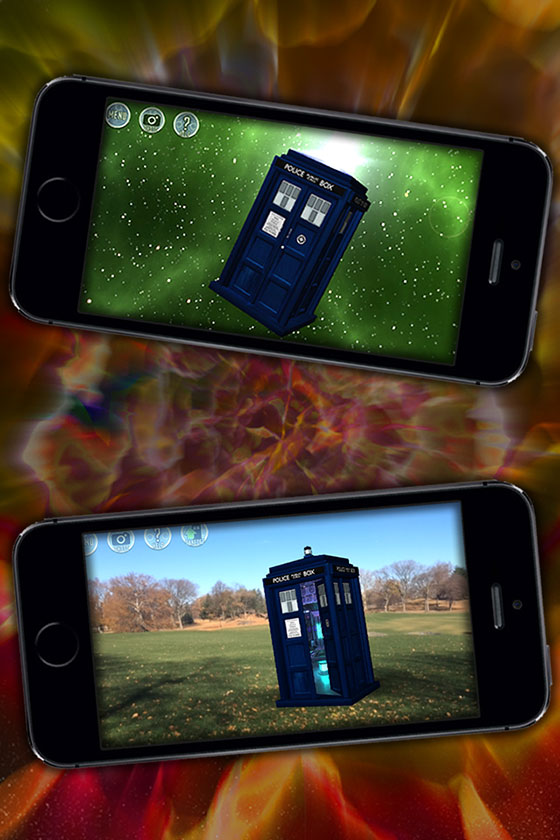 There are six different models of the TARDIS to choose from including the original from 1963, which turns everything black and white. Tap the TARDIS to open the door and see inside.
Helen Pendlebury, Head of Brand Licensing and Live Entertainment, said: "This latest fun app puts the TARDIS in fans pockets, enabling them to fly to the planet Skaro – or just to the end of the garden path.  And with the photo-sharing facility we look forward to seeing where the TARDIS ends up!"
The official Virtual TARDIS app is available from iTunes now.