October 22, 2013
BBC America and BBC Worldwide are thrilled to announce two chances for viewers in the United States and Canada to catch 50th anniversary special, The Day of the Doctor in cinemas.
On Saturday November 23, a global simulcast 3D screening event will be held in 19 major American and Canadian cities, in full RealD™ 3D, alongside selected cinemas around the globe.
United States
BBC America, in association with AMC Entertainment Inc., Cinemark Holdings, Inc., and Regal Entertainment Group, present the 75 minute special, at the same time as it premieres on BBC America and across the globe. Tickets will go on sale on October 25, 2013 at 9am EST for selected theater locations in New York, Los Angeles, Chicago, Philadelphia, Seattle, Washington DC, San Francisco, Dallas, Houston, Atlanta and Minneapolis. Tickets may be purchased at Cinemark.com, REGmovies.com and Fandango.com.
The festivities won't stop there: BBC America and NCM Fathom Events are teaming up to continue the celebration, giving fans across the U.S. a chance to experience the anniversary special for one night only, on Monday November 25 in 300 cinemas. Tickets will be available at participating theater box offices and online at www.fathomevents.com.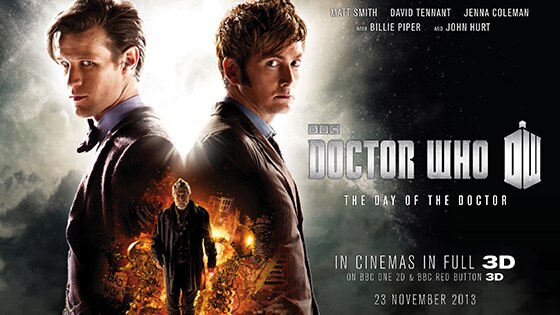 Canada
In Canada, BBC Worldwide have teamed up with Cineplex Entertainment's Front Row Centre Events, to simulcast in Toronto, Vancouver, Montreal, Calgary, Edmonton, Ottawa, Victoria, and Winnipeg, at the same time the 75-minute special premieres on Space and across the globe. Tickets will go on sale October 25, 2013, at Cineplex.com and participating theatres.
Cineplex will continue the celebration by giving fans across Canada a second chance to experience The Day of the Doctor in RealD™ 3D on Monday, November 25, in 60 screens. Tickets for the November 25 screenings will also go on sale October 25.
Head over to our Where To Watch The Day of the Doctor map to find chains participating in the November 23 screenings.

The theatrical events will include specially shot introductions and The Day of The Doctor: Behind The Lens, a 10 minute behind-the-scene featurette directly following the special. The short features Matt Smith, David Tennant and Jenna Coleman with Billie Piper and John Hurt, as well as lead writer and executive producer Steven Moffat, discussing their 50th Anniversary experiences. The Day of The Doctor: Behind The Lens will also be available on bbc.co.uk/doctorwho.
Soumya Sriraman, EVP Home Entertainment and Licensing for BBC Worldwide North America, commented: "Doctor Who 50th Anniversary is truly a global celebration and we're thrilled to bring the special to the big screen. Our partnerships with Cineplex will give fans, on November 23 and 25, the opportunity to see the Doctor in a whole new way – in RealD™ 3D."