September 21, 2016
Today details of the new Doctor Who spin-off Class have been announced and look WHO'S back - Peter Capaldi as the Twelfth Doctor. The show starts in October, check out the details below.
The wait is over! Today BBC Three confirm the new YA drama, Class, written by Patrick Ness, will drop its first two episodes on BBC Three on Saturday 22 October.
Peter Capaldi will join the cast of exciting new talent in the opening episode of the series, For Tonight We Might Die. Coal Hill School holds some very dark and deadly secrets in its shadows….but who will survive? Commenting on his involvement with the new Doctor Who spin-off series, Peter Capaldi, said:
"The Doctor Who family is growing, and it's fantastic to be able to welcome the young new cast of Class in to the Whoniverse."
It's a new term at Coal Hill Academy, and students are preparing for their Autumn Prom. But when the school comes under attack, four alienated students must form an unlikely alliance to defeat them. And this incursion is only the beginning…??
Charlie (played by Greg Austin), April (Sophie Hopkins), Ram (Fady Elsayed) and Tanya (Vivian Oparah), assisted by their physics teacher Miss Quill (Katherine Kelly), are charged with a great responsibility by the mysterious alien known as the Doctor (Peter Capaldi): guard against the creatures of nightmare that want nothing more than to find a way through to Earth and take it for their own.
Not only that, we have a brand new image to share with you from Class! The picture below shows (L-R):
Vivian Oparah as Tanya
Greg Austin as Charlie
Katherine Kelly as Miss Quill
Sophie Hopkins as April
Fady Elsayed as Ram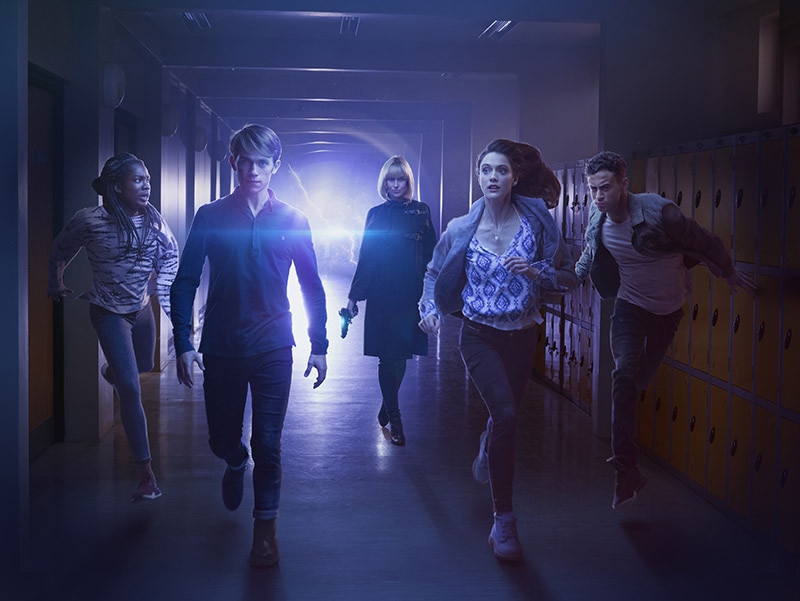 Patrick Ness has created intriguing and complex characters that have to navigate their way through more than just teenage hormones, exams and detention. Joining them as series regulars are: Jordan Renzo (Chosen, Troubled), Pooky Quesnel (Doctor Who: A Christmas Carol) Nigel Betts (Doctor Who: The Caretaker). The first two episodes also feature Ben Peel (The Fall), Anna Shaffer (Harry Potter), Paul Marc Davies (Doctor Who: Utopia), and Shannon Murray (The Totally Senseless Gameshow).
YA writer and Class creator Patrick Ness, says:
"At last, we can tell you a little more about Class! Though there are still many, many secrets to come. Many. Like, a lot. But of COURSE, the Doctor is in episode one! That's how these things are done. Truly, though, I can't wait for everyone to see the show; we've worked so hard and I'm so proud of it. Soon, soon..."
Class starts on BBC Three on October 22, 2016 and on BBC America in 2017