May 12, 2023
Make your own totally awesome Doctor Who TARDIS decoration.
Blue Peter, the longest-running UK children's television show, have provided steps to crafting your own TARDIS! You can use this a cosy book nook to decorate your bookshelf, as a handy night light, or to simply look fantastic in your bedroom. This crafting sessions is perfect for kids, as long as they have the help of a nearby parent or Time Lord! 
Watch the video below as a guide and check out some of the extra steps to make your own bigger-on-the-inside, smaller-on-the-outside TARDIS...
You will need:
Large carton (you could use a milk or fruit juice carton, just make sure it's clean)
Small juice carton
Recycled cardboard
Masking tape or sticky tape
Scissors
Craft mirror for inside your TARDIS (optional)
Glue or double-sided tape
Printed template of inside the TARDIS (or you can design your own)
Recycled plastic bottle/spice bottle/bubble bottle for inside TARDIS (optional)
Decorations (we made a Police Public Call Box sign and notice board, like those found on the real TARDIS)
---
Step One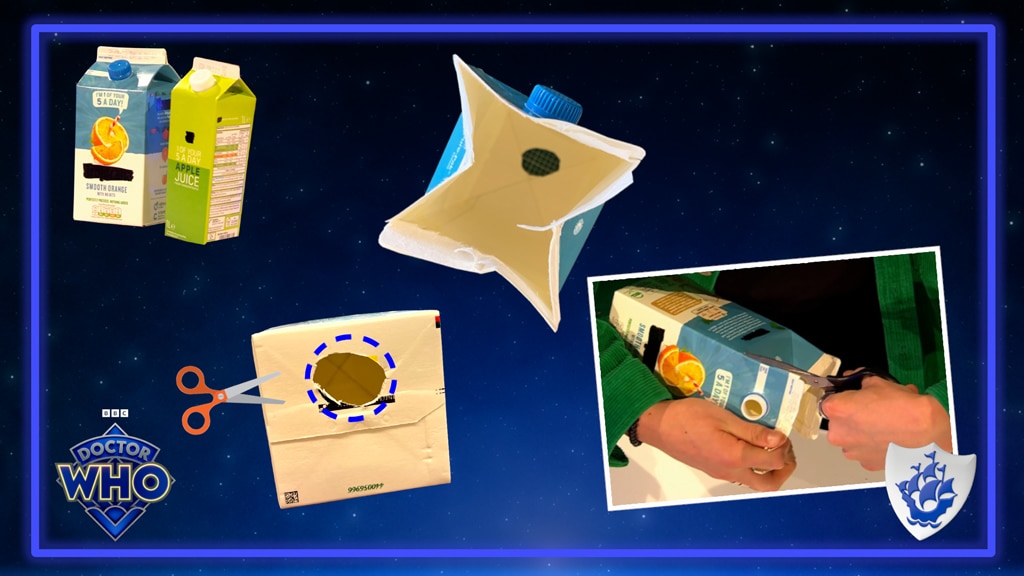 Carefully and with the help of a grown-up cut a small hole in the bottom of your large carton, around 2cm diameter.
Take the plastic cap off your carton and save it for later.
Open up the cardboard top of the carton, using the tabs. Carefully cut down each edge and fold down the flaps. Cut off the front flap (that's the part that had the spout and lid on it).
---
Step Two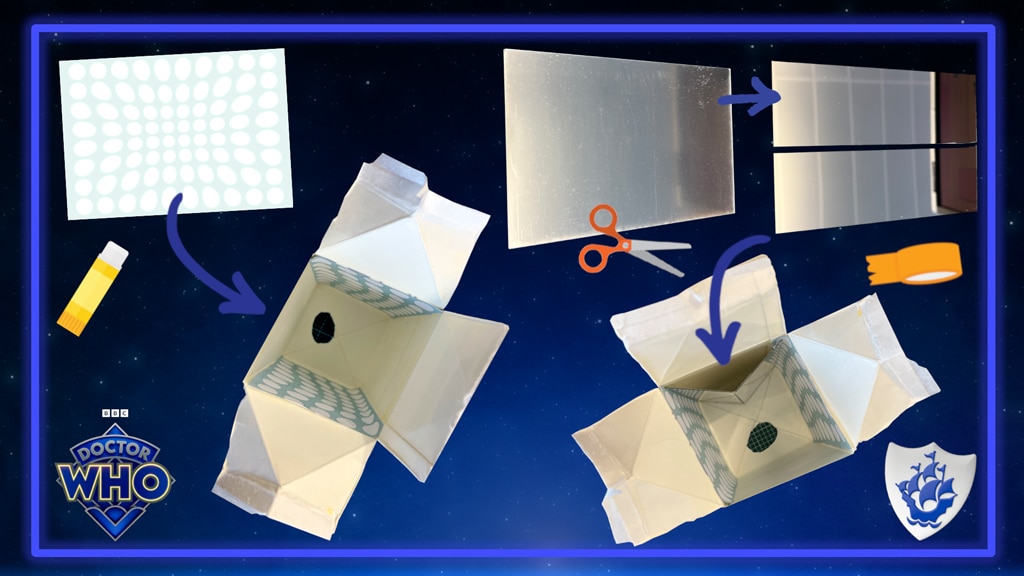 To make the inside walls of the TARDIS you can either print this funky template, or this orange interior wallpaper, as used in the programme, or draw your own pattern design on paper. Cut your patterned paper in half lengthwise and stick it inside your large carton.
Grab a craft mirror, you can find these in local craft shops. Measure halfway along the back and carefully cut the mirror in half. Use tape to stick the two pieces of mirror together creating a hinge. Please make sure this is a cardboard craft mirror, not a real glass mirror!
Use tape in the corners of your hinged mirror and place inside your large carton. The mirror should be pointing toward the front of the carton, and at a right angle to the back of the carton. This will mean the walls are reflected in both sides of the mirror.
---
Step Three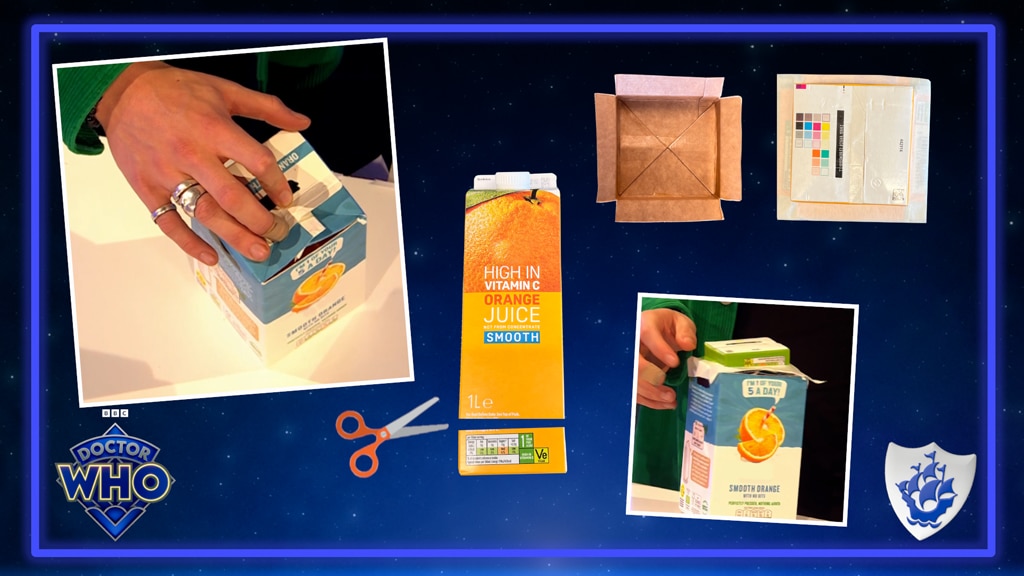 Fold down and stick the flaps at the top of the large carton.
Take your smaller carton and carefully cut the bottom off, give yourself about 4cm to work with.
Snip halfway down each corner of the new cardboard piece, creating four flaps. Fold the flaps down and use them to stick the cardboard piece to the top of the larger carton. You'll see this is turning into a brilliant TARDIS shape.
---
Step Four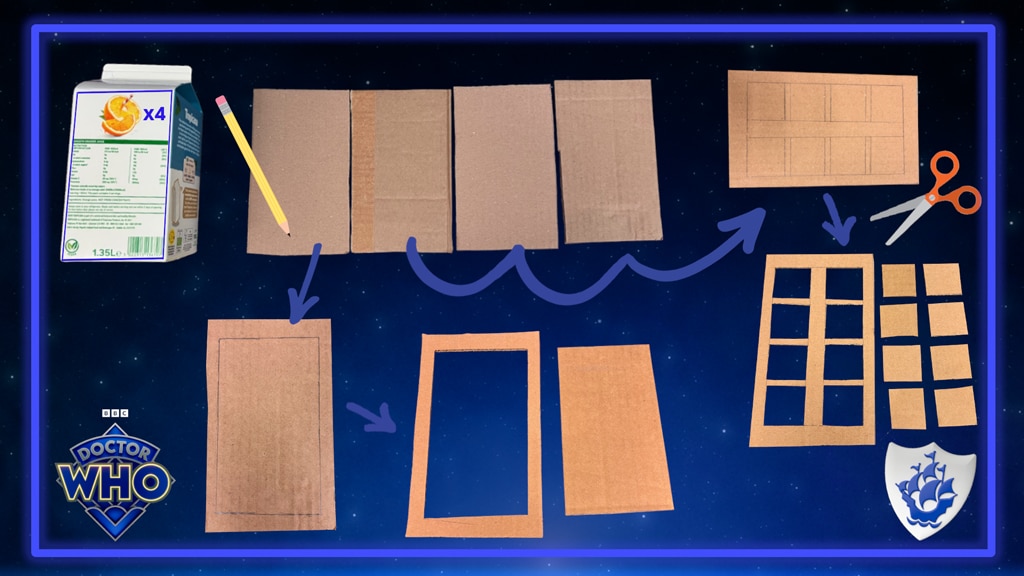 To make the outer panels of the TARDIS use your large carton as a template and trace around it onto your recycled cardboard four times.
Take three pieces of cardboard and around 1.5cm from the top and 1cm from the edge, sketch four square panels on each side, leaving a gap of around 1.5cm in the middle. With help of an adult, carefully cut out the squares, and keep them for later.
To make the door frame measure around 1.5cm from each edge and sketch a smaller rectangle. Carefully cut out the smaller rectangle.
---
Step Five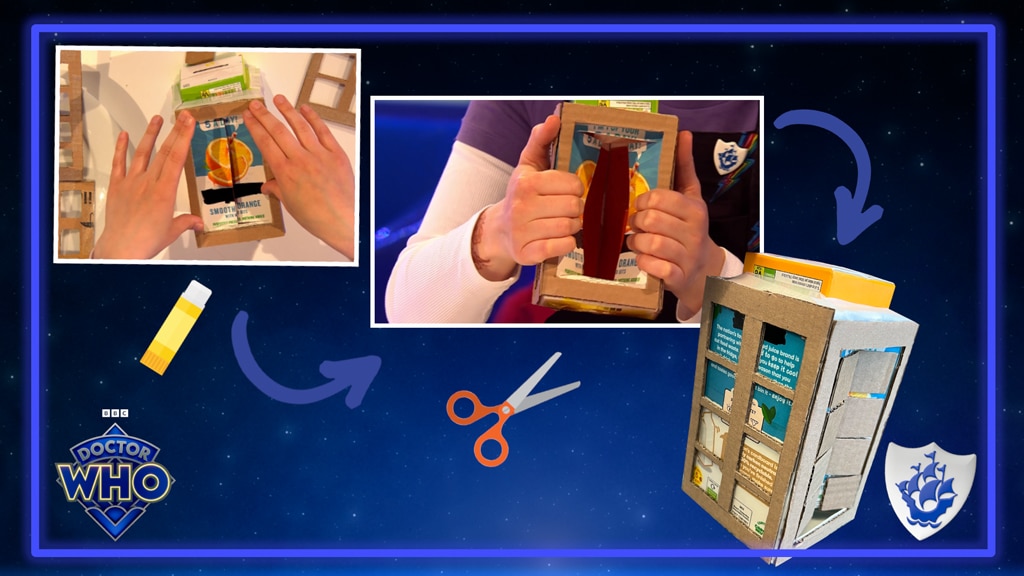 Create a door frame by sticking rectangle to the front of your TARDIS. To make the doors, grab a grown up, as this bit is really tricky, and ask them to carefully snip along the top and bottom line of the door frame, and then straight up the middle to create the doors.
Stick the four squares on each side of your new doors, this will create a cool 3D panelling effect.
Finally, stick your panel pieces to the remaining edges. Things are really taking shape now!
---
Step Six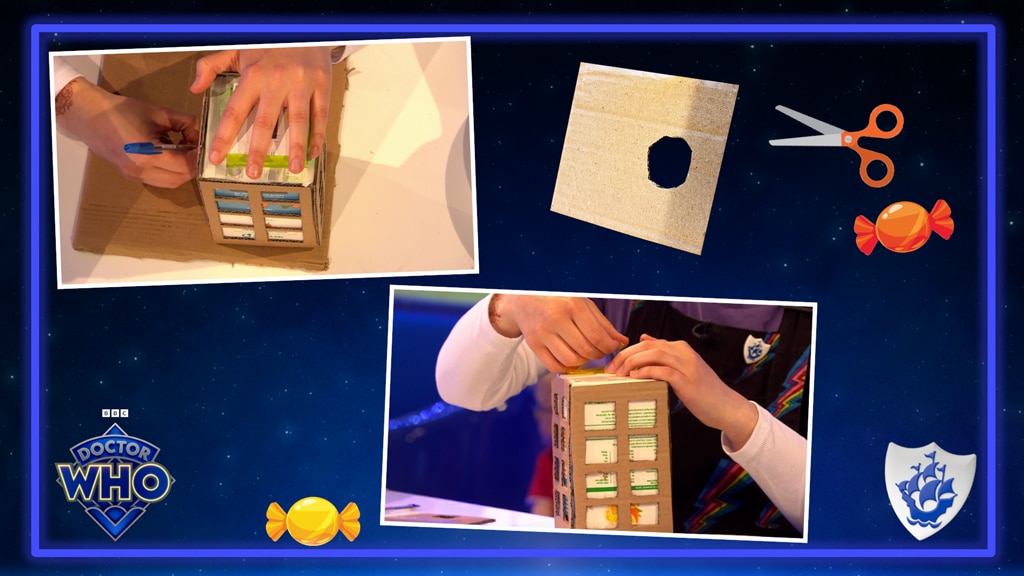 To create your base, trace a shape slightly larger than the bottom of your large carton and cut it out. Remember the hole you cut into the bottom of your TARDIS in Step One? Kindly ask your grown-up for help to carefully cut a hole in your new cardboard base to match the TARDIS hole, as best as you can. You could use a pencil to help make this hole.
Grab a sweet wrapper and stick it to the bottom of your TARDIS, making sure to cover the hole. Now stick your base to the bottom of the TARDIS, making sure the holes line up.
---
The Finishing Touches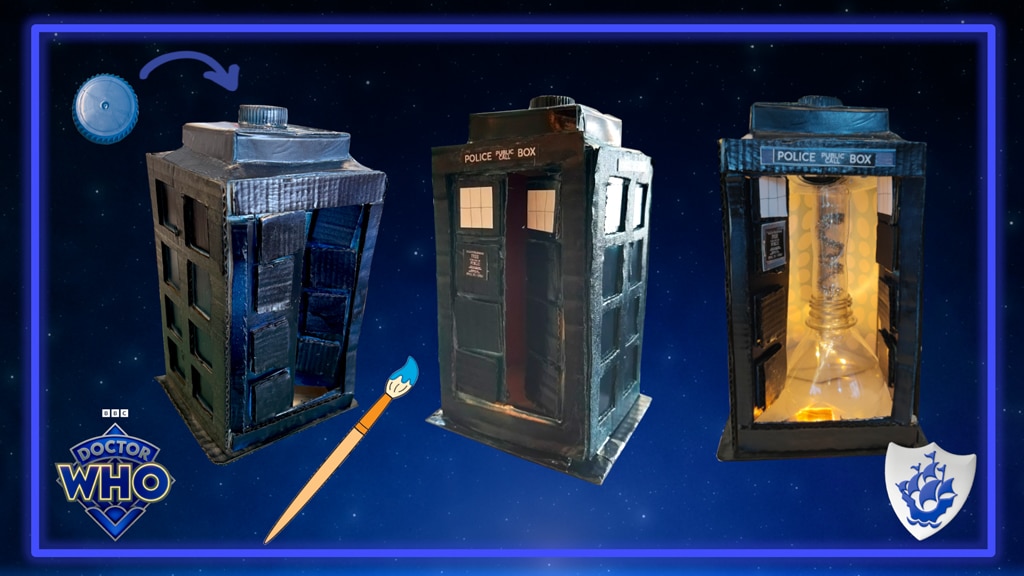 To create a lantern, take the bottle top you saved earlier and stick to the top of your TARDIS.
Time to paint the outside of your TARDIS, we chose a traditional dark blue.
Create windowpanes using white squares of paper with grid lines drawn on them and stick them to the top two squares on the doors of your TARDIS.
To make our TARDIS look super realistic we added a Police Public Call Box sign, and Police notice board sign which we added to the front, we think this looks great and recommend you draw your own.
To make sure your TARDIS can travel through time, why not make a convincing console for the middle? You can get really creative with recycling here! We cut the top off a water bottle (you'll need a grown-up to help with this part) and placed a small plastic sweets tube inside the neck of the bottle, sticking with clear tape. We also added a spiralled silver pipe cleaner, which we think looks awesome. You could use any recycled small bottle to create this effect too, we found a bubble bottle works really well or an empty spice jar.
---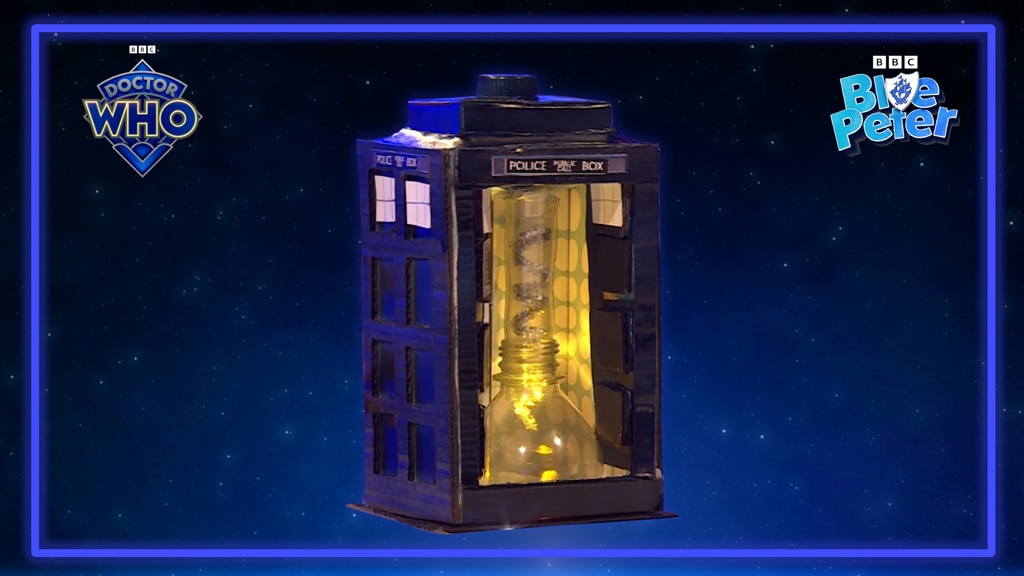 So there you have it, you've made your very own bigger-on-the-inside TARDIS! Use a torch or phone light to shine through the bottom of your TARDIS to create an awesome, sci-fi glowing effect. Make sure to tell us where it materialises! Did it appear on your bookshelf, your garden or somewhere else in space and time?
If you're feeling creatively inspired, this book nook craft is available in conjunction with Blue Peter's fan art competition for Doctor Who super fans in the UK aged 5-15. Make sure you read up on how to enter to get a chance to explore the Doctor Who set in a VIP tour, plus win a Doctor Who Blue Peter badge.

Did you have a go at this epic TARDIS make? Send us a photo of your finished result!