April 02, 2019
Some 53 years and seven months after the now-missing Doctor Who episode Mission to the Unknown was broadcast, a group of industrious and dedicated students at the University of Central Lancashire have embarked on an audacious plan to remount it as authentically as possible.
Details have been revealed in the new issue of Doctor Who Magazine (#537):
Of all Doctor Who's missing episodes, why was Mission to the Unknown chosen for this remake? "For so many reasons," explains Andrew Ireland, Pro-Vice Chancellor of Digital and Creative Industries at UCLan, long-time Doctor Who fan and the brains behind the project. "No Doctor, no companions; it's a single-episode, self-contained story, so it will be a satisfactory experience for everyone involved. The story is really good. I like the fact that all the good guys die. We leave it with the world in jeopardy and the solar system about to be invaded. It's very rich source material."
"Andrew's a really creative, positive person with a very down-to-earth, practical approach," says Nicholas Briggs, who's providing Dalek voices for the production. "He's got a great team of students working on this. But my initial thoughts were, 'What fun!' I was really keen to be involved. I love the idea of creating that classic look."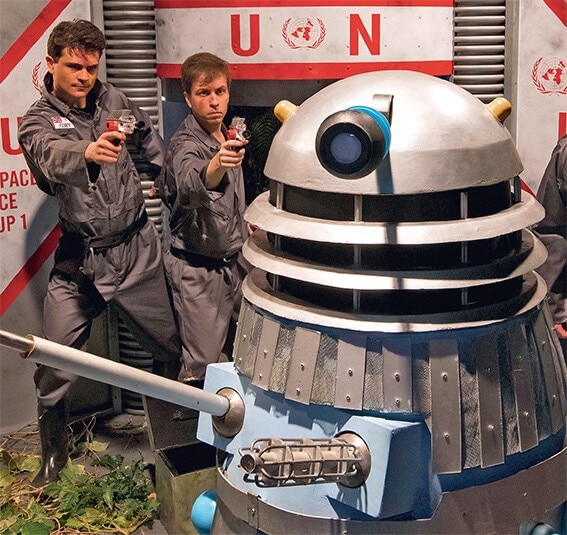 Doctor Who Magazine attended the two-day shoot in February along with two special visitors: Peter Purves, who played 1960s companion Steven Taylor, and Edward de Souza, the original Mission to the Unknown's Marc Cory.
"When we did it, none of us thought that it would mean anything at all. It was just another episode of Doctor Who," says Edward. "And now it's still very much liked and I find that remarkable. This is wonderful today, as it's all exactly the same. I felt really quite peculiar standing in the jungle with my broken-down spaceship, which looks exactly the same as it did when I stepped out of it all those years ago."
"It's good stuff, I'm very impressed," adds Peter. "Totally authentic, and everyone I've met who's been involved, in either the costume-making or the make-up or performing or backstage doing cameras: brilliant. Well done, it's a superb effort."
Read the full story in the new issue of Doctor Who Magazine (#537).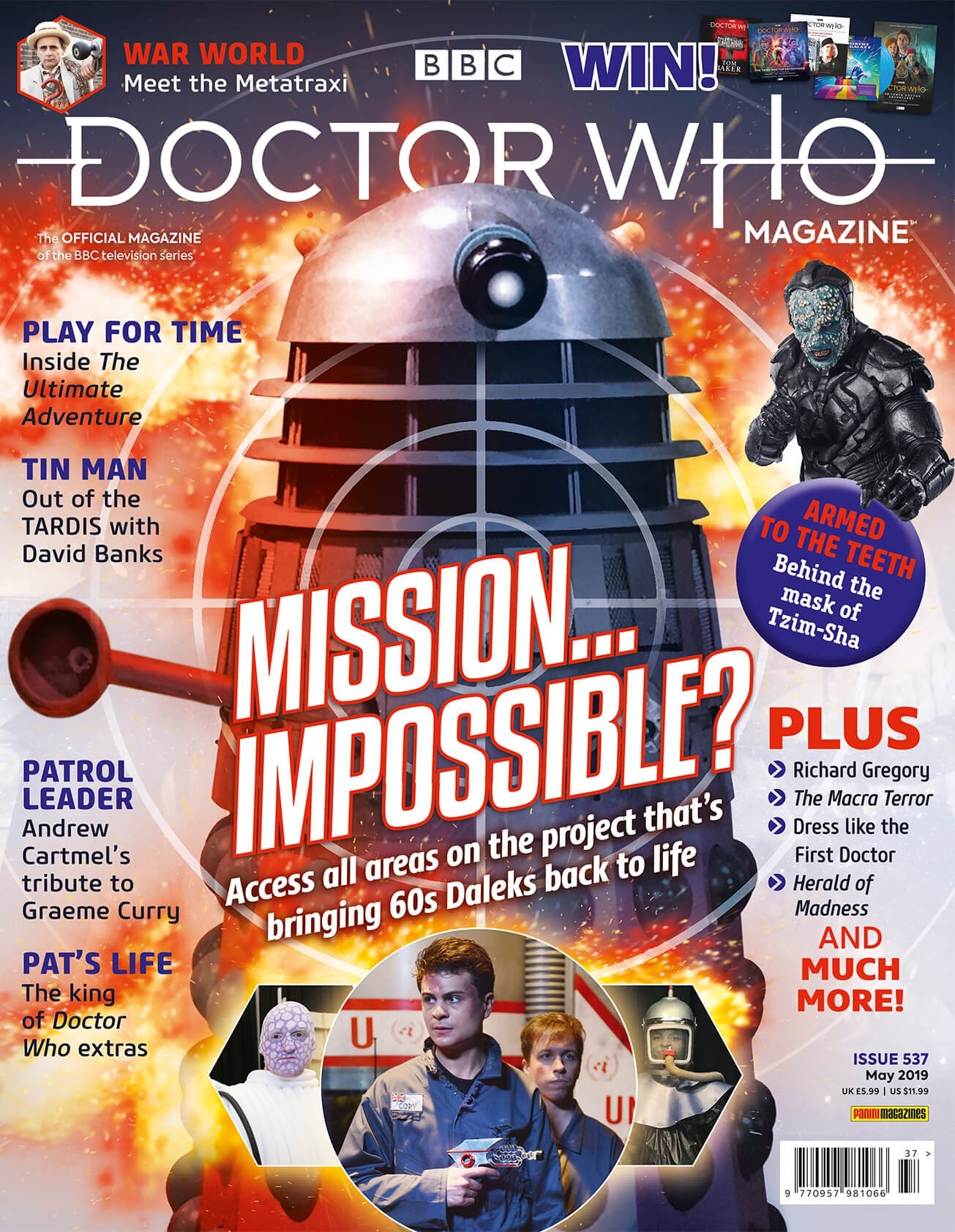 This issue also includes:
What does it take to become a Stenza warrior? Actor Samuel Oatley explains.
An interview with the man behind the new version of Mission to the Unknown.
Colin Baker and the cast of The Ultimate Adventure look back on the Doctor Who stage play.
Backstage with Colin Baker at Leeds' Grand Theatre in 1989.
War World – an in-depth look at the script originally intended for the 1989 stage production.
Cyber Leader David Banks dips into the TARDIS tin.
Tributes to the king of Doctor Who extras Pat Gorman and visual effects designer Richard Gregory.
Former script editor Andrew Cartmel remembers Happiness Patrol writer Graeme Curry.
A preview of this year's Record Store Day releases.
Part Three of Herald of Madness, a new comic strip adventure featuring the Thirteenth Doctor and her friends.
How to dress like the First Doctor – along with his friends and foes.
Does the 1996 TV movie impress the Time Team?
The Blogs of Doom, audio reviews, previews, news, prize-winning competitions and much, much more!
Doctor Who Magazine #537 is on sale now, priced £5.99.