January 24, 2013
In an exciting collaboration, BBC Worldwide Australasia and New Zealand Mint are offering a legal tender coin, and a series of collectible coins as a celebration of Doctor Who's 50th anniversary.
To celebrate the world's longest running sci-fi series, New Zealand Mint will launch a one-ounce silver .999 coin which features an engraved picture of the TARDIS, as well as a unique 50th anniversary logo. The coin comes packaged in a 3D model replica of the TARDIS, which makes the iconic "vworp vworp" TARDIS sound when opened. The coins themselves are legal tender for $2 in the South Pacific Island nation Niue, making them a must-have item for fans to collect.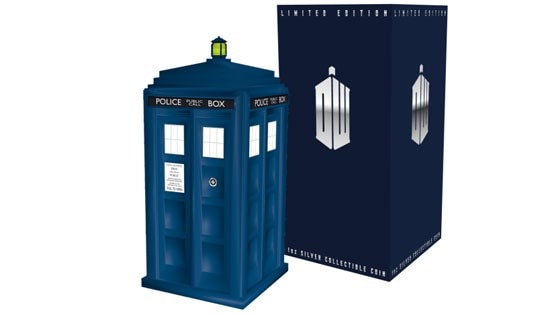 Later in the year New Zealand Mint will also release collectible coins featuring all 11 Doctors and further Doctor Who coin releases are also planned for 2014 and 2015.
Simon Harding, NZ Mint Chief Executive said: "I grew up watching Doctor Who as a child in New Zealand which, coincidentally, was the first country outside the UK to screen the show. It's a great honour to now be asked to produce these coins to celebrate the 50th anniversary. Fans are going to really like what we've come up with."
The coins will officially launch at the World Money Fair in Berlin on 1 February and are available for pre-order at the New Zealand Mint website (this link takes you to a site beyond our control) or via selected international coin distributors.