November 19, 2020
BBC Learning and Tynker have collaborated to create the HiFive Inventor a Next-Generation Education Technology Mini-Computer, helping kids to learn to code with the voice of the Thirteenth Doctor, Jodie Whittaker!
The HiFive Inventor is a visually stunning Internet of Things-enabled hand-shaped mini-computer designed to teach kids how to control robots or interface with IoT systems to investigate the world around them.
The BBC HiFive Inventor will be available to order through BBC Shop, Amazon, Pimoroni, and other leading retailers on November 23. Learn more at www.HiFiveInventor.com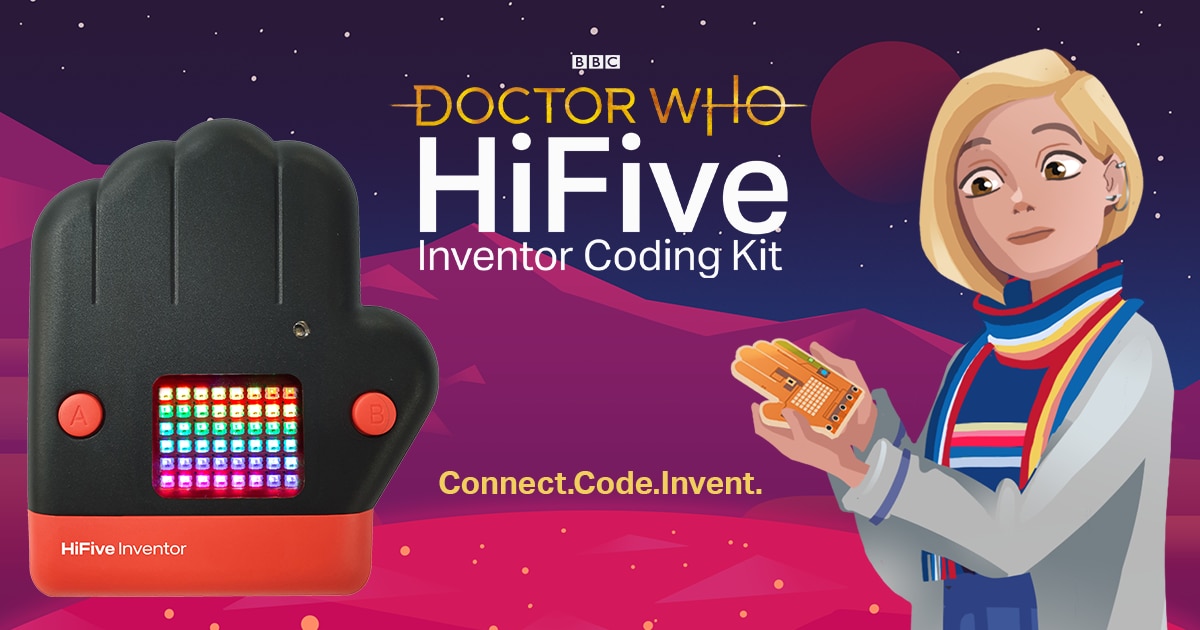 The HiFive Inventor will engage kids with its friendly hand-shaped form factor. With built-in Wi-Fi and Bluetooth technologies this reinforces the wireless data handoff between devices (or "HiFive") that will power 21st-century technology applications of computing for smart cities, intelligent factories, and enhanced wearable technology.
Narrated by Jodie Whittaker, the Thirteenth Doctor, she takes students on intergalactic journeys and challenges like learning to code and pilot an alien spaceship, control a robot and program an exotic musical instrument. Like all Tynker courses, the BBC Doctor Who HiFive Inventor will teach kids essential skills as they are having fun. Younger students will begin their learning journey with the Tynker visual block coding and advanced students with Micropython.
Students will be able to read data from the on-board suite of sensors and program on-device decisions to display results using the fun and colorful LED-matrix display. The HiFive Inventor is powered by a robust SiFive processor and comes with an illuminated USB cable, battery pack, and edge connectors to allow for expandability to a range of additional sensors and devices.