December 03, 2013
BBC Books is delighted to announce a raft of new, award-winning writers for their new original Doctor Who fiction range, Time Trips.
Jake Arnott, Cecelia Ahern and Joanne Harris join writers AL Kennedy, Jenny Colgan, Nick Harkaway and Trudi Canavan in writing new short ebook adventures for the Doctor, to be released throughout 2014.
Time Trips will launch on December 5 with AL Kennedy's The Death Pit. Featuring the Fourth Doctor, the ebook short is available to buy now.
"Something odd is going on at the Fetch Brothers Golf Spa Hotel. Receptionist Bryony Mailer has noticed a definite tendency towards disappearance amongst the guests. She's tried talking to the manager, she's even tried talking to the owner who lives in one of the best cottages in the grounds, but to no avail. And then a tall, loping remarkably energetic guest (wearing a fetching scarf and floppy hat) appears. The Fourth Doctor thinks he's in Chicago. He knows he's in 1978. And he also knows that if he doesn't do something very clever very soon, matters will get very, very out of hand..."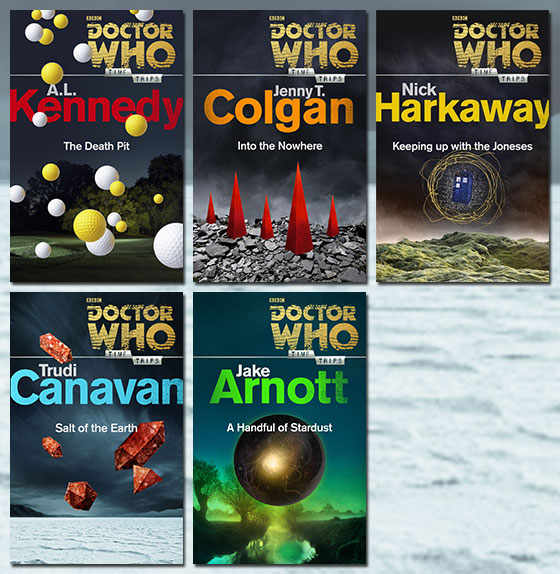 The series is then released monthly throughout 2014:
Doctor Who: Into the Nowhere
Released 9 January 2014
An Eleventh Doctor adventure by Jenny T. Colgan (who also penned Doctor Who: Dark Horizons).
» Pre-order
Doctor Who: Keeping Up with the Joneses
Released 6 February 2014
Nick Harkaway's (The Gone-Away World, Angelmaker) take on the Tenth Doctor.
» Pre-order
Doctor Who: Salt of the Earth
Released 6 March 2014
The Black Magician Trilogy author Trudi Canavan's tribute to the Third Doctor.
» Pre-order
Doctor Who: A Handful of Stardust
Released 3 April 2014
Jake Arnott's (The Long Firm, He Kills Coppers) Sixth Doctor adventure.
Cecelia Ahern's and Joanne Harris's stories will publish later in the year.
Cecelia Aherne said, "I'm so excited to have written a story for the Time Trips series and I enjoyed writing every word. Doctor Who is an institution and to be involved in the 50th anniversary is beyond a dream – it is an honour"
Jake Arnott added,"Writing for the Time Trips series really was a trip – the chance to jump around in time, space and genre, to play around with a classic of popular culture and try to find a place in its vast universe – but most of all it was an opportunity to travel back all those light years ago when I was a kid, full of wonder, watching Doctor Who for the first time"
From Joanne Harris, "I remember watching Doctor Who from a very early age, from a cushion fort behind the sofa. As I grew older I began to really understand and appreciate the show. When the series was revived I was thrilled to watch its transition into the 21st Century, just as I'm thrilled now to be contributing to this series of stories. Fifty is no great age (I tell myself this as my own fiftieth approaches!) and you're never too old for stories. Happy Birthday Doctor Who. May your candles never go out"