January 13, 2022
The world of Doctor Who has come to EVE Online! Explore new areas of space, solve an interstellar mystery, battle the menacing Daleks, and earn themed rewards.
This incredibly exciting crossover event, The Interstellar Convergence, is now live. Join an adventure like no other!
The Interstellar Convergence runs until 1st February. To find out more head to EVE.com.
As paradoxical cosmic signatures open across the cluster, traces of an iconic evil have begun to cross over into New Eden. Demonstrate your might and guile as you uncover an interstellar mystery, hunting down and fighting back the infamous Daleks in this coming-together of two iconic science fiction universes. It's time to unleash the power of New Eden's Capsuleers!
This limited-time crossover event runs until 1st February and offers daily access to gifts, bonuses, and other items, each inspired by the world Doctor Who.
So how does it all work? Find out more here!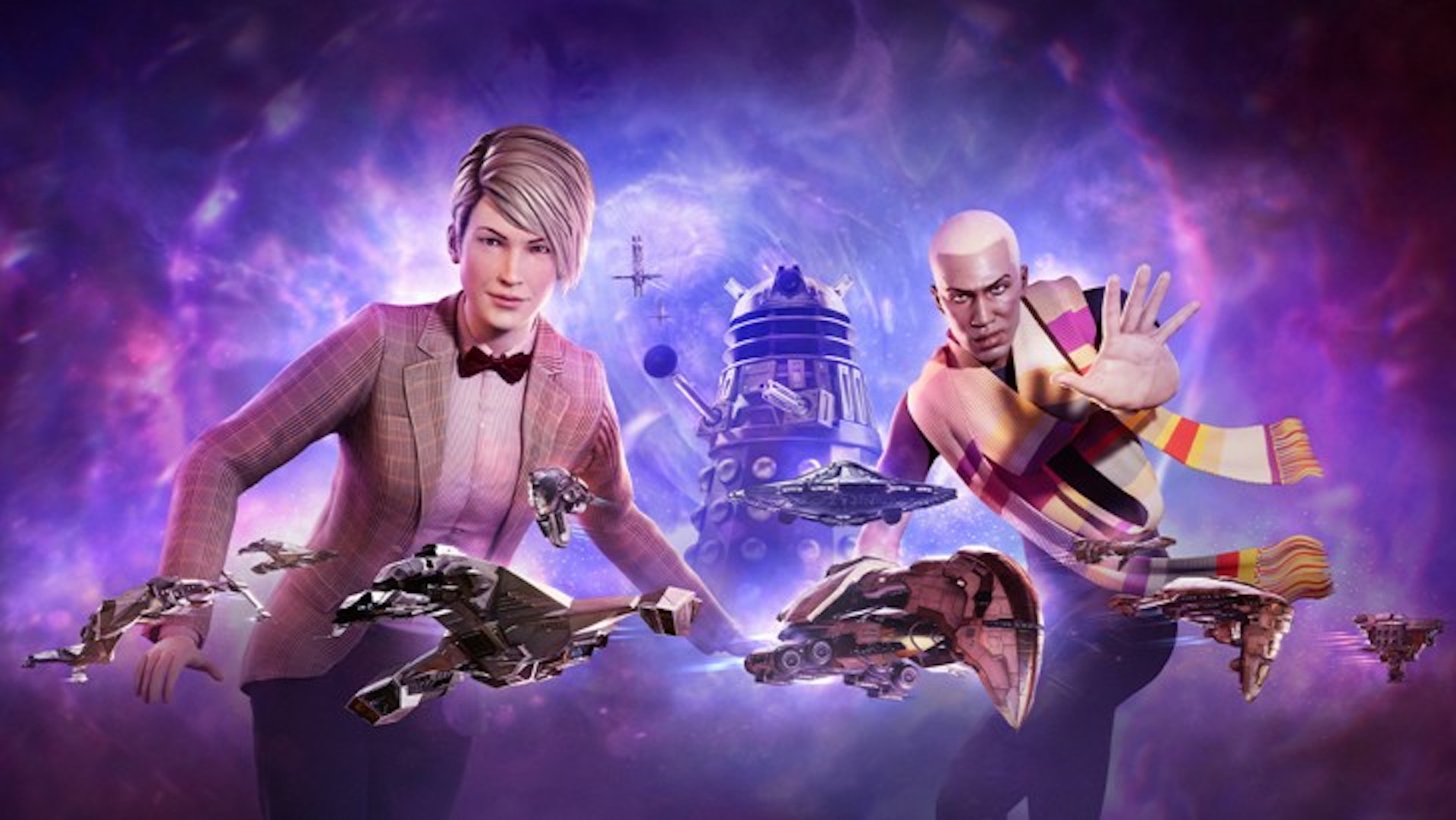 What is EVE Online?
EVE Online is a free-to-play, community-driven spaceship massive multiplayer online (MMO) game where players can choose their own path among the stars from countless options. The game first launched in 2003 and has since gained recognition for its scale, complexity, and the world record-breaking exploits of its online community.

What's the story?
The Interstellar Convergence sets New Eden's pilots (players in EVE) against one of Doctor Who's greatest foes - the Dalek menace. The first task for Capsuleers (EVE Online fans) joining the event is to uncover and investigate strange cosmic signatures appearing across the cluster, which can be probed and identified as 'Warp Matrix Convergence' sites. Investigating this first site will provide the materials needed for the next part of the adventure.
You can use those discoveries from 'Warp Matrix Convergence' sites to craft a special filament that will take you to an all-new area of space exclusive to this crossover event. Through some twist of its disparate laws of physics, the fabric of this mysterious realm has converged with New Eden, breaching the star cluster for a limited time.
This special area of space contains hidden artifacts and materials which you can use to create further filaments. These will then lead you to where the Doctor's ominous enemy lies in wait within their vessel, the infamous Daleks themselves! Defeat the Dalek vessel and claim numerous exclusive rewards from another universe, including Doctor Who-inspired SKINs, pilot apparel, boosters and more.

What if I'm new to EVE Online?
Not a problem! The Doctor Who event is equally perfect for both newcomers and veteran players. New players are encouraged to watch the newly released tutorial video below. It offers an essential guide to starting your EVE journey, and an overview of The Interstellar Convergence
How often should I play?
Capsuleers that log in daily throughout The Interstellar Convergence event can claim a number of rewards, giving you the chance to grab a generous supply of Skill Points, as well as the new auto-injecting SKINs and boosters. Log in for 13 of the event's 19 days to claim all the available rewards. Upgrade to Omega today to claim both the Alpha and Omega daily login rewards!
Why Doctor Who and EVE Online?
Doctor Who is the world's longest running TV series, first broadcast by the BBC in 1963. EVE Online, meanwhile, offers the world's largest live science-fiction universe. Together, these compelling universes present an opportunity to bring together their respective fan communities for a one-of-a-kind experience. As such, this is an event for every kind of pilot, including longstanding Doctor Who fans who have started playing EVE for the first time. Show the Daleks just how powerful the combined might of New Eden's Capsuleers and Whovians can be!!
The event ends on 1 February, so don't delay. When that day comes, the worlds of Doctor Who and EVE Online will completely disentangle from one another, closing the window between the two at the end of a strange and exciting convergence of distant realities.
Join The Interstellar Convergence now, running until 1 Feb. To find out more head to 

EVE.com

.