January 26, 2022
The new team TARDIS had an emotional reckoning in Eve of the Daleks – how did the cast handle filming? The Doctor Who Magazine Yearbook holds all the answers.
The Doctor Who Yearbook 2022 is available now! You can order it here.
In an exclusive interview, Jodie Whittaker talks more about Eve of the Daleks – including THAT conversation with Dan about Yaz.
"Dan challenges us to speak truthfully about our feelings, says Jodie Whittaker. "Obviously I can't speak for Mandip's character, but for the Doctor, that's a big deal. So I think a big development this season is that she started to be honest within herself. Conversations will be had, and those conversations will cost a lot. But everything is said with honesty and love.
Plus Jodie revealed more about the whole process of filming Doctor Who Flux, and beyond.
"It's always a joy working with Mandip," Jodie adds. "And this season we lucked out with our guest stars. Fortunately, we've only had the pleasure of working with people who turn up excited to be here and wanting to be part of a team.

"We've been so lucky with everyone that we've worked with. Because so often elements can be against you; time can be against you in a very literal sense. And this season was the longest I ever shot on anything. We worked on it for pretty much a whole year, and I've never ever done a job that long, consecutively shooting for 12 months. But everybody's heart and energy – crew and creatives included – is in the right place. We've had an amazing journey together."
Find out even more in the full Doctor Who Yearbook.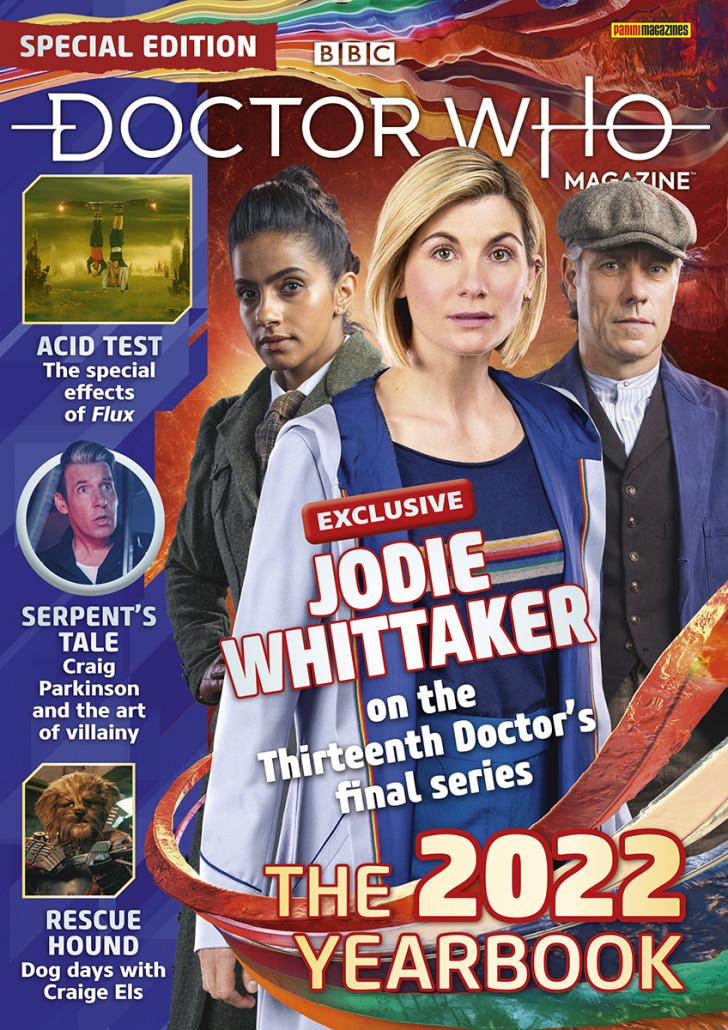 This Special Edition of Doctor Who Magazine is packed full of all-new content, including exclusive contributions from the cast and crew members behind a landmark series of Doctor Who.
Highlights include:
Exclusive interviews with Segun Akinola (composer), Nadia Albina (Diane), Paul Broughton (Neville Lewis), Danny Marie Elias (prosthetics designer), Craige Els (Karvanista), Mandip Gill (Yaz), Sue Jenkins (Eileen Lewis), Steve Oram (Williamson), Craig Parkinson (the Grand Serpent), Sara Powell (Mary Seacole), Claire Pritchard-Jones (make-up designer), Jonathan Watson (Sontarans) and Jodie Whittaker (the Doctor).

An exclusive behind-the-scenes look at the opening sequence of Flux including exclusive contributions from Jodie Whittaker, Chris Chibnall (showrunner) and Jamie Magnus Stone (director).

Analyses of every episode of Flux.

A diary of the most significant events of 2021, both on screen and off.

Ten pages of tributes to the Doctor Who luminaries who passed away during 2021.
Don't delay, the Doctor Who Yearbook 2022 is available now! You can order it here.