May 22, 2016
The longest running TV-tie in magazine in the world, as recognised by Guinness World Records, reaches its 500th issue on Thursday 26 May 2016!
Doctor Who Magazine, which began life as Doctor Who Weekly in October 1979, has continued to grow and thrive ever since, becoming an essential read for die-hard Doctor Who fans and general viewers alike. The highly collectable issue 500 comes packaged in a striking card envelope and is a bumper 116-pages long.
Compare and contrast as the Fourth Doctor Tom Baker and current Doctor Peter Capaldi strike a pose with a bumpy friend!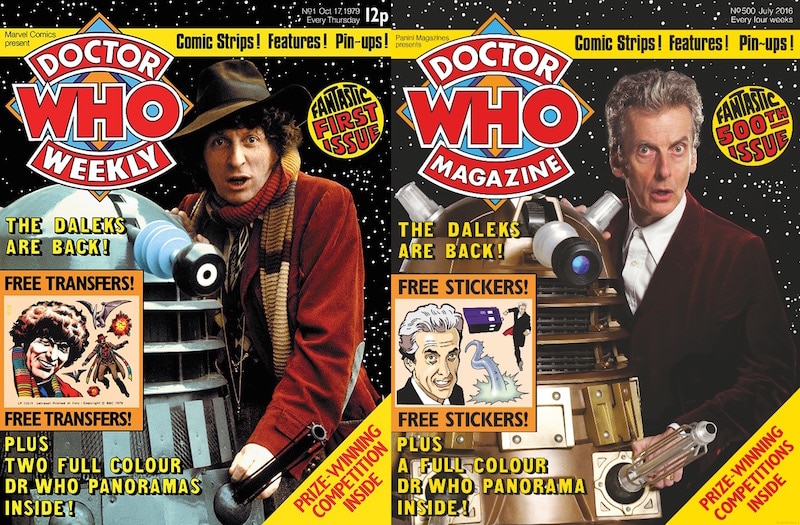 Highlights include:
• EXCLUSIVE interviews with: the current Doctor, Peter Capaldi; the Fourth Doctor, Tom Baker; and showrunner, Steven Moffat, about the future of the show.
• A message to readers from new companion Pearl Mackie
• A letter from the Doctor
• Peter Capaldi answers questions once put to William Hartnell
• The biggest-ever comic strip the magazine has ever published: a glorious 20-page adventure, illustrated by a host of returning artists from Doctor Who Magazine's past
• An in-depth feature on the story that fans voted the best Doctor Who story of all time: the 2013 50th Anniversary Special, The Day of the Doctor.
• An article celebrating the most memorable moments from 500 issues of Doctor Who Magazine
• A look at how Doctor Who might have returned to TV in 2001, as imagined by award-winning writer Mark Gatiss
• Competitions to win HUGE prizes, including over £500 of DVDs and Blu-rays!
• Plus News, Reviews, Coming Soon, Wotcha and LOTS of surprises!
Issue 500 is also accompanied by a wealth of extra goodies:
• An additional 116-page magazine, charting the history of magazine and containing images of every single cover, from issue 1 to the present day, with a fascinating commentary from the magazine's past editors and designers
• A sticker sheet featuring memorable images from DWM's 500 issues
• A double-sided A1 poster
• The first in a series of nine collectable art cards
THE GIANT DOCTOR WHO MAGAZINE 500 PACK – 2016'S BIGGEST DOCTOR WHO EVENT – WILL BE ON SALE FROM THURSDAY 26 MAY, PRICED JUST £9.99.