June 29, 2016
Now in its third year, Doctor Who Comics Day is set to be bigger and better than ever with the launch of a new crossover event comic, Supremacy of the Cybermen, that includes a number of special variant covers.
Doctor Who Comics Day is inspired by Titan Comics' Doctor Who comic books and will feature events, signings, contests, and fun activities on Saturday, July 9th, 2016 around the world!
SUPREMACY OF THE CYBERMEN
The spectacular five-part, bi-weekly adventure stars the Ninth, Tenth, Eleventh and Twelfth Doctors, and is penned by best-selling comic authors George Mann and Cavan Scott, with art by Alessandro Vitti and Ivan Rodriguez.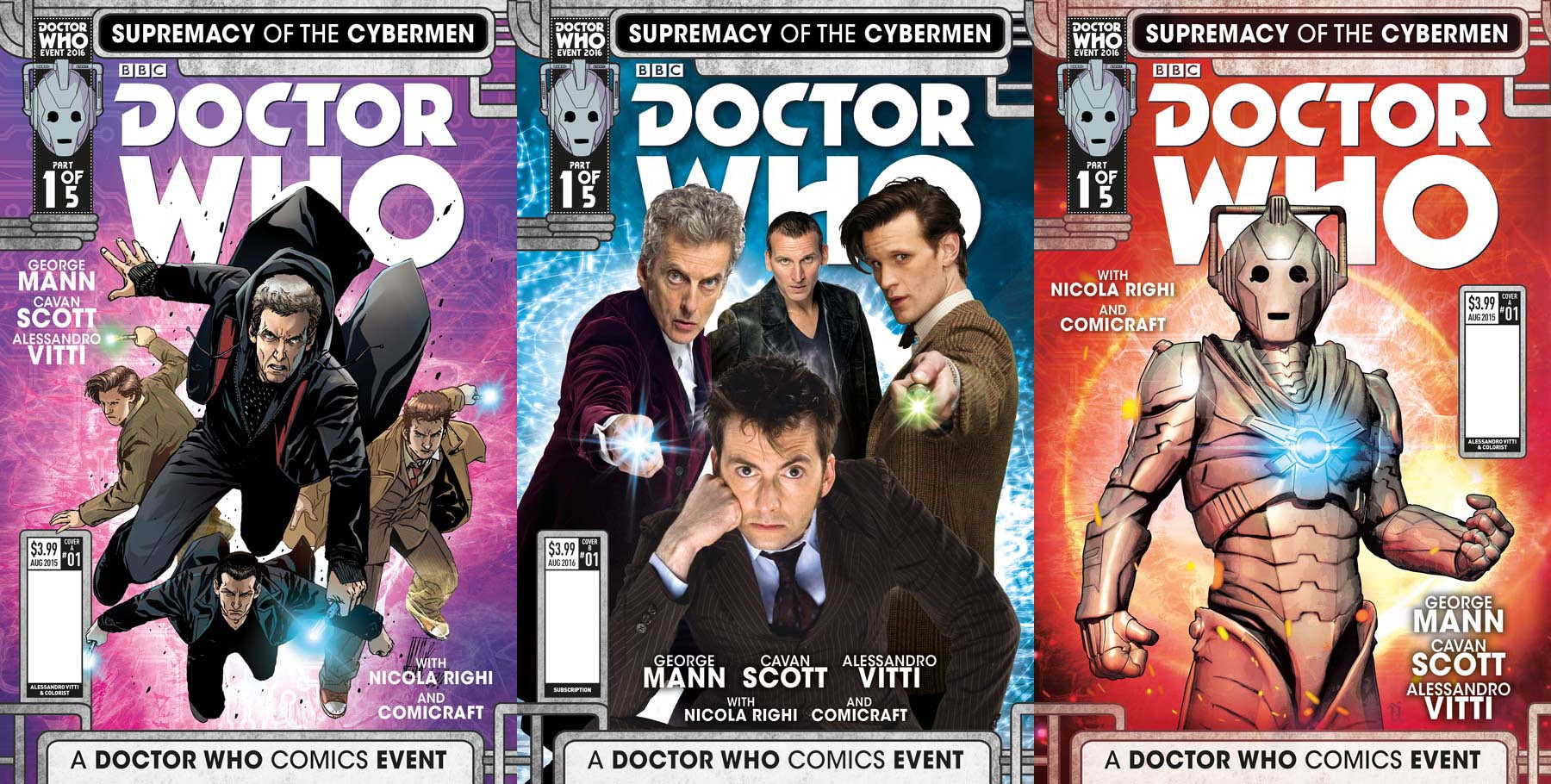 Also featured in the series are beloved companions, including Rose (played by Billie Piper in television) and Captain Jack (John Barrowman). Leading up to the release of Supremacy of the Cybermen, Titan will be releasing nine exclusive one-page teasers - featuring Doctors from up and down the timeline - in each of Titan's four ongoing Doctor Who stories.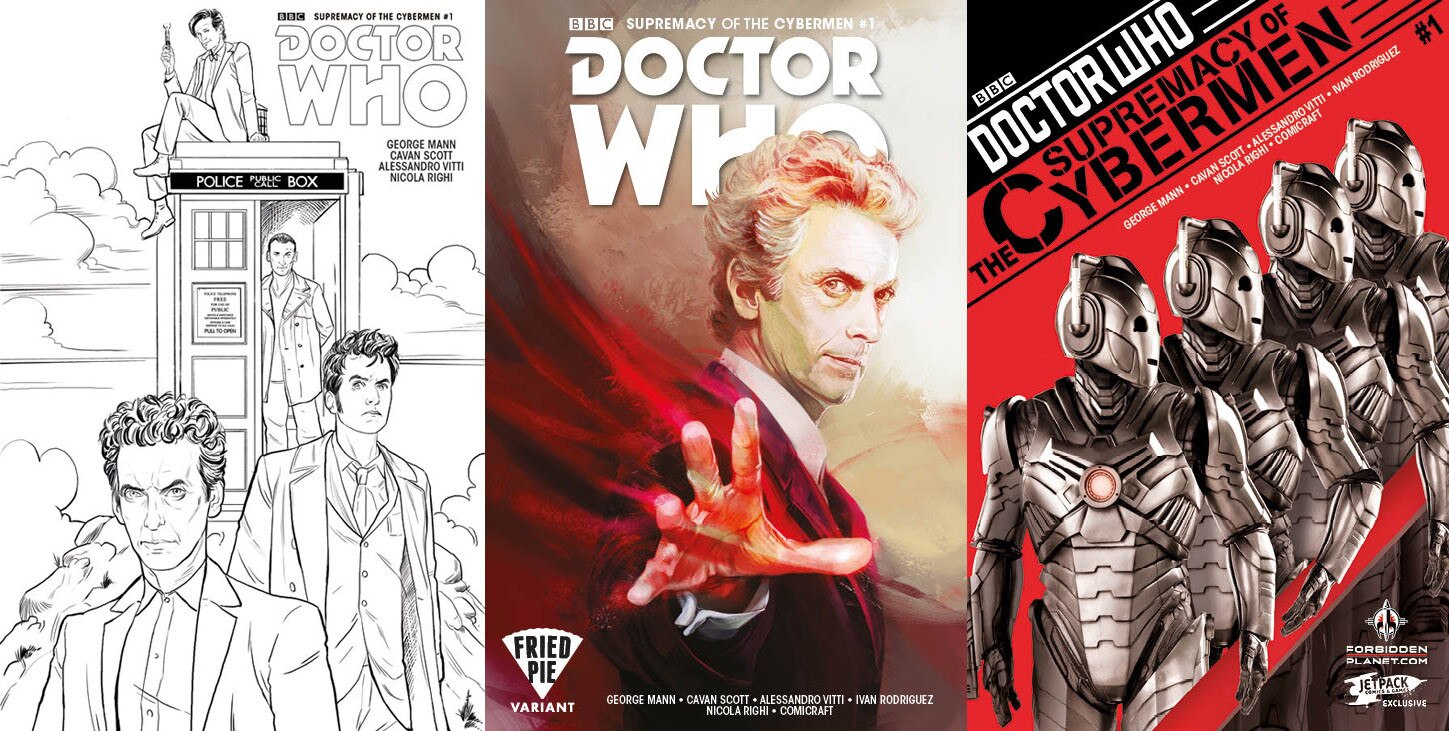 VARIANT COVERS
Titan will release multiple variant covers to collect, including Supremacy of the Cybermen variants by Alessandro Vitti, photo variant by Will Brooks, a cool Cyberman cover by Fabio Listrani, a blank sketch variant, a fun coloring variant, and exclusive retailer variants at Forbidden Planet and Books-A-Million.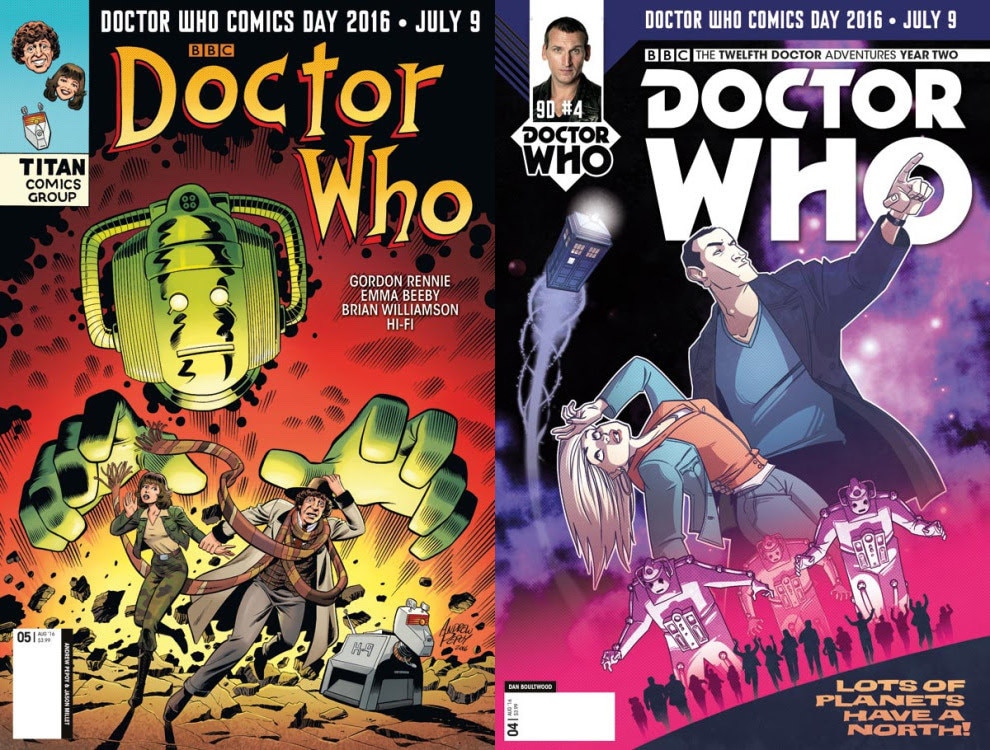 There will be special variant covers across Titan's comics line throughout July, including Fourth Doctor #4 variant by Andrew Pepoy and Jason Millet, Ninth Doctor #3 variant by Dan Boultwood, Tenth Doctor Year Two #12 variant by Blair Shedd, Eleventh Doctor Year Two #11 variant by Rod Reis, and Twelfth Doctor Year Two #7 variant by Todd Nauck & Hi-Fi.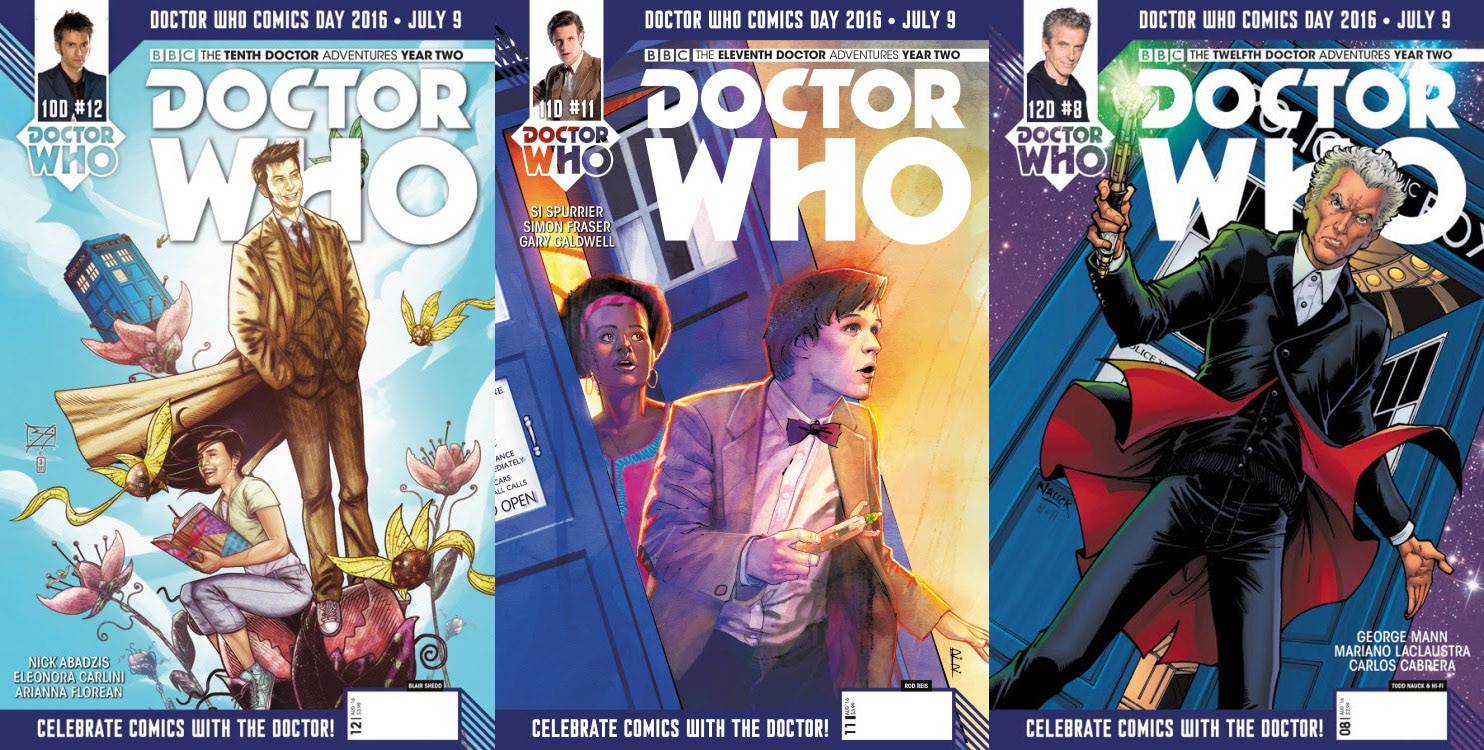 FREE COMIC BOOK DAY DOCTOR WHO COMIC ON COMIXOLOGY
Titan's Doctor Who story from this year's Free Comic Book Day event will be available for FREE on digital devices. This Free Comic Book Day edition features four all-new short tales of the Ninth, Tenth, Eleventh, and Twelfth Doctors written and drawn by the creative teams from Titan's four ongoing Doctor Who titles.
Visit Comixology.com on July 9 for your FREE Doctor Who comic - click here!
MERCHANDISE
Titan continues the celebration by offering Doctor Who Comics Day t-shirts and mugs featuring art by Supremacy of the Cybermen artist Alessandro Vitti, and a limited edition Doctor Who Titans: Army Of Ghosts Cyberman 3-inch vinyl figure - only available at comic book stores nationwide.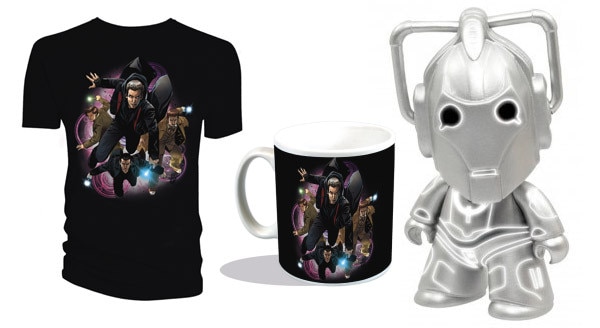 DOCTOR WHO READING GROUP
For the first time this year Titan is supplying Doctor Who fans with kits to host their own reading group events on the same day. Over 300 parties are planned across the globe to read and celebrate Doctor Who comics. Click here and fill out the form to participate.
SIGNINGS
There are plenty of Doctor Who signings taking place across the globe on Doctor Who Comics Day including:
• Cavan Scott, George Mann, Brian Williamson & Rachael Stott at Forbidden Planet London (UK)
• Rob Williams at Forbidden Planet Bristol (UK)
• Simon Myers at Forbidden Planet Birmingham (UK)
• Rachael Smith at Travelling Man, Manchester (UK)
• Paul Cornell at Gosh Comics, London (UK)
• Neil Edwards at Forbidden Planet Liverpool (UK)
• Gordon Rennie and Emma Beeby at Forbidden Planet International Edinburgh (UK)
• Boo Cook at Scorch Comics, Eastbourne (UK)
• Blair Shedd at Newbury Comics (Boston)
• Andrew Pepoy and Jason Millet at Graham Crackers (Chicago)
• Mark Wheatley at Beyond Comics (Frederick, MD)
• Todd Nauck at Big Red Comics (Orange, CA)
• Kelly Yates and Tony Shasteen at Borderlands (Greenville, SC)
• Richard Starkings at Pulp Fiction (Long Beach, CA)
• Question No. 6 At 3331 Arts Chiyoda (Japan)
TWITTER MARATHON
A Doctor Who Twitter marathon contest is planned for the day via Titan Comics' Twitter page @ComicsTitan. Doctor Who comic creators Cavan Scott and George Mann will be answering fan questions at 11:00am (EST) that day via Titan Comics' Twitter page. Fans can ask question using the hashtag #DWCD.
Titan is encouraging all fans to get creative and visit their local participating store on Doctor Who Comics Day in cosplay, then tweet pictures to @ComicsTitan.
For more information about Doctor Who Comics Day visit: www.DoctorWhoComicsDay.com