October 27, 2014
Halloween. The celebration of all that's spooky on the Planet of the Pudding Brains. And to celebrate, we asked our resident baker (and The Great British Bake Off winner) Edd Kimber to create a suitably gruesome cake for you to make!
To make the Pudding Brain Cake, you need both a standard sponge cake and plain cream cheese frosting. The recipe below tells you how to make these from scratch, but you can cheat and buy them from a shop too!
Vanilla Sponge Cake
225g unsalted butter
225g tbsp caster sugar
4 large eggs
1 tsp vanilla bean paste
225g tbsp self raising flour
2 tsp baking powder
Cream Cheese Frosting
375g tbsp unsalted butter
750g cups icing sugar
3 tsp vanilla bean paste
a pinch of salt
300g ounces cream cheese
Red gel food colouring
Plus…
150g seedless raspberry jam
To make the cake
Preheat the oven to 180C/350F (160C/320F fan). Grease two 8-inch round cake pans and line the bases with parchment paper.
Place the butter and sugar into a large bowl and using an electric mixer beat together until light and fluffy, should take about 10 minutes. Add the eggs, a little at a time, beating until fully combined before adding more. Mix in the vanilla.
In a separate bowl mix the flour and the baking powder. Add this to the butter mixture and combine gently until you have a smooth cake batter. Divide the batter between the two cake pans and gently tap to level out. Bake in the preheated oven for 25-30 minutes or until golden brown and a skewer inserted into the middle of the cakes comes out clean. Allow the cakes to cool in the pan for 10 minutes before inverting onto a wire rack to
To make the frosting
Place the butter into a large bowl and using an electric mixer beat for 5 minutes, until light and creamy. Adding a little at a time, add the icing sugar. Once all the sugar has been incorporated, add the vanilla and salt and beat together for a further 5-10 minutes, until the frosting is light and fluffy.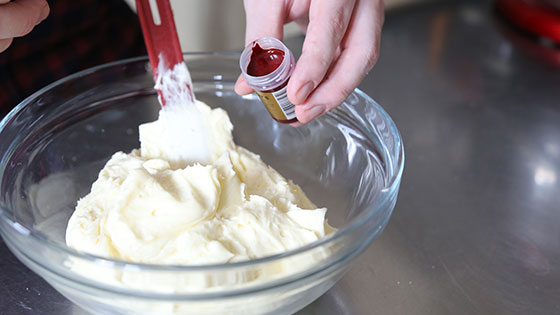 To finish add the cream cheese and beat together until fully incorporated (don't beat too much at this stage as the frosting will become too thin). Use a skewer to add a very small amount of red food colouring and mix together to turn the frosting a pale pink.
Assembling the brain
Follow the directions below, or Edd's helpful video: