January 31, 2013
Ever wanted to display your allegiance to your Dalek overlords, or to advertise the services of I.M. Foreman's scrap merchants? Well now you can, with the first in an exclusive range of t-shirts from Dark Bunny Tees.
The first two designs – celebrating classic William Hartnell adventures An Unearthly Child and The Dalek Invasion of Earth – are available now exclusively through the Dark Bunny Tees website (this link takes you to a site beyond our control).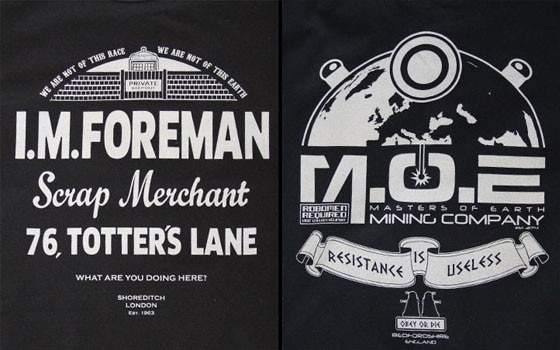 Alex from Dark Bunny comments "Dark Bunny Tees will be celebrating 50 years of Doctor Who by releasing two designs a month; one inspired by each of the Eleven Doctors and the other inspired by a classic & iconic monster. I have been working closely with BBC Worldwide to produce some very special designs. These strictly limited edition t-shirts will also come with an exclusive post card, designed by Dark Bunny Tees, with 12 to collect throughout the year."
Available in both men's and women's t-shirts, these are must-haves for classic Doctor Who fans.