August 10, 2013
The Doctor Who Experience – home to the biggest official collection of Doctor Who props, costumes and sets in the world – today celebrated arrival of the First Doctor's console room.
The highly-detailed replica of the original TARDIS console which will feature in the much-anticipted BBC docu-drama on the genesis of Doctor Who – An Adventure in Space and Time – is on display from Saturday 10 August in the mezzanine section of the building.
See a time-lapse of the install, below:
The console was originally designed in 1963 by BBC designer Peter Brachaki (with valuable input from Barry Newberry) and was piloted by the First Doctor, William Hartnell. It soon became a design icon and set a basic template which can still be seen in TARDIS console designs to this day.
Gleaming white, with a hexagonal central console and illuminated circular roundels on the walls, this TARDIS interior was scattered with objects from the Doctor's travels - including an elegant Ormolu clock and a Sheraton chair. In the very earliest episodes, it included a huge hexagonal device on the ceiling next to the console and other separate banks of instruments, including a 'fault locator'.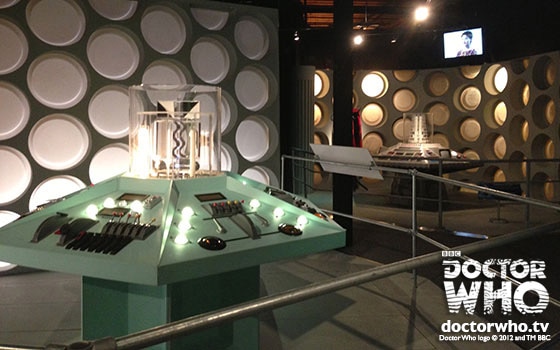 The TARDIS console (which will be piloted by David Bradley in the docu-drama) was displayed at Comic-Con Paris in July 2013. It will be on display to all visitors at the Experience throughout the summer.
Tickets for the Doctor Who Experience can be booked through www.doctorwhoexperience.com and prices start from just £13 for an adult and £9 for children.