September 15, 2013
As any connoisseur of space-time delicacies will be no doubt be aware, Daleks are unappetizing "bubbling lumps of hate" served in inedible Polycarbite, Metalert and Dalekanium casings. But fear not, our pan-dimensional baker extraordinaire (and Great British Bake Off winner), Edd Kimber has created a recipe for a delicious Red Velvet Dalek cake. So if you've ever fancied baking and eating your own Supreme Dalek, now you can…
This recipe has been created specifically for Lakeland's Dalek Cake Mould. It would also make around 30 cupcakes (or a small Dalek cake army) - bake them for 25 minutes at 180°C / Gas Mark 6 instead.
And, if you're a miniature baker, please get an adult to help you.
Recipe for Red Velvet Dalek cake
3 tbsp boiling water
1 1/2 tbsp red gel colouring
60g cocoa powder
375ml buttermilk
525g plain flour
1 1/2 tsp baking soda
1/4 tsp salt
335g unsalted butter, room temperature
525g caster sugar
2 tsp vanilla extract
5 medium eggs, lightly beaten
Preheat the oven to 160°C / 140°C fan / Gas mark 3 and grease the Dalek mould really well (spray grease is best for this).
Mix the water and colouring in a small bowl. Add the cocoa and buttermilk and mix until smooth. Put to one side. In another bowl, mix together the flour, baking soda and salt. Put to one side.
In a large bowl, beat the butter using an electric mixer until light and creamy (should take around 3 minutes). Add the sugar and vanilla extract, and beat for another 5 minutes. Add the eggs one at a time, beating until fully combined before adding another.
With the mixer on a low speed, tip one-third of the flour mixture into the butter and sugar, followed by one-third of the cocoa and buttermilk mixture. Alternate between them until all the ingredients have been incorporated together. Pour into the mould.
Place mould onto a baking tray and bake in the preheated oven for around 1 hour and 45 minutes or until a skewer inserted into the middle comes out clean. Allow to cool in the mould for 30 minutes before very carefully turning out onto a wire rack to cool completely.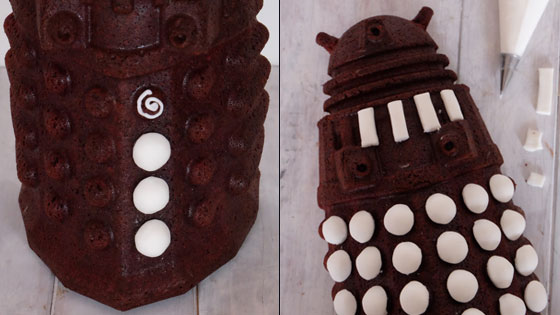 When decorating, we advise letting your imagination run wild to create the most menacing Dalek ever!
To get the same look as ours: we mixed 150g of royal icing sugar with water to create a thick icing (the consistency of toothpaste) and used it to glue on details made from ready-made sugarpaste icing (a 250g pack should do it). We used a little cookie cutter to create the "Dalek Bumps", and a sharp knife to create the grilles and metalwork at the top of the Dalek from sugarpaste. To finish off, we used chocolate sticks and sugarpaste to create the gunstalk, plunger and eyestalk, and painted edible gold lustre dust over the sugarpaste detailing.
As the cake isn't covered in buttercream, we recommend serving the Dalek sliced, with a side of whipped cream.
Fancy showing off your Dalek bakes? Email us pictures at doctorwho@bbc.com, and we'll showcase the best on our Facebook page.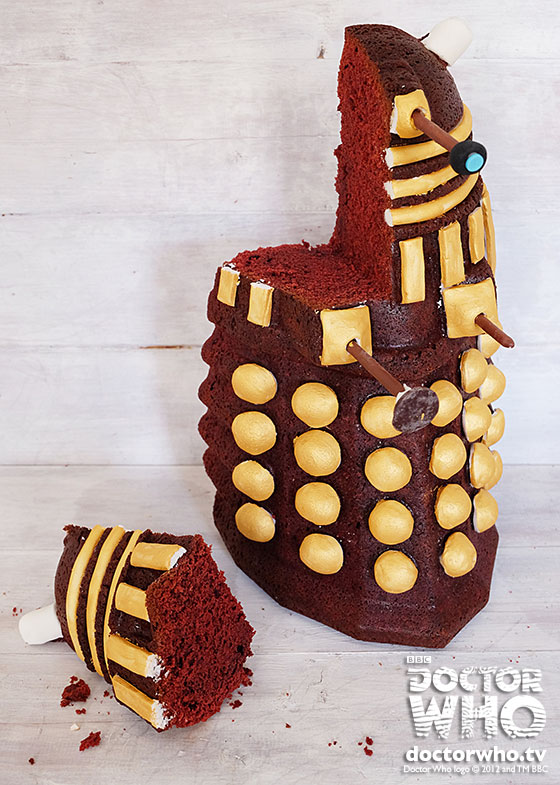 Be the first to know about the latest news, events and offers