January 29, 2018
Next month, Doctor Who fans in North America can enjoy every adventure from the Twelfth Doctor era in the new box-set, The Complete Peter Capaldi Years.
Available on blu-ray, this boxset comes with a gorgeous book and 14 discs packed full of eyebrow-raising Capaldi goodness! We have all the details and artwork for you below.
The first glimpse of Peter Capaldi as the Twelfth Doctor was just a pair of eyes under his trademark bushy eyebrows in the 50th Anniversary Special. From this enigmatic beginning grew one of the most epic eras in the rich history of Doctor Who, filled with mad adventures and exhilarating storylines!
Now, in this one collection, you can own every Peter Capaldi episode of Doctor Who. Join the Twelfth Doctor as he pilots the TARDIS alongside companions Clara (Jenna Coleman), Bill (Pearl Mackie), and Nardole (Matt Lucas), encountering the enigmatic River Song (Alex Kingston), the evil Missy (Michelle Gomez), and a hoard of monsters including Daleks, Cybermen, Zygons, Ice Warriors, and many more!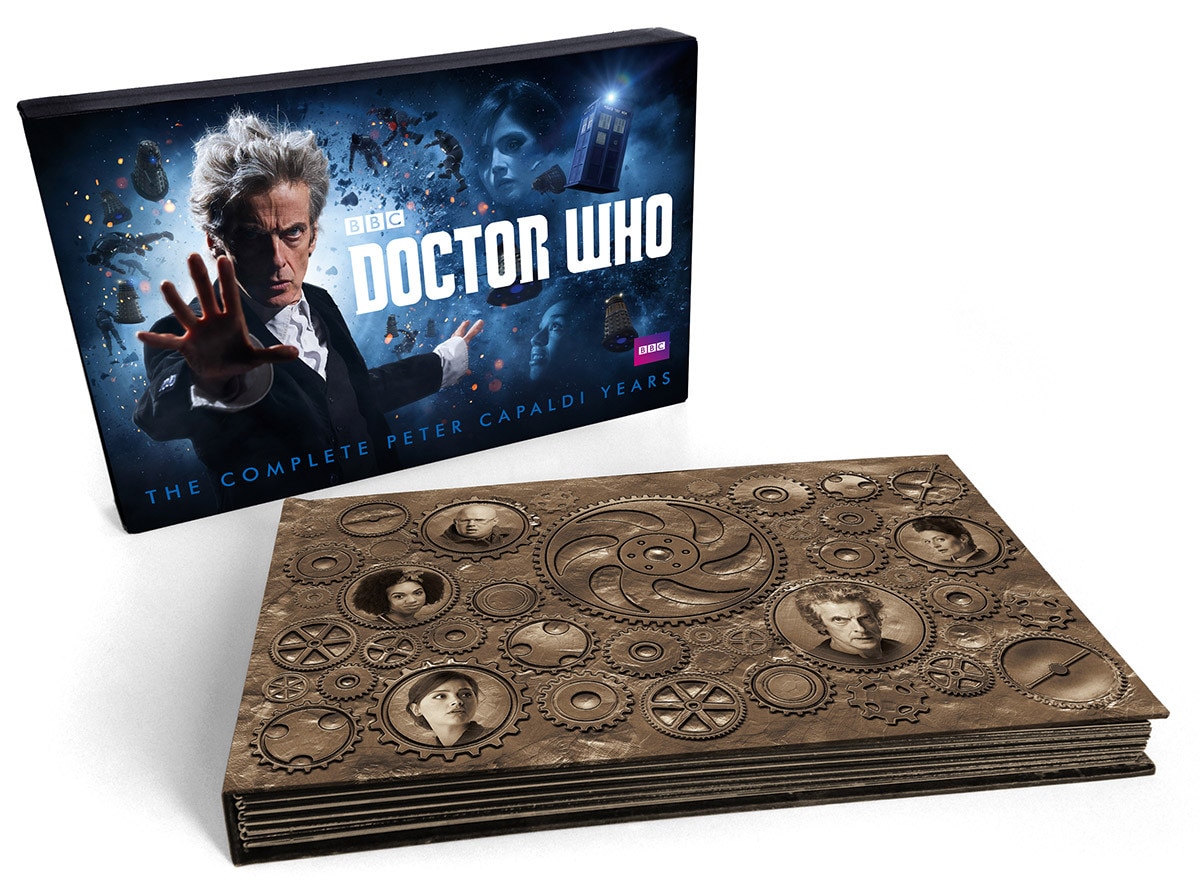 This comprehensive collection also features a host of extras including Peter Capaldi's first Doctor Who episode with Tenth Doctor David Tennant, The Fires of Pompeii, newly unearthed deleted scenes from Series Eight, and the all new bonus program, The End of an Era.
Includes hours of special features:
NEW BONUS DISC:
• The Fires of Pompeii
• Series Eight Deleted Scenes
• Doctor Who 2017 San Diego Comic Con Panel
• The Finale Concert
• The End of an Era
PLUS ALL THE EXTRAS FROM THE ORIGINAL COLLECTIONS:
• Doctor Who Extra
• Deleted Scenes and Bonus Scenes
• Commentaries
• Features
• Q&As
• And lots more!

Doctor Who: The Complete Peter Capaldi Years is available from Feb 13, 2018