July 26, 2014
Critically-acclaimed live music concert, Doctor Who Symphonic Spectacular is set to make its UK premiere at six major cities in May 2015.
The live show, which was a sell-out on its world premiere in Australia, will enjoy a limited run of 12 UK performances in London, Cardiff, Birmingham, Leeds, Newcastle and Glasgow.
It features over 100 performers and is conducted by Ben Foster, who conducts and orchestrates the musical scores for the TV series. Music will be performed by the BBC National Orchestra of Wales and members of the BBC National Chorus of Wales.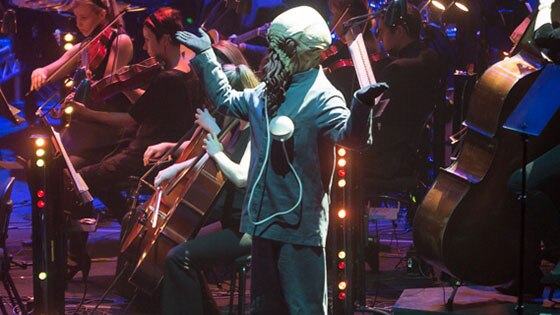 Tickets will go on general sale via the event and box office websites at 9am on Friday 1 August 2014, with prices starting at £20 per person.
Visit the Doctor Who Symphonic Spectacular site for times and tickets »
The show features a host of the Doctor's famous adversaries including the iconic Daleks and Cybermen, the spine-chilling Silence and many more fan favourites. The live monsters provide a dramatic contrast to the evocative and thrilling music written by Murray Gold, who has been responsible for composing music for the series over the last eight years, including the record-breaking (and BAFTA award-winning) 50th anniversary episode The Day or the Doctor.
The show will also feature Murray's latest score and footage from the forthcoming series 8, which will be broadcast around the world later this summer. The live music will be accompanied by a big screen presentation of key moments and specially edited sequences from the past 50 years of Doctor Who.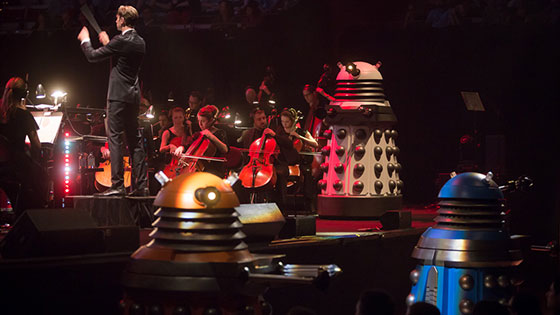 Fans will discover the identity of the guest presenter for the UK shows in early 2015.
The Doctor Who Symphonic Spectacular was first presented in Melbourne, Australia in February 2012, it went on to play a further nine sell-out performances at the Sydney Opera House in December 2012 receiving praise from the Australian media and fans alike. The show has continued to draw record figures in Australia and most recently thrilled over 34,000 fans across three cities in New Zealand.