March 10, 2018
Coming in May in the UK is the Blu-ray steelbook edition of Doctor Who Series 3, starring David Tennant as the Tenth Doctor.
This boxset comes with exclusive cover artwork by Claudia Caranfa and comes packed with extras. Check out all the details and artwork below.
Doctor Who Series 3 Steelbook
From the moment the Doctor walks into the life of medical student Martha Jones he changes it forever. In Elizabethan London, they meet William Shakespeare at the Globe Theatre while back in present day London 76-year-old Professor Lazarus recaptures his youth with consequences that threaten Martha's entire family. And, the Doctor's sworn enemies, the Daleks, who have been hiding in 1930s New York, return with a terrifying plan for humanity.
BONUS FEATURES:
• 13 x Doctor Who Confidential (Cutdown)
• Music And Monsters – Children In Need concert
• Deleted Scenes
• Outtakes
• Commentaries on all episodes
• Freema's Tour Of The Studio
• David Tennant Video Diaries
• Easter Egg and And More!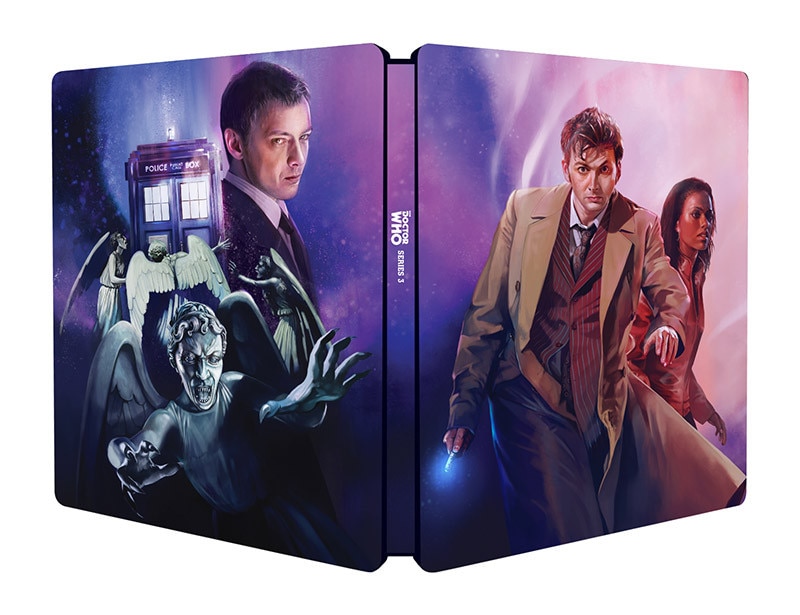 The Doctor Who Series 3 steelbook is available from May 7, 2018.