April 08, 2017
Tickets are on sale now for the Doctor Who Season 10 Premiere, The Pilot in select cinemas across the U.S. in a double-bill with spin-off, Class.
The screenings take place on April 17 & 19, 2017 - purchase tickets
Come together with fellow fans to celebrate the return of Doctor Who! Two worlds collide with the Doctor meets Bill. A chance encounter with a girl with a star in her eye leads to a terrifying chase across time and space. Bill's mind is opened to a universe that is bigger and more exciting than she could possibly have imagined. But who is the Doctor, and what is his secret mission on Earth?
This special two-night event also features two exciting bonus programs including episode one of Class, featuring a guest appearance by the Doctor himself, and the never-before-seen bonus feature, Becoming The Companion. Fans will travel with new companion Pearl Mackie from the London stage through the doors of the TARDIS to a once-in-a-lifetime role, or as Pearl says, "the most insane thing that's ever happened to me."
The all-new feature includes exclusive interviews with Pearl, Peter Capaldi, and Doctor Who showrunner Steven Moffat, and is narrated by Ingrid Oliver (who plays UNIT scientist Osgood).
Click here to visit FathomEvents.com and purchase tickets now!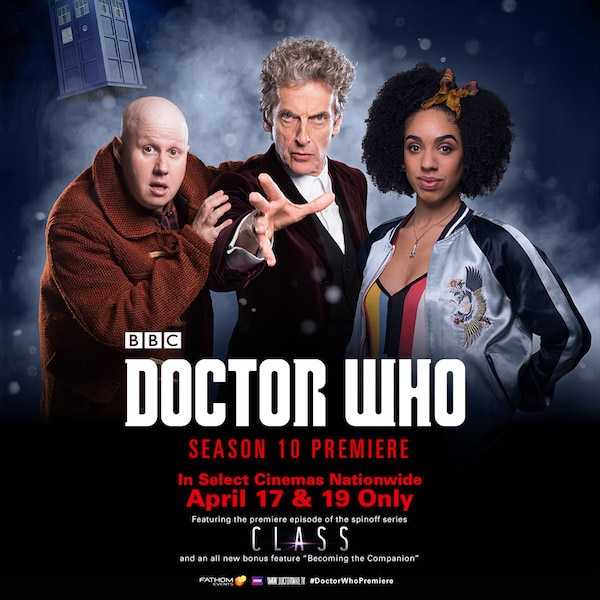 With Hot Topic as the official retail partner of the Doctor Who: Season 10 Premiere cinema event, attendees can bring in their ticket stub or proof of purchase to Hot Topic retail locations for 25% off Doctor Who merchandise, valid March 10 – May 6, 2017. Check out the offer here.
In addition, fans who purchase tickets through Atom Tickets will receive three free Doctor Who digital comic books from Titan Comics and ComiXology, delivered to purchasing email address on event date. Check out the offer here.