June 28, 2017
This weekend sees the gripping finale to Doctor Who Series 10 airing across the world. The latest edition of Doctor Who Magazine – out now – includes an exclusive look at the episode, The Doctor Falls.
«« EXCLUSIVE OFFER: SAVE 25% ON DIGITAL DWM SUBSCRIPTION HERE »»
DWM spoke to both writer Steven Moffat and its director Rachel Talalay about the return of the Cybermen and their battle with the Twelfth Doctor. Talalay said:
"I always worried, in Death in Heaven [Series 8, 2014], that we had this army of Cybermen, and then they take off into the air, and there's never a battle so I was really thrilled, in The Doctor Falls, that we get to actually have them fight. They do battle. My approach was, you know, 'Bring it on! Let's blow up as many things as we can!'"
Rachel adds:
"I like, if I can, to do a few epic, moving shots where a lot of things are happening, rather than hundreds of action cuts, so we did one really big Steadicam shot with Peter, where he battled through the forest.
It was important to me – and to Peter – that we got that all as one, even though we cut it up in the edit. The adrenaline that happens as you run, and things grab you, and all these explosions go off around you – the excitement! – just adds so much. It gives a visceral sense to it, and Peter really felt that. It is like being on a battlefield. The first time he went through, tons of dirt rained down on him. He came out the other end, with dirt all over him, and you should have seen the grin on his face! He said, 'Yup, this is action-hero stuff.'
But Steven's script is, of course, incredibly, ridiculously clever, in a good way, and it does also have the calm before the storm. I love creating that tension as well."
Writer and outgoing Doctor Who showrunner Steven Moffat also previewed The Doctor Falls, airing from July 1 across the world:
"An epic battle, even if you've got all the budget in the world – and, let's be clear, we don't – has to focus in on those tiny moments. Those tiny losses. Those tiny victories. Otherwise it's just not a story. Embedding the intimate in the epic is what Doctor Who is really, really good at – or expressing the epic through the intimate. The tiny emotional consequences of this vast battle.
We all sort of know that the best bits in war movies are just before the battle and just after it. Those are the bits that stay with you forever; the final hours before the assault, and the consequences."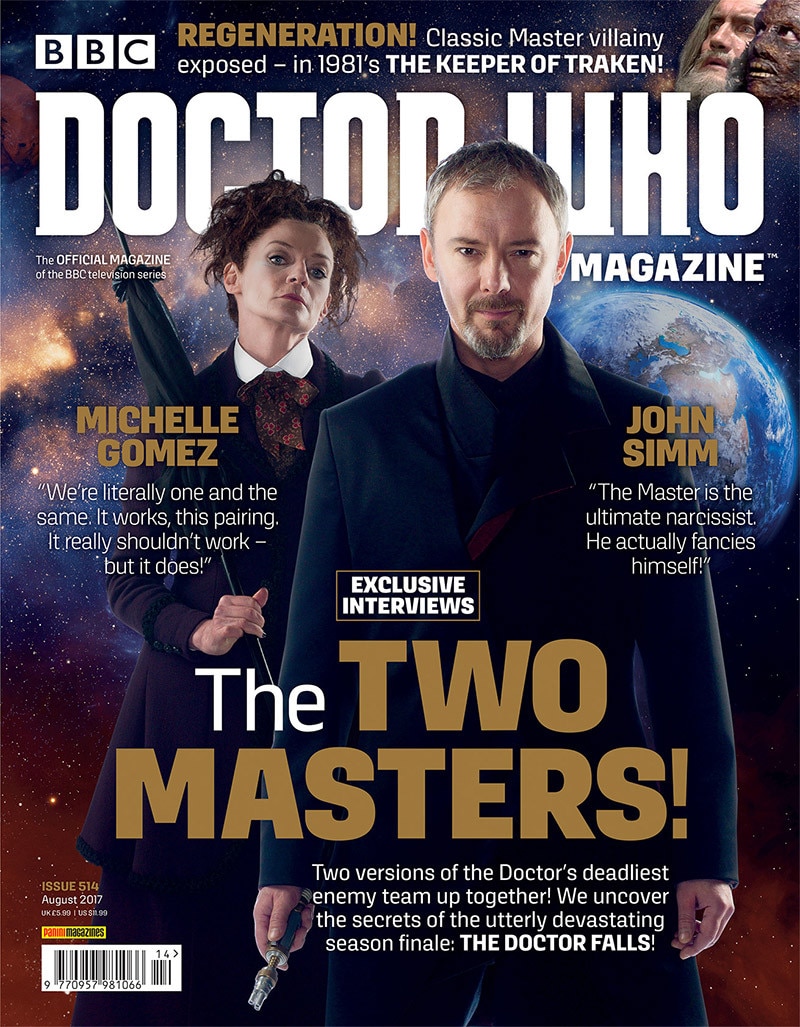 This edition of Doctor Who Magazine also includes exclusive interviews with John Simm, Michelle Gomez and Steven Moffat. Issue 514 is available now.
«« EXCLUSIVE OFFER: SAVE 25% ON DIGITAL DWM SUBSCRIPTION HERE »»