November 13, 2017
The latest edition of Doctor Who Magazine – issue 519, out tomorrow – includes an in-depth and exclusive interview with actor David Bradley. We have all the details and cover art below.
Four years ago he played William Hartnell in BBC Two's An Adventure in Space and Time. Now Bradley is returning as the First Doctor himself for this year's Christmas Special Twice Upon a Time…
"I was playing the guy who was playing the Doctor, but now I'm the Doctor... It's absolutely thrilling." 
ALSO IN THIS ISSUE…
FRIGHT KNIGHT
Sir Derek Jacobi talks to DWM about bringing back his version of the Master for Big Finish's new series of audio adventures.
DEDICATED FOLLOWERS
DWM meets Jared Garfield and Lily Travers, the actors playing Ben and Polly in Twice Upon a Time. 
BEN ZEN
In a previously unpublished interview from 1997, Michael Craze reflects on the time he spent playing Ben Jackson in Doctor Who from 1966 to 1967.
DOC MARTIN
In what turned out to be his final interview, Trevor Martin discusses playing the Doctor in the stage play Seven Keys to Doomsday. Elsewhere in this issue DWM pays tribute to his long career.
DRESSING THE DOCTOR
Costume designer Hayley Nebauer explains how she created the First Doctor's 2017 look.
ANNUAL REPORT
BBC Audio is reviving stories from the Doctor Who annuals. Readers Peter Purves and Matthew Waterhouse are in the studio...
THE TIME TEAM
The Time Team continues its mission to watch every episode of Doctor Who with 2011's The Almost People.
THE FACT OF FICTION
Uncovering the details hidden in the 2007 episode The Lazarus Experiment.
PLUS! Previews, book and audio reviews, news, prize-winning competitions and much more.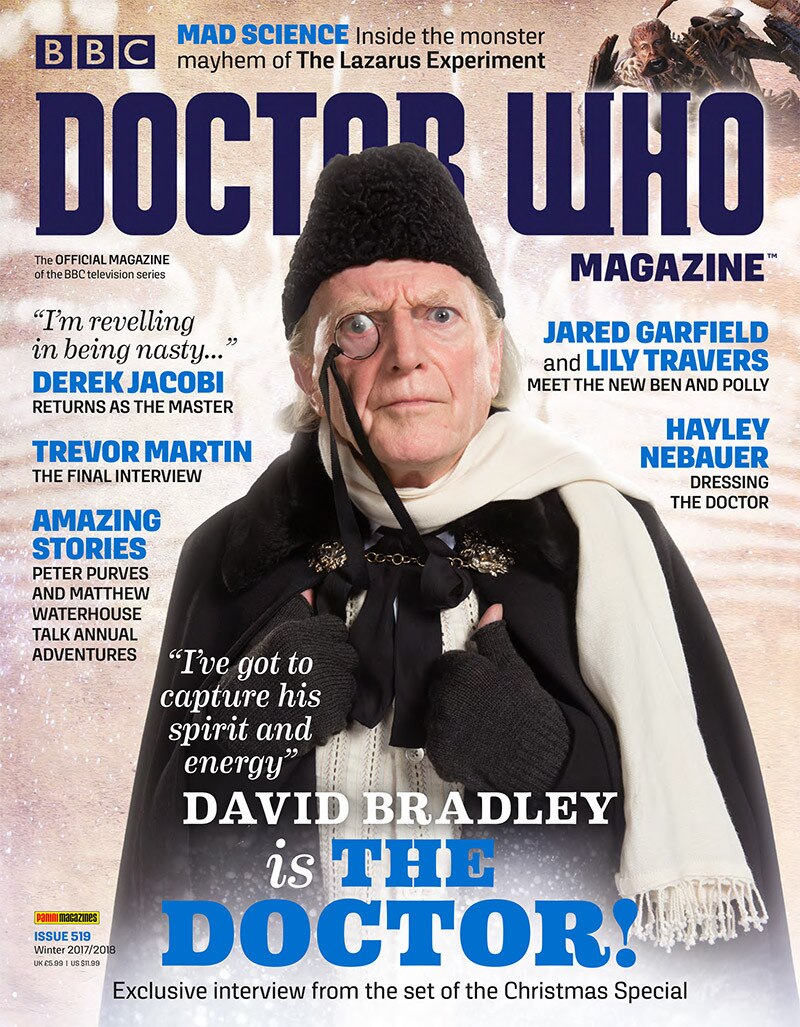 DWM 519 is on sale from Nov 16, 2017.**