June 27, 2017
John Simm and Michelle Gomez – The Two Masters! – are both exclusively interviewed in Issue 514 of Doctor Who Magazine.
«« EXCLUSIVE OFFER: SAVE 25% ON DIGITAL DWM SUBSCRIPTION HERE »»
As we countdown to the devastating Doctor Who series finale, The Doctor Falls, we speak to the actors who have breathed new life into the Doctor's deadliest enemy...
John Simm tells DWM about playing the Master with a beard:
"Yeah, I just grew it, and turned up at the readthrough, and said, 'You know, I fancy a bit of this.' Everybody seemed fine with it. I just thought, 'Give a little nod.' It was a nod to the Delgado and Ainley Masters. There's a line in the final episode where he mentions 'old-school', and I made sure to give the beard a little stroke – a small nod to the old Masters."
Michelle Gomez ponders on whether the Master could ever truly become good:
"Even the worst psychopath can't be entirely bad," she reasons. "It's basic math. A positive cannot exist without a negative, and so there always has to be a thread of goodness in somebody. What makes you thoroughly evil, I believe, is when you recognise that thread of goodness – you're aware of it, you're conscious of it – and you still decide to be evil. Then, yes, you've earned the crown of… of evilness? Evil-ality. You wear your crown of evil-ality."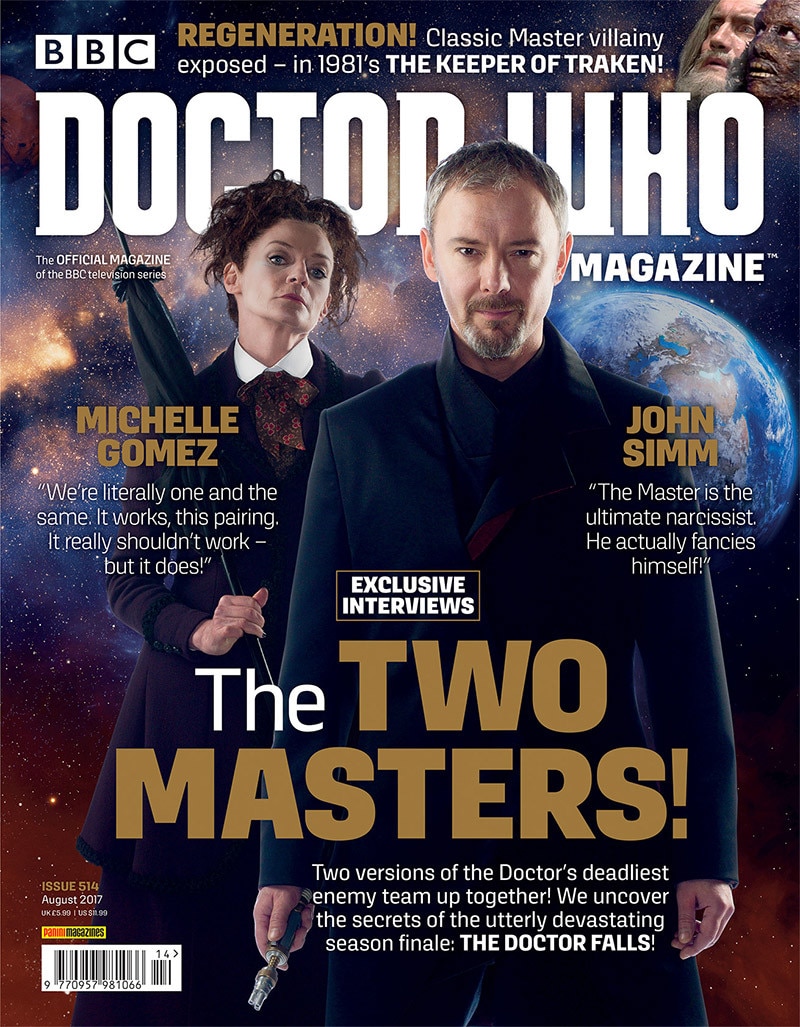 ALSO INSIDE THIS ISSUE…
THE DOCTOR FALLS
Writer Steven Moffat and director Rachel Talalay give DWM readers an exclusive preview of the series finale, The Doctor Falls.
MARK GATISS
The writer and actor chats to DWM about his love of Doctor Who, his long association with series, and his most recent episode Empress of Mars.
CHRISTMAS COMES EARLY
Showrunner Steven Moffat writes about how he has delivered his final Doctor Who script – the 2017 Christmas Special.
THE SOUL GARDEN
The adventure continues for the Doctor and Bill in Part 3 of our latest comic strip story, written by Scott Gray, with art by Martin Geraghty.
MORE MASTER VILLAINY!
This issue's Fact of Fiction looks back at the 1981 Fourth Doctor story The Keeper of Traken – which featured an unexpected appearance of an old foe...
PLUS! All the latest official news, reviews, the Watcher's column, competitions, the DWM crossword – and more besides!
Doctor Who Magazine 514 is on sale now!
«« EXCLUSIVE OFFER: SAVE 25% ON DIGITAL DWM SUBSCRIPTION HERE »»