July 19, 2017
The latest edition of Doctor Who Magazine is released next week and includes an exclusive and in-depth interview with showrunner Steven Moffat.
You can find all the details and artwork from Doctor Who Magazine Issue 515 below.
Doctor Who Magazine 515
With his last episode due to air at Christmas, we asked Doctor Who's head writer and showrunner Steven Moffat if he ever thought, back in 2004, when he wrote The Empty Child, that he'd still be writing for the series in 2017? 
"No, God, no! God, no! I also didn't think I'd do the showrunning job for more than three years, and I'm here after six series. Yes, I've been writing Doctor Who stories since 2004. That's a hell of a long time. When I wrote The Empty Child / The Doctor Dances, I wondered if I'd ever write another Doctor Who story. I was very keen to, I really wanted to. I remember asking, 'Would you have me back next year...?'"
So what's next for Steven after he finishes with the Doctor? He's staying tight-lipped.
"I'm looking forward to the idea of not having to automatically say no to everything else! Whether that's writing jobs, or weekends away. I can write different things. I'm looking forward to that, hugely. But I am so glad it happened. I'd have been miserable if I'd never got to write Doctor Who! It's been amazing. Of course it's been amazing."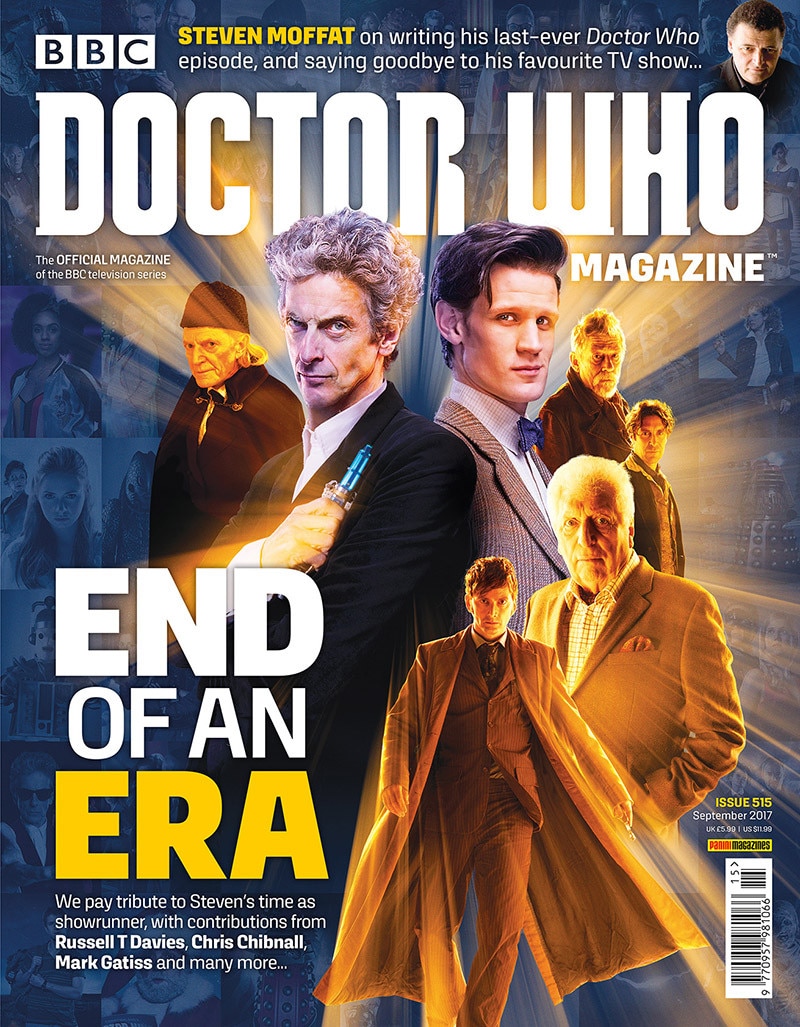 ALSO INSIDE THIS ISSUE…
PRODUCTION NOTES
Steven Moffat writes his final column for DWM, and his last-ever Doctor Who words!
THE TOP 20!
A look back at 20 amazing things about the Steven Moffat era of Doctor Who – plus tributes from Russell T Davies, Chris Chibnall, Mark Gatiss and many others...
THE EMPIRE OF MARK GATISS
The concluding part of our all-encompassing interview with actor/writer Mark Gatiss!
THE PARLIAMENT OF FEAR
There's a brand-new adventure for the Doctor and Bill Potts in Part 1 of a new comic strip story, written by Scott Gray, with art by Staz Johnson.
RISE AND FALL
Reviews of the 2017 series, and the season finale World Enough and Time / The Doctor Falls.
TURNED UP TO ELEVEN
The Fact of Fiction examines the Eleventh Doctor's début adventure, 2010's The Eleventh Hour!
PLUS! All the latest official news, the Watcher's column, prize-winning competitions, the DWM crossword, the 2017 Season Survey – and much, much more!
Doctor Who Magazine 515 is on sale from July 27, 2017.