July 17, 2016
Test your creative skills by designing your own Doctor Who Experience story cover, learn how to write a Doctor Who comic strip, have your say in restoring part of TV series' history and explore the filming locations used in the making of programme in its Cardiff home.
Set your time/space coordinates this summer for the Doctor Who Experience and discover all the Home of Who has to offer! #HomeofWho
Filming Locations Tours - from 6th August
The popular Filming Locations Tour is BACK. Running from Saturday 6th August and throughout the summer, let our expert tour guides take you on a walking tour of Cardiff Bay and get an insight into what exactly goes into choosing a filming location!
Tickets go on general sale on Friday 29th July at 12pm. Tours will run Wednesdays to Sundays during August, and Fridays to Sundays during September.
Please note: tours of the TARDIS studio set are NOT currently available. For up-to-date information and future announcements about these tours, please sign up for our newsletter here.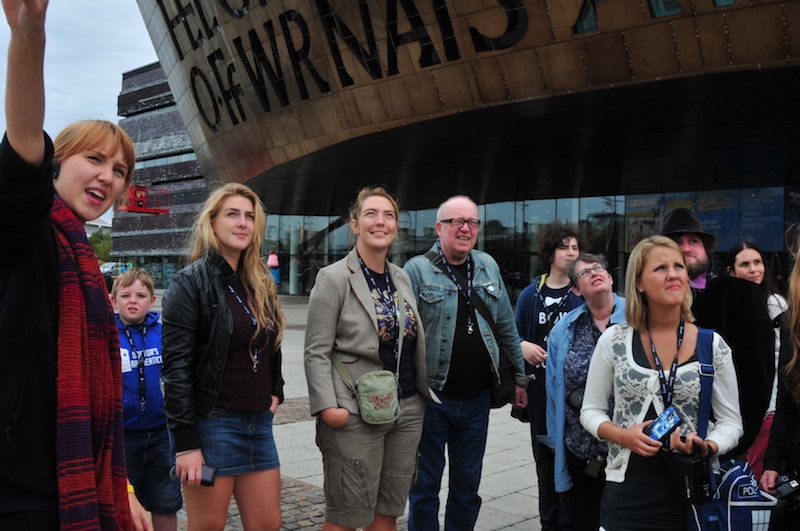 Doctor Who Gallery - from 8th August
New to the Doctor Who Experience this summer is our Doctor Who Gallery!For those of you who missed out on the TARGET novels artwork exhibition at the Cartoon Museum earlier in the year, we're giving you another chance to see some of these original artworks on display at the Doctor Who Experience throughout August and until the Sunday 4th September. And if you feel suitably inspired, you can also design your very own TARGET book cover based on the Doctor Who Experience adventure!
The gallery will also be marking Doctor Who Magazine's 500th issue anniversary by featuring a number of covers on display from this 500 issue history!
Design your own Doctor Who comic strip - 10th August & 17th August
Cavan Scott, comic book author on the Titan comics Doctor Who range, will be showing us exactly what goes into writing and creating a comic strip in our Doctor Who Gallery on Wednesday 10th and Wednesday 17th August. Learn from expert himself and get the opportunity to create your very own Doctor Who comic story!
NEW added TARDIS console! (1977-81 replica) - from 1st August
You will also be able to see a newly added TARDIS console, built for the 50th anniversary Day of the Doctor 2013 trailer in our special 50th anniversary area. Originally only half built as filming only required one side to be seen, we've completed the build of the console to its complete state where it will appear as part of a 1977-81 TARDIS interior exhibit.
See its cameo in the trailer from 2013 here - beady eyed fans can see it at 29 seconds in:
Restoration project - 27th & 28th August
We're asking Doctor Who fans of all ages to help us choose which Classic Who monsters to restore as part of our ongoing Doctor Who Experience: Restoration project. (Please note: voting has now closed.)
The Restoration project sets about to reveal the stories behind the original, screen used artefacts, how they were made, what went into the design processes of their time - and how those methods are replicated today to bring them back to life and their original glory. The restored monster will be revealed on Saturday 27th and Sunday 28th August, 2016.
PLUS we have extra events and activities in store across the bank holiday weekend - check back here for more information!
A summer packed full of events for all your friends and families to enjoy, make sure you plan a visit to the Doctor Who Experience this summer! #HomeOfWho.