August 25, 2014
Doctor Who is set to become "Blocktor Who" when characters from the series arrive on the Xbox 360 edition of Minecraft in September.
Available on over 84 million Xbox devices worldwide, a deal between BBC Worldwide and developers Microsoft Studios and Mojang will give Minecraft players access to a range of Doctor Who assets, allowing them to change their avatar to resemble their favourite characters from the show.
The first pack – priced at just $2.99/£1.99/€2.85/$2.95AUS – will include a character inspired by the Twelfth Doctor, plus five other Doctors, each of their on-screen companions and some of the Doctor's most well known adversaries including his arch-nemeses, the Daleks.
The deal will bring more packs as time goes on, introducing many of the most recognisable characters from the past 50 years of Doctor Who. Each skin pack will feature at least six Doctors and will be released regularly following the broadcast episodes in Series 8.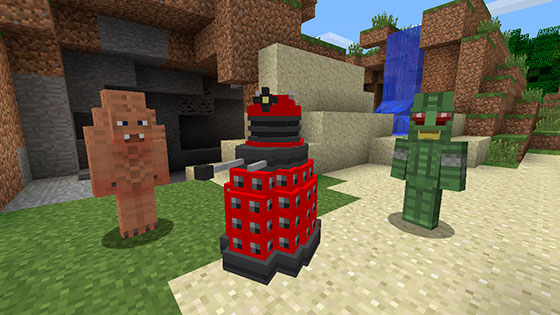 Rikesh Desai, Digital Entertainment and Games Director at BBC Worldwide UK says
"We're constantly looking for new and innovative ways to bring Doctor Who content to our loyal fans. Working collaboratively with Microsoft, we've created an exciting new product which will allow Doctor Who fans to create their own brand new adventures in the heart of the iconic world of Minecraft."
Minecraft is one of the fastest selling Xbox game of all time with over 13 million sales to date. The deal to bring Doctor Who to Minecraft builds on BBC Worldwide's successful partnership with Microsoft, which has seen Microsoft publish Forza racing games complete with Top Gear themed challenges and features.
Minecraft is a game about breaking and placing blocks. At first, people built structures to protect against nocturnal monsters, but as the game grew, players worked together to create wonderful, imaginative things. It can also be about adventuring with friends or watching the sun rise over a blocky ocean. It's pretty. Brave players battle terrible things in The Nether, which is more scary than pretty. You can also visit a land of mushrooms if it sounds more like your cup of tea.