June 29, 2017
Steven Moffat has been teasing the forthcoming Doctor Who Christmas Special in an exclusive interview with Doctor Who: The Fan Show – The Aftershow. PLEASE NOTE: Spoilers for The Doctor Falls follow...
Sign up here to the Doctor Who newsletter for EXCLUSIVE offers
As revealed at the end of the Series 10 finale, The Doctor Falls, the Twelfth Doctor bumps into a previous regeneration, the First Doctor.
Initially played by William Hartnell, the character is now portrayed by David Bradley. Bradley starred as the actor in the 2013 drama, An Adventure In Space And Time, which looked at the creation of Doctor Who in 1963, written by Mark Gatiss.
David will star alongside Peter Capaldi in his final episode as the Twelfth Doctor in the festive episode. (Fact fans will also note that Bradley guest starred as the trader Solomon in 2012's Dinosaurs On A Spaceship, pictured below).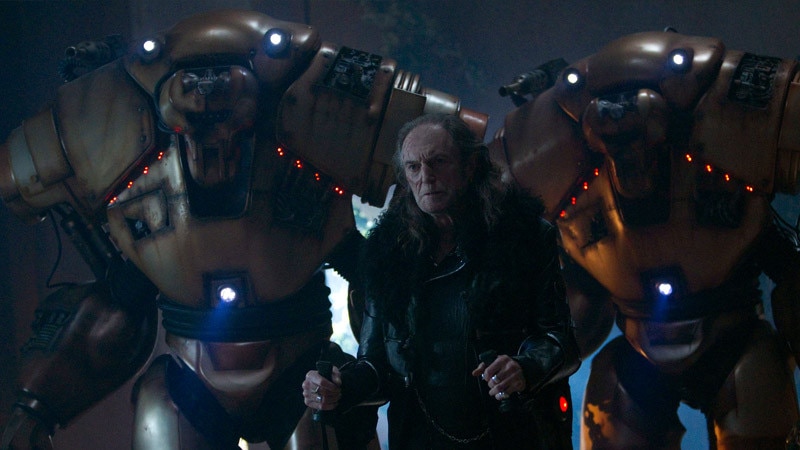 Steven Moffat told The Aftershow about filming on the Doctor Who Christmas Special:
"At this moment we're filming the Twelfth Doctor and the First Doctor meeting.
Right now, I've just been on the set of the First Doctor's TARDIS which has been beautifully recreated.
David Bradley's recreation of William Hartnell is so eerily perfect, it could fool you. I've just been watching a scene where he is so perfectly William Hartnell, you could be convinced it's him."
Steven also revealed that the opening scene to Series 10, Episode 11, World Enough And Time, had not even been shot when press previews went out. Director Rachel Talalay commented:
"The beginning of [episode] eleven we shot less than two weeks ago. It was the first thing we shot in the Christmas episode because it had to go out so quickly."
Watch the latest episode of Doctor Who: The Fan Show – The Aftershow below.