November 27, 2013
Doctor Who Adventures magazine has linked up with mobile-augmented reality platform Blippar, to produce an edition that comes to life.
Readers can interact with the exciting Doctor Who content in a completely new way and this amazing interactive edition comes with a cool Eleventh Doctor dress-up set, which includes a sonic screwdriver, a fez, a bow tie and 3D glasses.
Out now, after downloading the free Blippar app and pointing a smartphone or tablet at the magazine pages, readers can use their device to:
Discover an awesome moving cover with a swirling vortex featuring all the Doctors.
Put your face on a monster!
Watch a top tip from everyone's favourite Sontaran, Commander Strax!
See the fantastic comic come alive.
Put on the Doctor dress-up set then your picture taken with the TARDIS, Clara, Cybermen, Strax or Daleks.
Also, there's a 3D monster fact file, super-scary Weeping Angel poster and amazing 3D Dalek poster which uses Blippar to bring it to life.
Download the free Blippar app (iTunes | Google Play | Blackberry | Windows) and try it out on the cover below: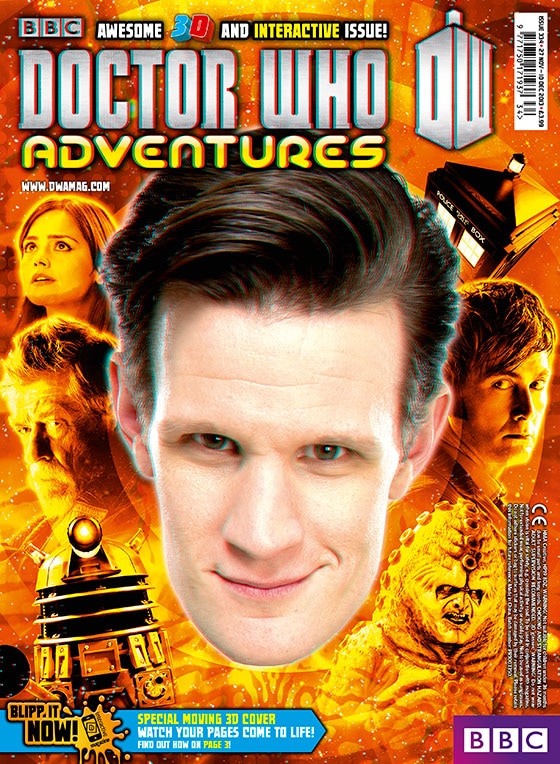 According to Doctor Who Adventures magazine Editor, Moray Laing: "We pride ourselves on bringing our readers closer to the action-packed world of their favourite show and this time we've taken the magazine to another dimension. Blippar has allowed us to play around with some of the scariest monsters in the universe to create fantastic interactive content which we know our imaginative readers will love!"
Issue 334 of Doctor Who Adventures magazine is on sale until 9 December 2013, priced at £3.99.