June 06, 2013
Fans can now regenerate their treasured toy collections with a new 3.75-inch scale Doctor Who action figure collection from Character.
The first wave of these highly detailed, realistic and poseable action figures features six characters from Series 7. Clara Oswald is represented in action figure form for the first time, as is the Eleventh Doctor in his new outfit. They're joined by a Nightmare in Silver upgrade of a Cyberman, a Weeping Angel, a Dalek and an Ice Warrior in the mould of Grand Marshal Skaldak.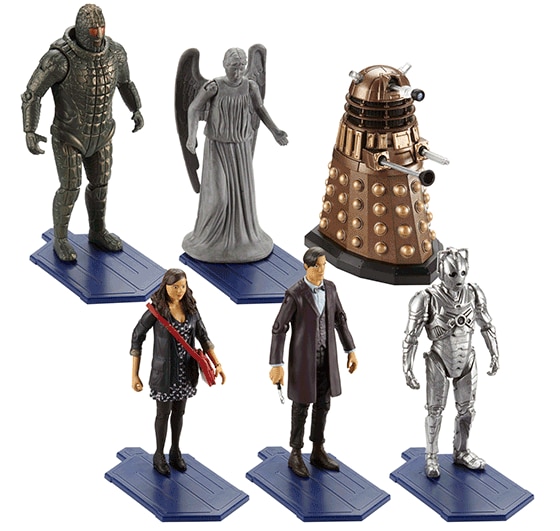 Two connectable action figure playsets are also available. Inspired by the Series 7 adventure Cold War and a Dalek invasion of Earth, the cardboard dioramas are compatible with the 3.75-inch range. Each playset comes with an exclusive figure – either a Dalek Hovabout accessory or an Ice Warrior creature, outside of its armour.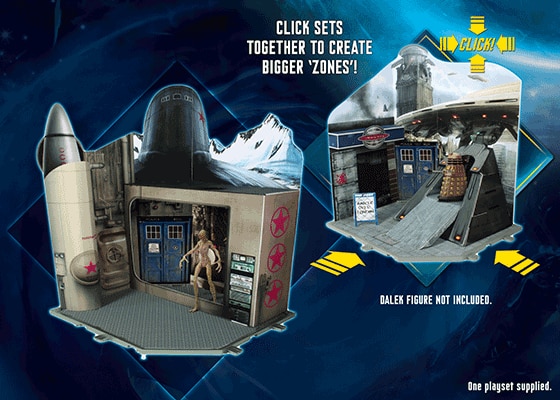 The decision to change from 5-inch figures to 3.75-inch was driven by a move across the action figure market towards that size, making Doctor Who figures compatible for adventures with other major brands. "The new collection is also more affordable to the millions of fans, however more importantly absolutely no compromise has been made on the detail and quality" say Character.
Fans of the 5-inch action figure range needn't worry though, Character say they will continue to release classic Doctor Who figures on this line – including a whole series of Daleks and special 50th anniversary presentation packs.
Since 2006, Character have designed 330 Doctor Who figures, and sold over 9 million units of them globally.