May 21, 2016
ITV have announced that the third and final series of the critically-acclaimed and ratings success, Broadchurch, has begun filming today.
Starring in the show is Tenth Doctor actor David Tennant whilst its creator and writer is Chris Chibnall - the man who will take over as Doctor Who boss after Steven Moffat leaves the position.
David Tennant reprise this role as DI Alec Hardy and is again joined by fellow Wholumni Olivia Colman (2010's The Eleventh Hour) playing DS Ellie Miller and Rory Pond himself, Arthur Darvill (Vicar Paul Coates) and are joined by actress Sarah Parish, who played the Empress of the Racnoss in the 2006 Doctor Who Christmas Special, The Runaway Bride.
Pictured below are David Tennant and Olivia Colman on the first day of shooting Broadchurch Series 3, courtesy of ITV Pictures.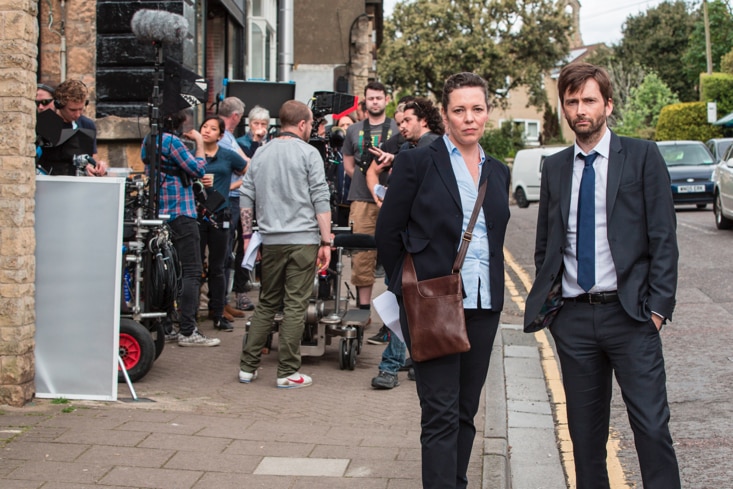 To coincide with the commencement of filming, ITV confirmed that BAFTA winner Sir Lenny Henry and Roy Hudd will join the impressive ensemble cast alongside National Television Award winner Julie Hesmondhalgh, BAFTA winner Georgina Campbell, and acclaimed actors Sarah Parish, Charlie Higson and Mark Bazeley who take significant roles in the eight part series.
The new series will herald a brand new case for Miller and Hardy, with the detectives reuniting to investigate a serious sexual assault. Broadchurch's final chapter looks at the emotional cost to all of those involved and the irreparable damage to friendships and relationships.
Future Doctor Who showrunner Chris Chibnall says: "This is the final chapter of Broadchurch.
We have one last story to tell, featuring both familiar faces and new characters. I hope it's a compelling and emotional farewell to a world and show that means so much to me."
Chibnall has already written a number of Doctor Who episodes - The Power of Three (2012) Dinosaurs on a Spaceship (2012), Cold Blood / The Hungry Earth (2010) and 42 (2007). He was also responsible for the fantastic minisodes, Pond Life and P.S..
The series will also feature episodes directed by Daniel Nettheim, who directed 2015's amazing two-parter, The Zygon Invasion / The Zygon Inversion.
Broadchurch Series 3 will air in 2017 on ITV