May 13, 2019
David Tennant and Catherine Tate reprise their roles in Doctor Who for three more Big Finish audio adventures in The Tenth Doctor Adventures Volume 3.
And they're taking the family with them...
Jacqueline King will return as Sylvia Noble, Donna's mother and, returning to Big Finish after an eleven-year absence, Bernard Cribbins will reprise his role as Wilfred Mott, Donna's grandfather.
The Doctor and Donna will be back in action with these three new audio adventures in May 2019.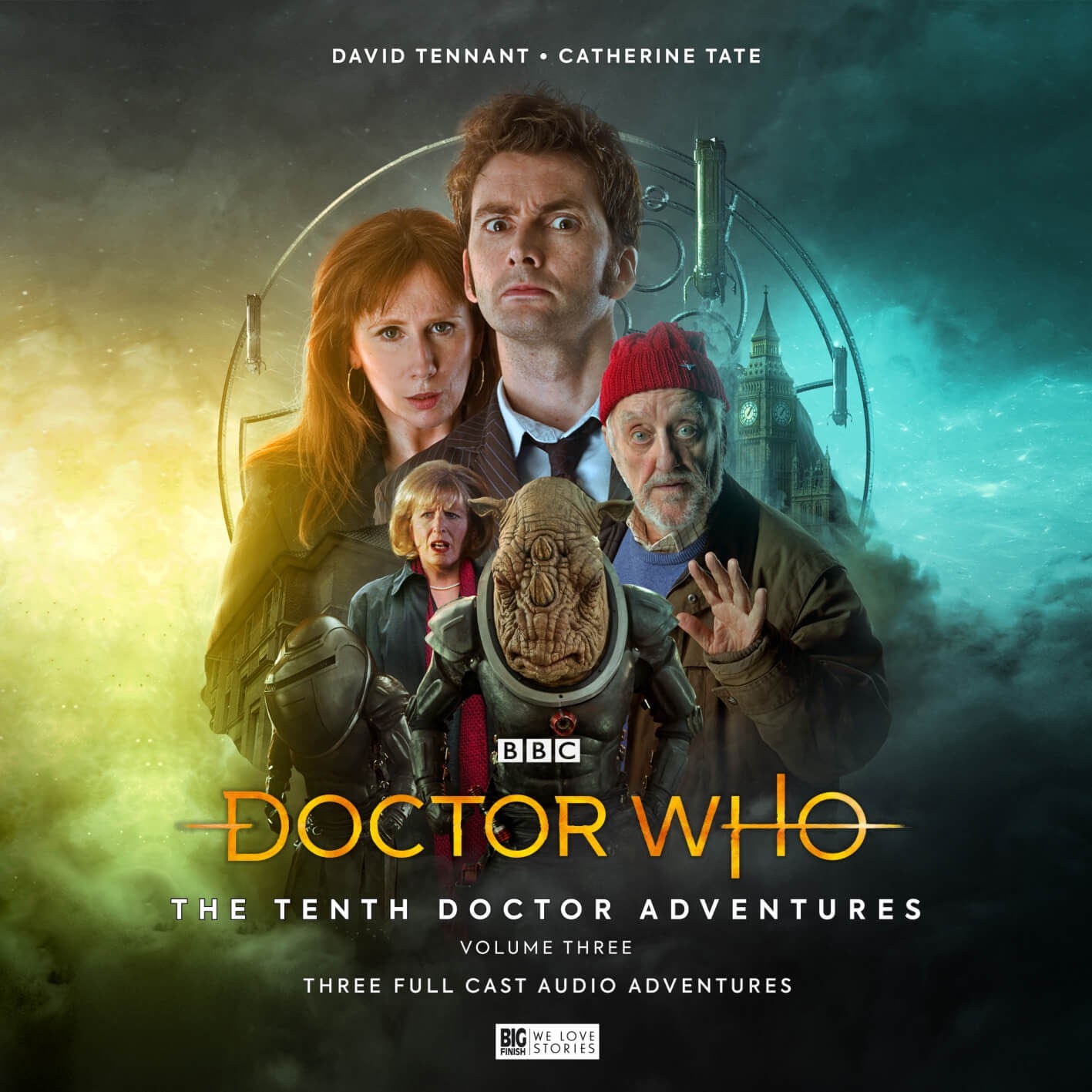 3.1 No Place by James Goss
It's Haunted Makeovers! The home improvement show with a spooky twist. The Noble family are hoping to cast out a few spirits along with the old bathroom suite, as presenter Justin joins Donna, Wilf, Sylvia and the Doctor for the latest edition of his reality TV series. Of course, Justin knows that any supernatural phenomena can be faked. Ghosts can't possibly be real. Can they..?
3.2 One Mile Down by Jenny T Colgan
Donna and the Doctor take a holiday - in the beautiful underwater city of Vallarasee. Things have changed since the Doctor last swam through it: Vallarasee is now enclosed inside an airdome. Judoon patrol historic sites, and instead of tourists wearing helmets to breathe, the native Fins are forced to adapt. But leaks have begun to trickle into the dome, and the Doctor and Donna must convince the Judoon that disaster is imminent. Or else thousands will be trapped, as the waters rise...
3.3 The Creeping Death by Roy Gill
London, 1952, and a deadly smog envelops the capital. But something even more dangerous - and alien - is hiding within the mists. When the Doctor and Donna get lost in the fog, they find a motley group of Londoners trying to make their way home. Soon the stakes are raised, as death creeps along fume-choked streets and not everyone will make it out alive....
---
Out for release in May 2019, we'll pop back into history where menacing threats lurk in 1950s London's smog in an entrancing tale by Roy Gill, we'll explore dangerous underwater worlds with the Judoon in a thriller by Jenny T Colgan, and James Goss takes the Doctor, Donna and family on their most treacherous journey yet... into the horrifying world of reality television!
Jacqueline King who plays Donna's mother, the incomparable Sylvia Noble, told Big Finish about returning to the role:
"Doctor Who has been the gift that keeps on giving. I started, believing I was to appear in one Christmas episode, then was thrilled to appear in more. I recently returned to the role with Big Finish and it was like putting a cherished old sweater back on. That old sweater will have to be washed and conditioned ready for this episode with the A team back in full. Can't believe my luck. I'm guessing it might actually feel a bit emotional."
Doctor Who: The Tenth Doctor Adventures Volume 3 is available for pre-order now from the Big Finish webstite. A five-disc collector's edition – limited to 5,000 copies – is available on CD in deluxe bookset packaging.