July 29, 2013
All thirteen blockbuster episodes from the seventh series of Doctor Who will be available to buy on Blu-ray and DVD later this year.
In addition, the set includes both 2011 and 2012 Christmas Specials - The Doctor, the Widow and the Wardrobe and The Snowmen - and exciting bonus features including behind-the-scenes featurettes, Doctor Who at Comic Con, specials The Companions and Doctor Who in the US, and more.
So say farewell to the Ponds all over again. Meet the enigmatic Clara for the first time - and the second, and the third. Face enemies new and old, follow the Doctor to the one place he should never go, and learn the secret to a really great soufflé. With a cliffhanger ending that will leave fans breathless, this set arrives just in time to catch up before the Doctor Who 50th Anniversary Special on November 23, and the Doctor's regeneration in this year's Christmas Special.
Contents
2011 Christmas Special: The Doctor, The Widow and The Wardrobe
Ep 1: Asylum of the Daleks
Ep 2: Dinosaurs on a Spaceship
Ep 3: A Town Called Mercy
Ep 4: The Power of Three
Ep 5: The Angels Take Manhattan
2012 Christmas Special: The Snowmen
Ep 6: The Bells of Saint John
Ep 7: The Rings of Akhaten
Ep 8: Cold War
Ep 9: Hide
Ep 10: Journey to the Center of the TARDIS
Ep 11: The Crimson Horror
Ep 12: Nightmare in Silver
Ep 13: The Name of the Doctor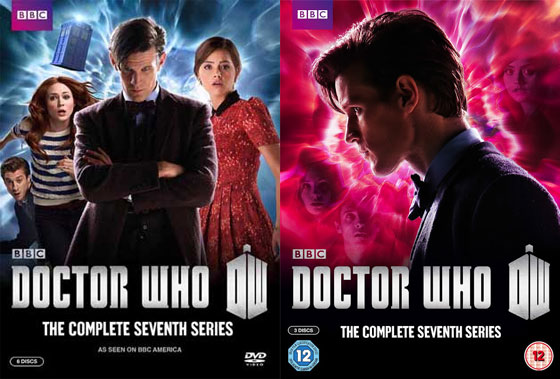 The incredible list of guest stars includes John Hurt (Tinker, Tailor, Soldier, Spy), Warwick Davis (Willow, the Harry Potter films) Liam Cunningham (Game of Thrones), David Warner (Titanic, TRON), Dougray Scott (Hemlock Grove, Ever After: A Cinderella Story), Ben Browder (Farscape), David Bradley (Game of Thrones) Jessica Raine (Call The Midwife, The Woman in Black), the mother-daughter duo of Dame Diana Rigg (Game of Thrones) and Rachael Stirling (Women in Love, Snow White and the Huntsman), and the voice of Sir Ian McKellan (The Lord of The Rings films). The episodes are written by lead writer and executive producer Steven Moffat, as well as Neil Gaiman, Mark Gatiss, Neil Cross, Chris Chibnall, Toby Whithouse and Stephen Thompson.
Additional content:
Behind the scenes featurettes for every episode (except The Doctor, the Widow and the Wardrobe) plus The Making of the Gunslinger and Creating Clara
Other Featurettes including: Doctor Who in the US, Last Days of the Ponds, Pond Life, The Science of Doctor Who, The Companions, and Doctor Who at Comic Con
Prequels to episodes: The Doctor, The Widow and The Wardrobe, Asylum of the Daleks, The Snowmen ('Vastra Investigates', 'Children In Need Special: The Great Detective' and 'Demon's Run: Two Days Later'), The Bells of Saint John and The Name of the Doctor ('Clarence and the Whispermen' and 'She Said, He Said')
Audio commentaries for episodes: The Snowmen, Cold War, Hide, and The Crimson Horror
Olympics: Good as Gold featurette (Region 2 release only)
Interviews with Matt Smith and Jenna Coleman from BBC America's The Nerdist (Region 1 release only)
Release dates: